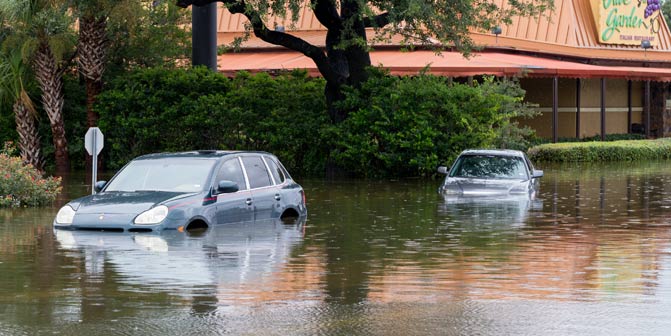 Having experienced firsthand the destruction of Hurricanes, Sandy, Isaias, and now Ida and being on the front lines of the recovery efforts, we compiled this comprehensive guide to flooded cars, hoping our experience and expertise can be of help to those devastated by hurricanes.
IN THIS ARTICLE
Getting rid of your flooded car
Immediate care for your car
Do not attempt to start your car. If there is water in the engine, transmission, or fuel system, this will compound the damage.
If you have the ability, disconnect the battery.
Clean out as much liquid and mud as you can and dry the car out as soon as possible. The sooner you dry out your car, the better your chance of restoration.
If water got into the mechanical system, that can be dried out. If however, water entered the electrical system, it most likely cannot be repaired.
Use a wet-vacuum and carpet cleaner to clean the floor and seats.
Once the carpet is dry, baking soda can help remove the odors.
Unfortunately, if the flooding was extensive, it will likely not be financially realistic to repair the car.
More flood car repair resources can be found here.
Getting rid of your flooded car
If you have comprehensive insurance
You have 60 days to file a claim.
Call your auto insurance provider as soon as possible.
If you can, take pictures of the damage to your vehicle.
If you don't know your insurance company, call 888-379-9531 or visit www.floodsmart.gov to find your information using only your name and zipcode.
In the aftermath of Sandy, Harvey, and Isaias, Kars4Kids received many donations from people who were covered by insurance. While normally an insurance company will take possession of a totaled car, following storms with this magnitude (and likely Florence as well) it was too difficult for the insurance companies to deal with such a large volume of cars. Many insurance companies left consumers to get rid of their damaged vehicle themselves, even after the claim was processed and paid out. This can be inconvenient for those who don't want to deal with the vehicle, especially given the complications involved in selling a flood-damaged car. Donation to charity can be a convenient way to get rid of a car in this case, providing free, quick pickup while simultaneously benefitting a charity. The charity will assume responsibility for the car's removal and resale.
If you do not have comprehensive insurance
The average year for cars donated during Sandy (which occurred in 2012) was 2000. That means that (depending on the damage) it is possible to resell your car if it is a newer model, and victims of a hurricane should try to get as much money as possible for their car.

Be aware that there are additional complications to selling a flood car and that legally, the title needs to be branded as a flood salvage. Still, if your car was not covered, you may want to try to recoup your losses by pursuing this option.
If your car is older or the damage was severe, or if you don't want to go through the trouble of selling your flood car, donating to charity is likely the best option. This is why:
A large and experienced car donation program like Kars4Kids has a huge network of towers that can quickly remove your car at no expense or hassle to you.
There are undoubtedly many people who lost their title during the storm. Kars4Kids has title experts who have years of experience in dealing with lost titles, and will work (and absolve the cost) to get you a new title in order to get rid of your car.
A car donation can get you a tax deduction, and at the same time you can help kids with your donation.
Replacing your car
In many cities, replacing a flooded car is top priority for many survivors. 50% of flood-damaged cars were resold following Sandy, again using the 2012 hurricane as an example. Following a storm of this magnitude, the used car market will be flooded with thousands of spruced up water-damaged cars, with titles washed and offered to unwitting buyers as "a good deal." By taking the following steps consumers can protect themselves from purchasing a flooded car:
Use a reputable dealer.
Sale price: if it's too good to be true, then it likely has internal damage.
Have the car inspected by a licensed mechanic.
Look out for flood signs – stains on the upholstery, water lines in the trunk and engine compartment, or rusted bolts under the seats.



To embed this graphic, copy and paste the code below.