COVID-19 Jump in Used Car Prices Greater in Blue States

By Wendy Kirwan
Director of Communications at Kars4Kids
October 21, 2020
The average price of used cars increased by 24% more in Democratic states than in Republican states from April through August 2020, Kars4Kids proprietary data shows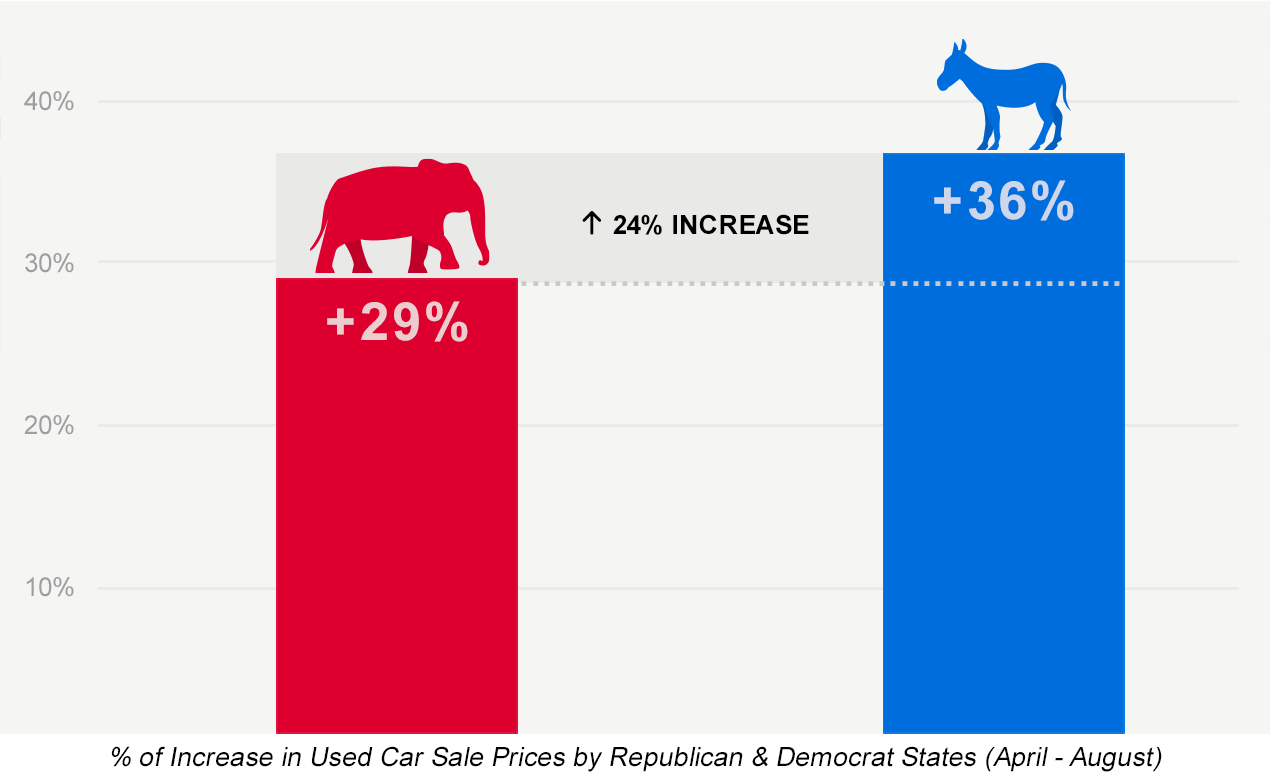 To understand the impact of the COVID-19 pandemic and associated lockdowns on the used car market, Kars4Kids analyzed thousands of car donations sold between February and August 2020, comparing the average sale price for each month on a year over year basis. April, the height of the pandemic restrictions, saw an across-the-board dip in used car prices, as the market slowed to a crawl. Then, in May, as the initial panic subsided, used car prices started to increase, rising steadily throughout the summer months.

Why was there an increase in used car prices during COVID-19?
Market conditions influencing both the supply and demand sides of the new and used car markets contributed to this rise, according to industry experts. Supply of new cars was low due to coronavirus-related factory closures, pushing buyers to the used car market. Meanwhile, demand for used cars was also up as consumers shied away from public transportation and ride sharing because of safety concerns; made more financially responsible decisions about personal vehicle purchases given the economic downturn and uncertainty; and took advantage of low interest rates. On the wholesale level, supply of used cars was impacted as fewer drivers on the road amounted to fewer car accidents and fewer insurance cars for sale. Banks and auto lenders may have been obligated or voluntarily chosen to delay repossession of cars with lapsed payments, further decreasing wholesale supply of used cars.
Which States Drove the Increase
The coronavirus pandemic affected the whole country but it didn't have the same impact in every state. Some were hit harder than others or experienced spikes at different periods and some – in particular, states with Democratic leadership – implemented more drastic lockdown measures. So we took a more granular look at our data to see how the market was impacted on a state by state basis. And we noticed something interesting: while the general trend held true across the country, the states fueling the jump were predominantly Democratic, with Republican states (defined by the party of the governor) showing less dramatic price hikes. In fact, 8 of the 10 states with the steepest rise were Democrat, with Maryland leading at a 44% increase.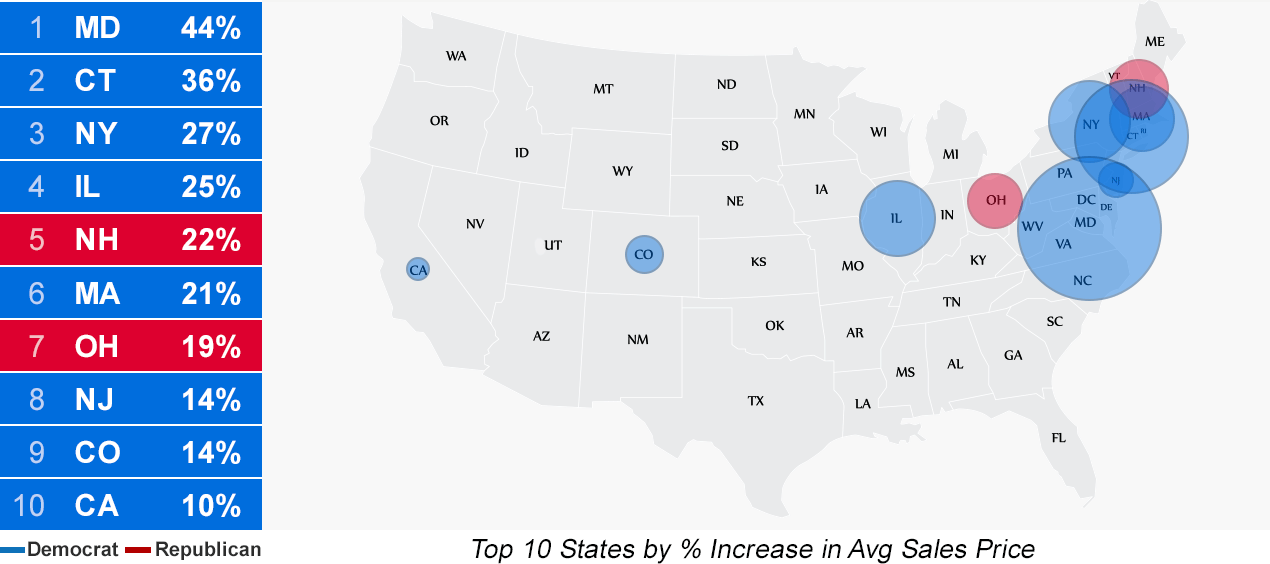 The upward trend was immediately noticeable and took me by surprise, considering the depressing reports about the economy in general. I get daily reports of our cars sold; in some categories, I was seeing prices the likes of which I've never seen in my seven years here.
- R. Reich
Kars4Kids Operations manager
An Example to Illustrate the Trend
We wanted to see how this general trend played out in a specific instance. So we chose one make and model, the Honda Accord, that we'd gotten enough donations of to be able to find a comparable car sold in August 2019 and August 2020 in both a Republican and Democrat state. The sale prices of these 4 cars bore out the trend we'd uncovered (though of course other factors could have played a role as well). We got a much better price for the Accords sold in 2020 both in Georgia and New York, but the increase in New York was significantly larger: a whopping 69% more vs Georgia's 35%.

So what do party lines have to do with the used car industry? Why would there be such a marked difference between red and blue states when it comes to used car prices? Given that the rise in prices was influenced in large part by the response to the coronavirus outbreak, the connection is apparent: states with Democratic leadership tended to have tighter and more extended government restrictions, affecting the market conditions to a greater extent.
The bottom line? Prices were driven up more steeply in states experiencing worse outbreaks or stricter lockdowns and restrictions, making red states better places to buy a car and blue states more attractive to sellers.
With thanks to the Kars4Kids data geeks for their help in pulling and analyzing these numbers. Analysis based on 72,252 car donations sold nationally between February and August 2019 and 2020.