How your car donation helps
Our charity programs are the essence of what we do. We are thankful to be able to give back to many local communities across North America and to bring educational opportunities to so many children, with the help of our sister charity Oorah. We're a registered nonprofit Jewish organization. Learn about what we do and see our charity programs here.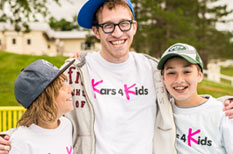 The Kars4kids Vision
Our vision at Kars4Kids is to enable our children to succeed throughout life. We achieve this goal through a gamut of educational, mentorship and year-round programs for our children and their families and communities. With a network of thousands of volunteers, we strive to change the world, one child at a time.
Summer Camp Fun
Every child dreams of attending summer camp. Kars4Kids makes those dreams come true for a thousand children or more, each and every summer. The evidence is right here in living color: from zip-lining, to swimming, to talent shows where individual children can really shine. Kars4Kids knows that camp builds happy, healthy, confident children.
A Helping Hand