How your car donation helps
Our charity programs are the essence of what we do. We are thankful to be able to give back to many local communities across North America and to bring educational opportunities to so many children, with the help of our sister charity Oorah. We're a registered nonprofit Jewish organization. Learn about what we do and see our charity programs here.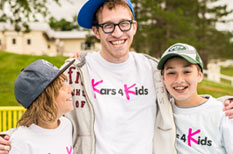 The Kars4kids Vision
Our vision at Kars4Kids is to enable our children to succeed throughout life. We achieve this goal through a gamut of educational, mentorship and year-round programs for our children and their families and communities. With a network of thousands of volunteers, we strive to change the world, one child at a time.
Financial Assistance
Unfortunately the reality is that many are not able to develop themselves or their families' values and emotional well being the way they hoped to because of the all-consuming burden of financial strain. It's with this in mind that our Crunch Relief Program distributes necessities as donations to such families that with just a bit of relief they can have the peace of mind to focus on what really counts.
ChillZone in Sharon, MA
We partnered with the Sharon community to establish a Massachusetts branch of ChillZone. Local kids drop in every week to study and have fun with friends in a supervised setting. Pizza, prizes and fun activities make this study hour a time that kids look forward to all week.