Our Matching Gift Sponsors
How it works in SC

1. Tell us about your car
Take 2 minutes to fill out a donation form - online or over the phone.

2. Schedule a free pickup
Within 24 hours we'll call you to arrange a convenient pickup time.

3. You are done!
Within 2-4 weeks you receive a tax receipt and vacation voucher.
400,000+ donors trust us with their car.
Here's what our South Carolina donors had to say about how donating went for them.
P.S. we didn't make these up! They're all real donors, with real experiences.
By
Jean R.

, Awendaw SC (I donated a 1999 Toyota Camry)
great way to give
Donated and received prompt and easy pick up
By
Arpen P.

, Columbia SC (I donated a 1999 Toyota Camry)
I was able to donate a working car that was not being used and I also received prompt and easy pick up.!!!
My next car will go there also!
By
Diane L.

, Myrtle Beach SC (I donated a 2004 Toyota Camry)
Everything went very well. I have been telling all my family and friends what a great experience it was going thru kars4kids. My next car will go there also!
How your car helps
Our charity programs are the essence of what we do. We are thankful to be able to give back to many local communities across North America and to bring educational opportunities to so many children. We're a registered nonprofit Jewish organization. Learn about what we do and see our charity programs here.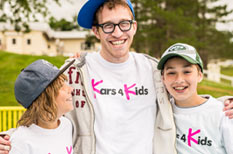 The Kars4Kids Vision
Kars4Kids' vision is to give our children the ability to succeed in life. We focus on educational, mentorship and year-round programs for our children, their families and their communities, looking at the big picture of our children's development and the environment they grow up in. We rely on thousands of volunteers to help us change the world, one child at a time.
Farm Program
Animals can be very therapeutic for children. The children in our summer camp gain so much from the farm program, from the confidence of learning to ride a horse, to the feeling of empowerment that taking care of a baby animal gives. The kids love all the camp's animals, from the little bunnies and goats to the cows and horses.
Upgrade Education
Many a failing student can be helped with a little extra tutoring after school. The one on one attention and personalized help geared to their learning style can make all the difference for them. Our Upgrade Education program provides tutors for eligible students. Just an hour a day can bring a flagging child up to speed.
Still have questions?
What is the amount of the tax deduction I will receive?
The amount you can claim from the IRS as a
tax deduction
depends on the category applicable to you:
The IRS allows you to claim a tax deduction of:
a) The value of your vehicle up to $500. It is up to the donor to determine the fair market value.
b) The amount we sell your vehicle for - if it is more than $500.
Kars4kids is a classified 501(c)(3) charity organization. You can check with your tax advisor or accountant to determine the amount of your benefit. The deduction is of value only if the donor itemizes his or her deductions. For a more detailed overview the IRS publishes a
Donors Guide to Car Donation.
What can I donate?
We accept the following donations: car, snow plow, boat, bus, jet ski, truck, RV (motor home), commercial, airplane, van, trailer, motorcycle, ATV, tractor, and fleet donations. Sorry no kids.
I want to donate a car in South Carolina but I'm missing my title. Is my car still eligible for donation?
We can pick up a vehicle without a title in South Carolina. We just need the registered owner to sign some paperwork for us.

In the following counties you don't need to sign any paperwork at all. Just provide a proof of ownership (such as copy of registration or insurance card): Abbeville, Anderson, Edgefield, Greenville, Greenwood, Laurens, McCormick, Oconee, Pickens
How can I replace my missing title?
Where do I sign my South Carolina title?
ZOOM IN
The sample title document to the left of this paragraph has a blue arrow. Sign where the arrow appears using the name listed on the front page of your car title. The title document should be given to the tow truck driver at the time your car is collected.
How do I transfer the ownership of my car?
Remove plates
Remove the license plates from the car, prior to it being towed.


Return or transfer plates
You may return the plates in person at any SCDMV field office or send it by mail to:
SC DMV ATTN: Vehicle Registration Plate Return P.O. Box 1498 Blythewood, SC 29016-0019


Notice of Vehicle Sold
Complete a Notice of Vehicle Sold form. Mail the completed form to: Department of Motor Vehicles P. O. Box 1498 Blythewood, S.C. 29016-0036.


Stop insurance
Cancel your insurance coverage on the donated vehicle once it's been picked up.
For a full list of frequently asked questions check out our faq section.
In South Carolina, a lot of people purchase the Honda Accord. We know this for a fact because it's the most commonly donated car in that state.
Any information on this page related to state laws and title requirements is correct to the best of our knowledge. But because this kind of information is liable to change, please check with your local motor vehicle authority for current guidelines and requirements.
Kars4kids Car Donation
Sun - Thu: 7 am - midnight EST
Fri: 8 am -
pm EST
Sat: 2 pm - midnight EST
Our Areas of Service.
We cover the entire South Carolina State area.
We receive the highest amount of vehicle donations from these cities:
Abbeville, Aiken, Anderson, Barnwell, Beaufort, Belton, Bennettsville, Bishopville, Camden, Cayce, Charleston, Chesnee, Chester, Clemson, Clinton, Columbia, Conway, Darlington, Denmark, Dillon, Easley, Florence, Folly Beach, Forest Acres, Fountain Inn, Gaffney, Georgetown, Goose Creek, Greenville, Greenwood, Greer, Hanahan, Hardeeville, Hartsville, Inman, Isle of Palms, Johnsonville, Lake City, Lancaster, Landrum, Laurens, Liberty, Loris, Manning, Marion, Mauldin, Mullins, Myrtle Beach, Newberry, North Augusta, North Charleston, North Myrtle Beach, Orangeburg, Pickens, Rock Hill, Seneca, Simpsonville, Spartanburg, Sumter, Tega Cay, Travelers Rest, Union, Walhalla, Walterboro, Wellford, West Columbia, Westminster, Woodruff, York