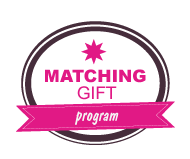 Double your Donation
at no cost to you!
Many companies offer matching gift programs; that match dollar for dollar donations made by their employees.
ALL YOU HAVE TO DO IS ASK!! And you can double your impact on the life of a child.

Search for your company


Look up your company to see if they offer matching gifts, and instructions how to apply
If your company doesnít appear on the list, ask your Human Resources department,
as many companies do offer.
Information you need to fill out the form

Charity name: JOY for our Youth dba Kars4Kids
EIN: 22-3746050
President: Eli Mintz


Kars4Kids
Attn. Matching Gifts
1805 Swarthmore Ave
Lakewood, NJ 08701
Thatís all you have to do!
We'll take care of the rest. Your company will send its matching donation directly to Kars4Kids.
And your donation will have helped twice as many people. For assistance, contact Connie Horowitz at connie@kars4kids.org