Our Matching Gift Sponsors
How it works in MD

1. Tell us about your car
Take 2 minutes to fill out a donation form - online or over the phone.

2. Schedule a free pickup
Within 24 hours we'll call you to arrange a convenient pickup time.

3. You are done!
Within 2-4 weeks you receive a tax receipt and vacation voucher.
400,000+ donors trust us with their car.
Here's what our Maryland donors had to say about how donating went for them.
P.S. we didn't make these up! They're all real donors, with real experiences.
This one is clearly the best of the bunch of charities
By
Kerry F.

, Rockville MD (I donated a 2002 Chevrolet Prizm)
I would recommend Kars4Kids to anyone who is considering donating their vehicle for a fine cause. I've dealt with other charities in the past and this one is clearly the best of the bunch. They are well-organized and are on time with everything from their follow-up phone calls to getting the vehicle picked up at a time that is suitable to you. The tow truck driver was just as courteous as you would hope for and the paperwork cam in right when they said it would. I would not hesitate to use them again and have already recommended them to my friends and family.
You made it convenient for me
By
William R.

, Parkton MD (I donated a 1990 Mercedes-Benz 190-Class)
It was fast. It was easy. You made it convenient for me. It made me happy to have a good experience because I will be more inclined to do the same in the future with your charity. Thank you!
This is my first time donating a car for charity
By
Amy D.

, Germantown MD (I donated a 2002 Mitsubishi Lancer)
This is my first time donating a car for charity. The process is fast and convenient. Dolores has been very helpful in answering my questions and making sure that I submit all of the paperwork that needed in order to process. Not only do I get tax deductable for an unused car but I also get free vacation voucher. I will recommend Kars4kids to my family and friends. Thank you, Kars4kids.
How your car helps
Our charity programs are the essence of what we do. We are thankful to be able to give back to many local communities across North America and to bring educational opportunities to so many children. We're a registered nonprofit Jewish organization. Learn about what we do and see our charity programs here.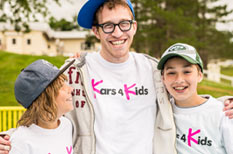 The Kars4Kids Vision
Kars4Kids' vision is to give our children the ability to succeed in life. We focus on educational, mentorship and year-round programs for our children, their families and their communities, looking at the big picture of our children's development and the environment they grow up in. We rely on thousands of volunteers to help us change the world, one child at a time.
Funding Educational Initiatives
Kars4Kids, more than anything else, believes in helping kids get a quality education. Partnering with those who share the desire to educate children helps further the dream, making it possible for even children from low-income homes to get the education they deserve.The Kars4Kids small grant initiative for like-minded education nonprofits is a great way to pool resources and make things happen.
Navigating Childhood
There's a lot of pressure on schoolchildren these days. The school work can be difficult, but beyond that there may be learning disabilities, peer pressure, bullying, and a lack of motivation. Kars4Kids carefully matches children with volunteer tutors who serve as mentors, guiding kids through the pitfalls of childhood to ensure they get an education.
Still have questions?
What is the amount of the tax deduction I will receive?
The amount you can claim from the IRS as a
tax deduction
depends on the category applicable to you:
The IRS allows you to claim a tax deduction of:
a) The value of your vehicle up to $500. It is up to the donor to determine the fair market value.
b) The amount we sell your vehicle for - if it is more than $500.
Kars4kids is a classified 501(c)(3) charity organization. You can check with your tax advisor or accountant to determine the amount of your benefit. The deduction is of value only if the donor itemizes his or her deductions. For a more detailed overview the IRS publishes a
Donors Guide to Car Donation.
What can I donate?
We accept the following donations: car, snow plow, boat, bus, jet ski, truck, RV (motor home), commercial, airplane, van, trailer, motorcycle, ATV, tractor, and fleet donations. Sorry no kids.
I want to donate a car in Maryland but I'm missing my title. Is my car still eligible for donation?
We can pick up a vehicle without a title in Maryland. We just need the registered owner to sign some paperwork for us.

In the following counties you don't need to sign any paperwork at all. Just provide a proof of ownership (such as copy of registration or insurance card): Cecil
How can I replace my missing title?
Where do I sign my Maryland title?
ZOOM IN
The sample title document to the left of this paragraph has a blue arrow. Sign where the arrow appears using the name listed on the front page of your car title. The title document should be given to the tow truck driver at the time your car is collected.
How do I transfer the ownership of my car?
1. Remove all plates
All plates must be removed from your car prior to towing.
2. Return your plates to the DMV
License plates can be mailed to the DMV or dropped off in person.
Drop your plates off in person.
There are 3 ways you can drop off your plates:
A)
Return them in person to any
MVA branch office
, including express offices.
B)
Return them to any
MVA authorized tag and title service
.
C)
Drop them in one of the MVA license plate return drop boxes. Currently, drop boxes with 24 hour access are located at the Baltimore City, Columbia, Gaithersburg, Glen Burnie, and Salisbury offices. Drop boxes are available during normal business hours at the Essex and Waldorf offices. &nbsp
Or mail the plates to:
MVA CRTR
6601 Ritchie Highway, N.E.
Glen Burnie, MD 21062
Sending them by certified mail with return receipt requested is recommended. Note: When you return the license plates, always include your registration card.
3. Cancel your insurance
Cancel your insurance after your car has been towed.
WARNING: Do not cancel your insurance until you are sure that the MVA has received your license plates. Failure to do so could result in a large fine. There is no fee for returning license plates.
Visit
http://www.mva.maryland.gov/
for more information on your state car donation laws.
Would you like to meet one of our service providers?
Redmonds Auto Parts serves one of the largest areas of any towing company we know. The company, in the business for some 22 years, hauls cars all over the entire state of Maryland, a large swathe of Pennsylvania, the eastern region of West Virginia, the northern section of Virginia, the full state of Delaware, and all of Washington, D.C. Somehow Redmond gets the job done with a fleet of just 5 trucks. This seems like nothing short of a magic trick - the owner estimates the company services between 6-10 cars daily.

Redmonds has often arrived at a call to find the entire family gathered to say goodbye to the family car. What can we say: the United States is a place where people love their cars. Of course, families are pleased and happy to know that the proceeds of their donations go to help children in families not much different from their own! It's all in the spirit of helping others.
For a full list of frequently asked questions check out our faq section.
The typical RV owner is 49, married, and a homeowner with an annual household income of $68,000. Of course, Kars4Kids has no idea how close Henry of Pikesville, MD comes to this average profile, but the fact that he donated his RV to help kids means he's ABOVE average in our eyes.
Financial disclosure: J.O.Y for our youth is exempt from tax under section 501(c)(3) of the Internal Revenue Code and qualifies for the maximum charitable contribution deduction by donors. Our Federal Identification Number is 22-374-6050. We are proud of the way we manage our finances.
Any information on this page related to state laws and title requirements is correct to the best of our knowledge. But because this kind of information is liable to change, please check with your local motor vehicle authority for current guidelines and requirements.
Kars4kids Car Donation
Sun - Thu: 7 am - midnight EST
Fri: 8 am -
pm EST
Sat: 2 pm - midnight EST
Our Areas of Service.
We cover the entire Maryland State area.
We receive the highest amount of vehicle donations from these cities:
Aberdeen, Abingdon, Adamstown, Annapolis, Ashton,
Baltimore
, Bel Air, Beltsville, Berlin, Berwyn, Bethesda, Bladensburg, Bowie, Brandywine, Brunswick, Burkittsville, Burtonsville, Cambridge, Cape St. Claire, Catonsville, Centreville, Chesapeake City, Chestertown, Cheverly, Chevy Chase, Chevy Chase Village, Clinton, College Park, Columbia, Crisfield, Crofton, Cumberland, Damascus, Darnestown, Deal Island, Deep Creek Lake, Delmar, Denton, District Heights, Dundalk, Easton, Eldersburg, Elkton, Ellicott City, Emmitsburg, Essex, Fallston, Federalsburg, Frederick, Friendship, Frostburg, Fruitland, Fulton, Gaithersburg, Garrett Park, Germantown, Glen Burnie, Glen Echo, Glenmont, Grantsville, Greenbelt, Hagerstown, Hampstead, Hancock, Havre de Grace, Hyattsville, Indian Head, Kennedyville, Kensington, La Plata, Landover Hills, Laurel, Leonardtown, Lexington Park, Linthicum, Manchester, Middletown, Mitchellville, Montgomery, Mount Airy, Myersville, NaMDemoy, New Carrollton, New market, New Windsor, North Beach, North Chevy Chase, Oakland, Ocean City, Ocean Pines, Olney, Owings Mills, Oxford, Oxon Hill, Parkton, Perry Hall, Perryville, Phoenix, Pikesville, Pocomoke City, Point of Rocks, Poolesville, Potomac, Preston, Princess Anne, Reisterstown, Ridgely, Rising Sun, Riverdale Park, Rock Hall, Rockville, Rose Haven, Salisbury, Severna Park, Sharptown, Sherwood Forest, Silver Spring, Smithsburg, Snow Hill, Solomons, Somerset, St. Charles, St. Mary's City, St. Michael's, Sykesville, Takoma Park, Taneytown, Tilghman, Towson, Trappe, Union Bridge, University Park, Upper Marlboro, Waldorf,
Washington DC
, Westminster, Wheaton