Our Matching Gift Sponsors
How it works in MA

1. Tell us about your car
Take 2 minutes to fill out a donation form - online or over the phone.

2. Schedule a free pickup
Within 24 hours we'll call you to arrange a convenient pickup time.

3. You are done!
Within 2-4 weeks you receive a tax receipt and vacation voucher.
400,000+ donors trust us with their car.
Here's what our Massachusetts donors had to say about how donating went for them.
P.S. we didn't make these up! They're all real donors, with real experiences.
Cannot be happier with the service provided
By
Nils E.

, Stoughton MA (I donated a 2000 Mercury Sable)
I needed to get rid of my old car, which had too many miles. I turned to Kars4Kids online, entered my information, promptly received an email reply, contacted the vendor who came at the expected time and removed the car. I confirmed the pickup online, received a confirmation. Everything went extremely smoothly. I cannot be happier with the service provided.
I will continue to encourage others to use Kars4Kids
By
Richard K.

, Hanson MA (I donated a 1999 Toyota Camry Solara)
My experience with karsforkids was an extremely pleasant one. I have already recommend one persons to karsforkids whom has donated his car as well. I will continue to recommend and encourage others to use karsforkids because of how easy it was to use and because of the wonderful staff who answered all of my questions and made it an easy process. Thank you all
All I had to do was make a phone call
By
Bill M.

, Melrose MA (I donated a 1997 Toyota Camry)
Donating was easy. All I had to do was make a phone call and Karsforkids did all the work.
How your car helps
Our charity programs are the essence of what we do. We are thankful to be able to give back to many local communities across North America and to bring educational opportunities to so many children. We're a registered nonprofit Jewish organization. Learn about what we do and see our charity programs here.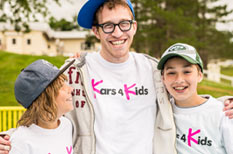 The Kars4Kids Vision
Kars4Kids' vision is to give our children the ability to succeed in life. We focus on educational, mentorship and year-round programs for our children, their families and their communities, looking at the big picture of our children's development and the environment they grow up in. We rely on thousands of volunteers to help us change the world, one child at a time.
Crunch Relief: Financial Assistance
Unfortunately the reality is that many are not able to develop themselves or their families' values and emotional well being the way they hoped to because of the all-consuming burden of financial strain. It's with this in mind that our Crunch Relief Program distributes necessities as donations to such families that with just a bit of relief they can have the peace of mind to focus on what really counts.
ChillZone in Sharon, MA
We partnered with the Sharon community to establish a Massachusetts branch of ChillZone. Local kids drop in every week to study and have fun with friends in a supervised setting. Pizza, prizes and fun activities make this study hour a time that kids look forward to all week.
Still have questions?
What is the amount of the tax deduction I will receive?
The amount you can claim from the IRS as a
tax deduction
depends on the category applicable to you:
The IRS allows you to claim a tax deduction of:
a) The value of your vehicle up to $500. It is up to the donor to determine the fair market value.
b) The amount we sell your vehicle for - if it is more than $500.
Kars4kids is a classified 501(c)(3) charity organization. You can check with your tax advisor or accountant to determine the amount of your benefit. The deduction is of value only if the donor itemizes his or her deductions. For a more detailed overview the IRS publishes a
Donors Guide to Car Donation.
What can I donate?
We accept the following donations: car, snow plow, boat, bus, jet ski, truck, RV (motor home), commercial, airplane, van, trailer, motorcycle, ATV, tractor, and fleet donations. Sorry no kids.
I want to donate a car in Massachusetts but I'm missing my title. Is my car still eligible for donation?
We can pick up a vehicle without a title in Massachusetts. We just need the registered owner to sign some paperwork for us.

In the following counties you don't need to sign any paperwork at all. Just provide a proof of ownership (such as copy of registration or insurance card): Bristol, Dukes, Essex, Hampden, Hampshire, Middlesex, Nantucket, Norfolk, Plymouth, Plymouth, Suffolk, Suffolk, Worcester
How can I replace my missing title?
In almost all scenarios Kars4kids will apply for the new title for you. We'll handle all the paperwork and pay the title fees too.
If you'd prefer you may apply for a new title on your own. Here's how:
There are a couple of ways to apply for a duplicate title.
Online:
Order a
Duplicate Title Online
In Person:
Visite a
local office
.
By Mail:
Complete a
Duplicate Title Application
.
Mail the completed Duplicate Title Application to:
Attn: Duplicate Titles Department
Registry of Motor Vehicles
PO Box 55885
Boston, MA 02205-5885
For additional details visit:
http://www.massrmv.com/rmv/titles/6dup.htm
Where do I sign my Massachusetts title?
ZOOM IN
The sample title document to the left of this paragraph has a blue arrow. Sign where the arrow appears using the name listed on the front page of your car title. The title document should be given to the tow truck driver at the time your car is collected.
How do I transfer the ownership of my car?
1. Remove all plates
All plates must be removed from your car prior to towing.
2. Cancel your plate registration.
There are 3 ways to cancel your registraion.
I. Online
You can cancel your plate/registration online, as long as you have at least one plate in your possesion.
Cancel online >
II. Drop them off in person
This interactive map will help you find your closest RMV, including hours.
Find your local RMV >
III. Mail
RMV
Attn: Plate Returns
P.O. Box 55889
Boston, MA 02205-5889
Please note that the receipt will be mailed to the address currently on file. If you have moved, please include your new address with your plates.
3. Cancel your insurance
Cancel your insurance after you've canceled your plate registration.
Visit
http://www.massrmv.com/rmv/regs/reg9.htm
for more information on your state car donation laws.
Would you like to meet one of our service providers?
Smith knows all about towing cars. They should, after 33 years in the business. Smith Auto Recycling services a radius of 100 miles from its base location in Clinton and has 4 tow trucks on duty, every single day.

The towing service knows that towing cars isn't all about business. Take for instance, the lady who after having her car towed just couldn't bear the pain of giving up her dear 4-wheeled friend without one final goodbye. Smith arranged to have the woman come around to the office to say a last fond farewell where the understanding staff discreetly moved away to offer car and woman some privacy for their final leave-taking.

Going forward, we know the woman's final consolation will be found in the fact that the proceeds from her car went to benefit Kars4Kids children in need. Now that can't help but be a good feeling!
For a full list of frequently asked questions check out our faq section.
Cars serve many functions and in the case of ambulances, may even save lives. Five hospital vehicles donated by the city of Lowell, MA, were repurposed and rehabbed so that they could continue to save lives. The vehicles in question were a 1997 Chevy Tahoe, a 1998 Chevy Tahoe, a 1998 Ford E-350, a 1999 Chevy Express, and a 2001 Ford Econoline.
Any information on this page related to state laws and title requirements is correct to the best of our knowledge. But because this kind of information is liable to change, please check with your local motor vehicle authority for current guidelines and requirements.
Kars4kids Car Donation



1175 Old Plymouth Street




Bridgewater

,

MA

02324




508-408-5048
Sun - Thu: 7 am - midnight EST
Fri: 8 am -
pm EST
Sat: 2 pm - midnight EST
Our Areas of Service.
We cover the entire Massachusetts State area.
We receive the highest amount of vehicle donations from these cities:
Agawam, Attleboro, Barnstable Town, Beverly,
Boston
, Brockton, Cambridge, Chelsea, Chicopee, Easthampton, Everett, Fall River, Fitchburg, Franklin, Gardner, Gloucester, Haverhill, Holyoke, Lawrence, Leominster, Lowell, Lynn, Malden, Marlborough, Medford, Melrose, Methuen, New Bedford, Newburyport, Newton, North Adams, Northampton, Peabody, Pittsfield, Quincy, Revere, Salem, Somerville, Springfield, Taunton, Waltham, Watertown, Westfield, Woburn, Worcester