Our Matching Gift Sponsors
How it works in CT

1. Tell us about your car
Take 2 minutes to fill out a donation form - online or over the phone.

2. Schedule a free pickup
Within 24 hours we'll call you to arrange a convenient pickup time.

3. You are done!
Within 2-4 weeks you receive a tax receipt and vacation voucher.
400,000+ donors trust us with their car.
Here's what our Connecticut donors had to say about how donating went for them.
P.S. we didn't make these up! They're all real donors, with real experiences.
Easiest car donation that I've made
By
Terry W.

, Marion CT (I donated a 1999 Audi A4)
Easiest car donation of the three that I've made over the years. Simple on-line "paperwork", straight forward scheduling and bingo, someone was here to tow the Audi away. With a couple of weeks, I was informed of the value I could take as a tax deduction. No sweat, no problem!
Highly recommend to anyone who wants to donate a car!
By
John D.

, Madison CT (I donated a 2001 Ford Escape)
Extremely friendly and efficient - would highly recommend to anyone who wants to donate a car!
Happy to donate my car instead of junking it
By
Peter P.

, New Britain CT (I donated a 1989 Pontiac Grand Prix)
you did an awesome job at my request to donate my car to helping children and i was happy to donate my car to a good cause instead of junking it and more then happy to do it again the next time i have a used car i'm getting rid of thank you again
How your car helps
Our charity programs are the essence of what we do. We are thankful to be able to give back to many local communities across North America and to bring educational opportunities to so many children. We're a registered nonprofit Jewish organization. Learn about what we do and see our charity programs here.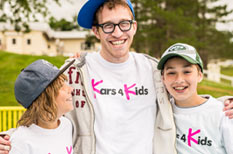 The Kars4Kids Vision
Kars4Kids' vision is to give our children the ability to succeed in life. We focus on educational, mentorship and year-round programs for our children, their families and their communities, looking at the big picture of our children's development and the environment they grow up in. We rely on thousands of volunteers to help us change the world, one child at a time.
Dream Camp Experience
Being a kid in summer means going to camp for extended, uncomplicated fun. But not every family has the means to give their children that important experience. Our beautiful campus at our Kamp4Kids has every fun activity imaginable plus knowledgeable staff to guide the children every step of the way for the most meaningful summer ever.
Developing Leadership Skills
Some kids are born leaders-they just aren't getting the help they need to fulfill their innate leadership skills. Kars4Kids' Maccabees Volunteer Leadership Program helps shape and develop that talent, thus providing a pool of immensely talented mentors and counselors to work with the next generation of kids in need.
Still have questions?
What is the amount of the tax deduction I will receive?
The amount you can claim from the IRS as a
tax deduction
depends on the category applicable to you:
The IRS allows you to claim a tax deduction of:
a) The value of your vehicle up to $500. It is up to the donor to determine the fair market value.
b) The amount we sell your vehicle for - if it is more than $500.
Kars4kids is a classified 501(c)(3) charity organization. You can check with your tax advisor or accountant to determine the amount of your benefit. The deduction is of value only if the donor itemizes his or her deductions. For a more detailed overview the IRS publishes a
Donors Guide to Car Donation.
What can I donate?
We accept the following donations: car, snow plow, boat, bus, jet ski, truck, RV (motor home), commercial, airplane, van, trailer, motorcycle, ATV, tractor, and fleet donations. Sorry no kids.
I want to donate a car in Connecticut but I'm missing my title. Is my car still eligible for donation?
We can pick up a vehicle without a title in Connecticut. We just need the registered owner to sign some paperwork for us.

In the following counties you don't need to sign any paperwork at all. Just provide a proof of ownership (such as copy of registration or insurance card): Fairfield
How can I replace my missing title?
In almost all scenarios Kars4kids will apply for the new title for you. We'll handle all the paperwork and pay the title fees too.
If you'd prefer you may apply for a new title on your own. Here's how:
The car owner must complete the
Application for Replacement Certificate of Title
(form H-6B). This application must be signed.
If the vehicle was registered after February 1988, the duplicate title can be issued at any
DMV Hub Office or Limited Service Office
(Please Note: The Putnam Office does not process replacement titles).
You can also mail the
Application for Replacement Certificate of Title
(form H-6B) to:
Department of Motor Vehicles
Title Unit
60 State Street
Wethersfield, CT 06161
Where do I sign my Connecticut title?
ZOOM IN
The sample title document to the left of this paragraph has a blue arrow. Sign where the arrow appears using the name listed on the front page of your car title. The title document should be given to the tow truck driver at the time your car is collected.
How do I transfer the ownership of my car?
1. Remove all plates
All plates must be removed from your car prior to towing.
2. Return your plates to the DMV or transfer them to another vehicle
You may transfer your marker plates between vehicles which are currently registered in your name by visiting your local DMV with both registration certificates, current insurance card, your identification and complete a
registration application H13
for each vehicle. Advise the DMV agent that you would like to transfer the plates between the vehicles.
License plates can be mailed to the DMV or dropped off in person.
Drop your plates off in person.
Return your registration marker plate(s) to any
DMV HUB or limited service office
. Request a cancellation of the plates(s). Request a receipt and keep for your records. You may need the receipt to request a proration of your municipal property tax bill. There will be a $20 fee if you lose the receipt and need a replacement.
Or mail the plates to:
Attn: Plate Return
DMV 60 State Street
Wethersfield, CT 06161
Please enclose a written request to cancel the registration and indicate whether you would like a receipt. A receipt will be mailed to the address that is on file with DMV. If you have moved out of state you must enclose a self addressed stamped envelope for the receipt to be mailed to you.
3. Cancel your insurance
Cancel your insurance after your car has been towed.
Visit
http://www.ct.gov/dmv/
for more information on your state car donation laws.
Would you like to meet one of our service providers?
Elm City Auto Wrecking services the complete state of Connecticut with just 4 tow trucks. That's a mighty tall order, but this is a can-do kind of business with 25 years of experience in the can. The company tries to go the limit, offering itscustomers service with heart, in both English and in Spanish.

Elm City knows that the relationship between car and client runs deep and helps to make car donation as pleasant an experience as possible. As clients say goodbye o their cars, they are glad to know that the proceeds will go to fund educational programs and camps for children. That's important to them and it's important to Elm City Auto Wrecking, too.

Elm City is proud to be a part of thegood work done by Kars4Kids on behalf of children all over the United States. That makes going to work a meaningful endeavor, for the staff at Elm City, every single day.
For a full list of frequently asked questions check out our faq section.
The largest tax deduction ever realized from a Kars4Kids car donation went to Brian of Greenwich, CT., whose Porsche 911 sold for $25,000.
Any information on this page related to state laws and title requirements is correct to the best of our knowledge. But because this kind of information is liable to change, please check with your local motor vehicle authority for current guidelines and requirements.
Kars4kids Car Donation



1756 North Broad Street




Meriden

,

CT

06450




203-427-2086
Sun - Thu: 7 am - midnight EST
Fri: 8 am -
pm EST
Sat: 2 pm - midnight EST
Our Areas of Service.
We cover the entire Connecticut State area.
We receive the highest amount of vehicle donations from these cities:
Andover, Ansonia, Ashford, Avon, Barkhamsted, Beacon Falls, Berlin, Bethany, Bethel, Bethlehem, Bloomfield, Bolton, Bozrah, Branford, Bridgeport, Bridgewater, Bristol, Brookfield, Brooklyn, Burlington, Canaan, Canterbury, Canton, Chaplin, Cheshire, Chester, Clinton, Colchester, Colebrook, Cornwall, Columbia, Coventry, Cromwell, Danbury, Darien, Deep River, Derby, Durham, East Granby, East Haddam, East Hampton (CDP), East Hartford, East Haven, East Lyme, East Windsor, Eastford, Easton, Ellington, Enfield, Essex, Fairfield, Farmington, Franklin, Glastonbury, Goshen, Granby, Greenwich, Griswold, Groton, Guilford, Haddam, Hamden, Hampton, Hartford, Hartland, Harwinton, Hebron, Kent, Killingly, Killingworth, Lebanon, Ledyard, Lisbon, Litchfield, Lyme, Madison, Manchester, Mansfield, Marlborough, Meriden, Middlebury, Middlefield, Middletown, Milford, Monroe, Montville, Morris, Naugatuck, Newington, Newtown, New Britain, New Canaan, New Fairfield, New Hartford, New Haven, New London, New Milford, Norfolk, North Branford, North Canaan, North Haven, North Stonington, Norwalk, Norwich, Old Lyme, Old Saybrook, Orange, Oxford, Plainfield, Plainville, Plymouth, Pomfret, Portland, Preston, Prospect, Putnam, Redding, Ridgefield, Rocky Hill, Roxbury, Salem, Salisbury, Scotland, Seymour, Sharon, Shelton, Sherman, Simsbury, Somers, South Windsor, Southbury, Southington, Sprague, Stafford, Stamford, Sterling, Stonington, Stratford, Suffield, Thomaston, Thompson, Tolland, Torrington, Trumbull, Union, Vernon, Voluntown, Wallingford, Warren, Washington, Waterbury, Waterford, Watertown, West Hartford, West Haven, Westbrook, Weston, Westport, Wethersfield, Willington, Wilton, Winchester, Windham, Windsor, Windsor Locks, Wolcott, Woodbridge, Woodbury, Woodstock