Our Matching Gift Sponsors
How it works in CA

1. Tell us about your car
Take 2 minutes to fill out a donation form - online or over the phone.

2. Schedule a free pickup
Within 24 hours we'll call you to arrange a convenient pickup time.

3. You are done!
Within 2-4 weeks you receive a tax receipt and vacation voucher.
400,000+ donors trust us with their car.
Here's what our California donors had to say about how donating went for them.
P.S. we didn't make these up! They're all real donors, with real experiences.
I enjoyed working with Kars for Kids
By
Joe R.

, San Jose CA (I donated a 1996 Volkswagen Jetta)
Really good! I enjoyed working with Kars for Kids, best radio commercial out there and great service on the pickup!
We appreciate the efficiency of Kars4Kids
By
Richard C.

, La Mirada CA (I donated a 2002 Honda Civic)
Our three experiences with Kars4Kids have been wonderful! After calling other organizations to receive our autos and finding them to be more complicated than expected, we appreciate the efficiency of Kars4Kids no hassle process for helping us donate our autos. Thank you Kars4Kids
I wish every business deal went this easy
By
Michael T.

, Novato CA (I donated a 1991 Ford Escort)
Every part of the transaction was easy,I wish every business deal went this easy.I know this went to a great cause and I hope someone gets some use from my Escort
How your car helps
Our charity programs are the essence of what we do. We are thankful to be able to give back to many local communities across North America and to bring educational opportunities to so many children. We're a registered nonprofit Jewish organization. Learn about what we do and see our charity programs here.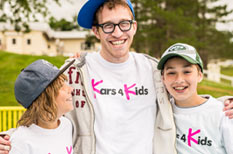 The Kars4Kids Vision
Kars4Kids' vision is to give our children the ability to succeed in life. We focus on educational, mentorship and year-round programs for our children, their families and their communities, looking at the big picture of our children's development and the environment they grow up in. We rely on thousands of volunteers to help us change the world, one child at a time.
Whole Family Support
A child is just one part of a whole: his family. At Kars4Kids we understand that helping children means offering supports and programming for parents and siblings. Outreach and mentoring for all the members of a family is a critical part of our approach. The result: happy, healthy children who are motivated to reach their fullest potential.
Just Chillin'
Kars4kids' flagship afterschool program for kids, Chill Zone, is a safe place for children to be in the hours after school and on weekends. Here they enjoy programs developed with them in mind for help with homework, structured fun, and social development. Prizes, games, and smiles keep kids coming back for more.
Still have questions?
What is the amount of the tax deduction I will receive?
The amount you can claim from the IRS as a
tax deduction
depends on the category applicable to you:
The IRS allows you to claim a tax deduction of:
a) The value of your vehicle up to $500. It is up to the donor to determine the fair market value.
b) The amount we sell your vehicle for - if it is more than $500.
Kars4kids is a classified 501(c)(3) charity organization. You can check with your tax advisor or accountant to determine the amount of your benefit. The deduction is of value only if the donor itemizes his or her deductions. For a more detailed overview the IRS publishes a
Donors Guide to Car Donation.
What can I donate?
We accept the following donations: car, snow plow, boat, bus, jet ski, truck, RV (motor home), commercial, airplane, van, trailer, motorcycle, ATV, tractor, and fleet donations. Sorry no kids.
I want to donate a car in California but I'm missing my title. Is my car still eligible for donation?
We can pick up a vehicle without a title in California. We just need the registered owner to sign some paperwork for us.

In the following counties you don't need to sign any paperwork at all. Just provide a proof of ownership (such as copy of registration or insurance card): Alameda, Alpine, Amador, Butte, Calaveras, Colusa, Contra Costa, Del Norte, El Dorado, Fresno, Glenn, Humboldt, Imperial, Inyo, Kern, Kings, Lake, Lassen, Los Angeles, Madera, Marin, Mariposa, Mendocino, Merced, Modoc, Mono, Monterey, Napa, Nevada, Orange, Placer, Plumas, Riverside, Sacramento, San Benito, San Bernardino, San Diego, San Francisco, San Joaquin, San Luis Obispo, San Mateo, Santa Barbara, Santa Clara, Santa Cruz, Shasta, Sierra, Siskiyou, Solano, Sonoma, Stanislaus, Sutter, Tehama, Trinity, Tulare, Tuolumne, Ventura, Yolo, Yuba
How can I replace my missing title?
In almost all scenarios Kars4kids will apply for the new title for you. We'll handle all the paperwork and pay the title fees too.
If you'd prefer you may apply for a new title on your own. Here's how:
Download, print, and complete the
Application for Duplicate Title Form
. The legal owner must sign the form and have it notarized.
You may submit this application and payment of the fee either in person or by mail. You can make an
Appointment
at your
local DMV
or mail the completed forms with payment to:
Department of Motor Vehicles
Registration Operations
P.O. Box 942869 MS E69
Sacramento, CA 94269-0001
Where do I sign my California title?
ZOOM IN
The sample document to the left of this paragraph has two blue arrows. Sign where both arrows appear using the name listed on the front page of your car title. The title document should be given to the tow truck driver at the time your car is collected. Attached to the top of your title is a Release of Liability. You will need to fill out this form and mail it or deliver it to your local DMV.
How do I transfer the ownership of my car?
1. Leave the plates on the car
You can leave the plates on the vehicle.
Personalized Plates:
If the license plate is a special interest or personalized license plate, you must decide if you want to keep the plate for use on another vehicle, or release your interest in the plate. Either way you need to complete a
Special Interest License Plate Application
or a
Special License Plate Application
indicating your retention or release of the special plate and give the form to the tower.
2. Fill out a Release of Liability
The donor is responsible for reporting the change of ownership to DMV within 5 days from the date of donation. After DMV updates the information from the Notice of Transfer and Release of Liability, you will be cleared from future liability on the vehicle The form is attached to your title. Complete the portion attached at the top of the title called "Release of Liability". You can fill it in and mail it or deliver it to your local DMV.
Once you've filled out your release of liability there are 3 ways to submit it:
I. Online
Most donors find submitting their release of liability online easiest.
Submit your Release of Liability online >
II. In Person
California DMV Office Locator >
III. Mail It:
Department of Motor vehicles
Notice of transfer and release of liability
PO Box 942859
Sacramento, CA 94259
3. Cancel your insurance
Cancel your insurance after you've submitted your release of liability.
Visit
http://www.dmv.ca.gov/
for more information on your state car donation laws.
Would you like to meet one of our service providers?
Edwin's Towing is based in Ontario California and has been in business for the past 7 years. The towing company services a radius of approximately 80 miles and has a substantial fleet of 11 tow trucks. While the company's purported business is towing cars and in particular, car donations, the staff is nothing if not flexible.

Javier recalls that one time he arrived to pick up a car to be towed and the lady of the house said he couldn't tow the car unless he helped her paint the house. Now this woman, though rather elderly, had presence, and Javier was simply unable to resist. He painted the front porch according to the nice lady's directions and then tried to get back to the real business at hand, towing her car away.

But no. She wanted him to paint the entire house. Such a nice lady she was, but work is work, and at last, the lady let Javier do what he came to do. She even tipped him for the great paint job!
For a full list of frequently asked questions check out our faq section.
Car owners who own Ford Windstar tend to be generous. We know that because more Ford Windstars were donated than any other model in the state!
Any information on this page related to state laws and title requirements is correct to the best of our knowledge. But because this kind of information is liable to change, please check with your local motor vehicle authority for current guidelines and requirements.
Kars4kids Car Donation



2313 Bay Hill Road




Chula Vista

,

CA

91915




619-872-2772
Sun - Thu: 7 am - midnight EST
Fri: 8 am -
pm EST
Sat: 2 pm - midnight EST
Our Areas of Service.
We cover the entire California State area.
We receive the highest amount of vehicle donations from these cities:
Anaheim, Berkeley, Burbank, Chula Vista, Daly City, Fremont,
Fresno
, Garden Grove, Glendale, Hayward, Irvine,
Long Beach
,
Los Angeles
, Modesto, Mountain View, Oakland, Palo Alto, Pasadena, Pleasanton, Riverside,
Sacramento
,
San Diego
,
San Francisco
, San Gabriel, San Joaquin, San Jacinto,
San Jose
, San Mateo, San Rafael, San Ramon, Sanger, Santa Ana, Santa Barbara, Santa Clara, Santa Monica, Stockton, Sunnyvale, Walnut Creek