Our Matching Gift Sponsors
How it works in AZ

1. Tell us about your car
Take 2 minutes to fill out a donation form - online or over the phone.

2. Schedule a free pickup
Within 24 hours we'll call you to arrange a convenient pickup time.

3. You are done!
Within 2-4 weeks you receive a tax receipt and vacation voucher.
400,000+ donors trust us with their car.
Here's what our Arizona donors had to say about how donating went for them.
P.S. we didn't make these up! They're all real donors, with real experiences.
Relieved to receive the needed help with the vehicle
By
Tracy H.

, Apache Junction AZ (I donated a 1989 Mercury Cougar)
My experience was amazing with this company.It was a relief to receive the help that we needed with the vehicle and knowing the car was going for a very good cause that out family not only supports, but promotes. I will always donate to this cause in the future.
I will donate my next car to you all again
By
daryl t.

, Casa Grande AZ (I donated a 1996 Cadillac Seville)
your folks were professional and followed up, i will donate my next car to you all again.
Everything was done by phone
By
Deborah T.

, Yuma AZ (I donated a 1995 Mercury Grand Marquis)
It was fast & efficient & with the exception of them coming to my house & picking up the car everthing was done by phone. I didn't have to go to MVD. They provided the paperwork when they showed up for the car. Plus they took my car which wasn't runninng ~ it just needed some work to get it running again.
How your car helps
Our charity programs are the essence of what we do. We are thankful to be able to give back to many local communities across North America and to bring educational opportunities to so many children. We're a registered nonprofit Jewish organization. Learn about what we do and see our charity programs here.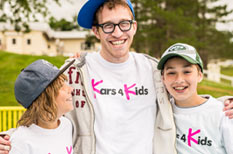 The Kars4Kids Vision
Kars4Kids' vision is to give our children the ability to succeed in life. We focus on educational, mentorship and year-round programs for our children, their families and their communities, looking at the big picture of our children's development and the environment they grow up in. We rely on thousands of volunteers to help us change the world, one child at a time.
Kamp4Kids
The summer is a critical time in a child's development. It can be a huge setback from progress made during the year, or, in the right environment, a time to thrive and build on the year's successes. At a Kars4Kids summer camp, campers gain a lot from outside-the-classroom learning experiences and learn essential social skills in the bunk setting.
Youth Leadership
Our Maccabee leadership development program takes the budding stars of today and helps them develop into the leaders of tomorrow. Weekly training, tailored guidance and personal mentorship all contribute to the success of our youth leadership development program.
Still have questions?
What is the amount of the tax deduction I will receive?
The amount you can claim from the IRS as a
tax deduction
depends on the category applicable to you:
The IRS allows you to claim a tax deduction of:
a) The value of your vehicle up to $500. It is up to the donor to determine the fair market value.
b) The amount we sell your vehicle for - if it is more than $500.
Kars4kids is a classified 501(c)(3) charity organization. You can check with your tax advisor or accountant to determine the amount of your benefit. The deduction is of value only if the donor itemizes his or her deductions. For a more detailed overview the IRS publishes a
Donors Guide to Car Donation.
What can I donate?
We accept the following donations: car, snow plow, boat, bus, jet ski, truck, RV (motor home), commercial, airplane, van, trailer, motorcycle, ATV, tractor, and fleet donations. Sorry no kids.
I want to donate a car in Arizona but I'm missing my title. Is my car still eligible for donation?
We can pick up a vehicle without a title in Arizona. We just need the registered owner to sign some paperwork for us.

In the following counties you don't need to sign any paperwork at all. Just provide a proof of ownership (such as copy of registration or insurance card): Apache, Cochise, Coconino, Gila, Graham, Greenlee, La Paz, Maricopa, Mohave, Navajo, Pima, Pinal, Santa Cruz, Yavapai, Yuma
How can I replace my missing title?
In almost all scenarios Kars4kids will apply for the new title for you. We'll handle all the paperwork and pay the title fees too.
If you'd prefer you may apply for a new title on your own. Here's how:
Go to a local DMV to pick up a form or print out
this form
. Check off the "Title Only" and "Duplicate" boxes on the top of the form. Fill out the form and drop it off at your
local DMV
. You will need to show a photo ID.
Where do I sign my Arizona title?
ZOOM IN
You will need to sign and have the title notarized in the presence of a notary public. The sample title document to the left of this paragraph has a blue arrow. Sign where the arrow appears using the name listed on the front page of your car title document. The title document should be given to the tow truck driver at the time your car is collected.
How do I transfer the ownership of my car?
1. Remove all plates
All plates must be removed from your car prior to towing. The license plate belongs to you, the vehicle owner.
2. Transfer or request a refund
Within 30 days transfer the plate credit to another vehicle you own or request a refund online (
EZ Refund
).
3. Complete a Sold Notice
When you donate your vehicle, you must complete a Sold Notice within 10 days and notify the MVD, which you can do
online
. This notice is your protection from liability for tickets, accidents, etc., that occur after the donation. The Sold Notice will will make your registration on this vehicle invalid.
4. Cancel your insurance
Cancel your insurance after your car has been towed.
Visit
http://www.azdot.gov/mvd/
for more information on your state car donation laws.
For a full list of frequently asked questions check out our faq section.
Thanks to James C. of Lake Havasu City, Arizona, Kars4Kids experienced a first: the only vehicle donation ever received in its original box, a motorized wheelchair!
Any information on this page related to state laws and title requirements is correct to the best of our knowledge. But because this kind of information is liable to change, please check with your local motor vehicle authority for current guidelines and requirements.
Kars4kids Car Donation



3138 West Durango Street




Phoenix

,

AZ

85009




602-753-0786
Sun - Thu: 7 am - midnight EST
Fri: 8 am -
pm EST
Sat: 2 pm - midnight EST
Our Areas of Service.
We cover the entire Arizona State area.
We receive the highest amount of vehicle donations from these cities:
Aguila, Ajo, Alpine, Apache Junction, Ashfork, Avondale, Benson, Bisbee, Black Canyon City, Bouse, Brenda, Buckeye, Bullhead City, Camp Verde, Carefree, Casa Grande, Cave Creek, Chandler, Chino Valley, Chloride, Clarkdale, Coolidge, Cottonwood, Crown King, Douglas, Duncan, Eagar, Ehrenberg, El Mirage, Eloy, Flagstaff, Florence, Fountain Hills, Gila Bend, Gilbert, Glendale, Globe, Goodyear, Green Valley, Greer, Guadalupe, Heber, Holbrook, Hope, Huachuca City, Jerome, Kearny, Kingman, Lake Havasu City, Lake Powell, Litchfield Park, Mammoth, Marana,
Mesa
, Nogales, Oatman, Oro Valley, Page, Paradise Valley, Parker, Patagonia, Payson, Peoria,
Phoenix
, Pinetop-Lakeside, Prescott, Prescott Valley, Quartzsite, Queen Creek, Safford, Sahuarita, Salome, Scottsdale, Sedona, Show Low, Sierra Vista, Snowflake, Somerton, Sonoita, Springerville, St. Johns, Sun City, Sun City West, Superior, Surprise, South Tucson, Tempe, Thatcher, Tolleson, Tombstone, Tubac,
Tucson
, Verde Valley, Wellton, Wenden, Wickenburg, Willcox, Williams, Winslow, Youngtown, Yuma.