Our Matching Gift Sponsors
How it works in TX

1. Tell us about your car
Take 2 minutes to fill out a donation form - online or over the phone.

2. Schedule a free pickup
Within 24 hours we'll call you to arrange a convenient pickup time.

3. You are done!
Within 2-4 weeks you receive a tax receipt and vacation voucher.
400,000+ donors trust us with their car.
Here's what our Texas donors had to say about how donating went for them.
P.S. we didn't make these up! They're all real donors, with real experiences.
By
Donald B.

, Grand Prairie TX (I donated a 1999 Chevrolet Silverado 1500)
It couldn't have been any easier! The whole thing came off without a hitch, and I scored a win-win. The proceeds will benefit some kiddos, and my tax return just became a little easier to swallow. You do fine work.
All you need is your title and keys
By
John M.

, Katy TX (I donated a 1995 Mercury Mystique)
It is very easy. All you need is your title and the keys,. You need to take your license plates down. You do not have to do anything. Enjoy 3 days and 2 nights hotel in your vacation, and you can claim 500 tax deductible.
I am a repeat donor to Kars4Kids
By
Winston S.

, Spring TX (I donated a 2002 Ford F-150)
I am a repeat donator to Kars4Kids. It is always fast and easy. I call, they come, I sign over the title and they send a receipt for the vehicle. My wife has Liked Kars4Kids on FaceBook. I highly recommend them.
How your car helps
Our charity programs are the essence of what we do. We are thankful to be able to give back to many local communities across North America and to bring educational opportunities to so many children. We're a registered nonprofit Jewish organization. Learn about what we do and see our charity programs here.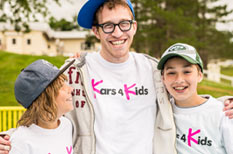 The Kars4Kids Vision
Kars4Kids' vision is to give our children the ability to succeed in life. We focus on educational, mentorship and year-round programs for our children, their families and their communities, looking at the big picture of our children's development and the environment they grow up in. We rely on thousands of volunteers to help us change the world, one child at a time.
Fun Holiday Getaways
Watch a whole lot of people having fun in the Kars4Kids holiday retreat video. Everyone needs a vacation to recharge their batteries. But not everyone has the wherewithal to get away. Kars4Kids makes dreams come true, sponsoring vacations for children in need along with their mentor volunteers for a week of unlimited fun.
Ensuring Academic Success
Our number one priority at Kars4Kids is to make a success of every child we help. Getting a high school diploma is in large measure, a child's insurance policy for the future. We carefully match tutors and mentors with the children we help, to ensure kids will make it through school with flying colors.
Still have questions?
What is the amount of the tax deduction I will receive?
The amount you can claim from the IRS as a
tax deduction
depends on the category applicable to you:
The IRS allows you to claim a tax deduction of:
a) The value of your vehicle up to $500. It is up to the donor to determine the fair market value.
b) The amount we sell your vehicle for - if it is more than $500.
Kars4kids is a classified 501(c)(3) charity organization. You can check with your tax advisor or accountant to determine the amount of your benefit. The deduction is of value only if the donor itemizes his or her deductions. For a more detailed overview the IRS publishes a
Donors Guide to Car Donation.
What can I donate?
We accept the following donations: car, snow plow, boat, bus, jet ski, truck, RV (motor home), commercial, airplane, van, trailer, motorcycle, ATV, tractor, and fleet donations. Sorry no kids.
I want to donate a car in Texas but I'm missing my title. Is my car still eligible for donation?
We can pick up a vehicle without a title in Texas. We just need the registered owner to sign some paperwork for us.

In the following counties you don't need to sign any paperwork at all. Just provide a proof of ownership (such as copy of registration or insurance card): Angelina, Austin, Grimes, Jasper, Jefferson, Madison, Montgomery, Newton, Sabine, San Augustine, San Jacinto, Waller, Washington, Wharton
How can I replace my missing title?
Where do I sign my Texas title?
ZOOM IN
You will need to sign the front, and the back of the title document. The sample document to the left of this paragraph has two blue arrows. Sign where both arrows appear using the name listed on the front page of your car title. The title document should be given to the tow truck driver at the time your car is collected.
How do I transfer the ownership of my car?
1. Remove all plates
All plates must be removed from your car prior to towing. It is simple and free to transfer your license plates to your new vehicle. The TxDMV encourages you to transfer your plates because it protects you.
2. Registration Sticker
Remove the windshield registration sticker.
3. File a vehicle transfer notification
When a Texas-titled vehicle is sold or traded in, the seller needs to file a
vehicle transfer notification
.
4. Cancel your insurance
Cancel your insurance after your car has been towed.
Visit
http://txdmv.gov/
for more information on your state car donation laws.
Would you like to meet one of our service providers?
Pick-n-pull is in Texas, where everything is bigger than life, so it's no wonder this towing service has not one but two locations, one in San Antonio, and one more in Austin. Each location services a 30 mile radius, so Pick-n-pull covers a Texas-sized territory with its seven towtrucks-five in San Antonio and two in Austin.

Pick-n-pull has had a lot of unusual towing situations, but the one that sticks out in the owner's mind is the time they towed away a car only to discover a dog had been left inside the car. It was the middle of the summer, a hot day, and the poor dog was miserable. The towing people tried to give the dog some water, but the dog growled and tried to bite the well-meaning staff. Worried about the dog in the terrible heat, they contacted the owner, "Excuse us for calling, Ma'am, but is this dog we have here yours? Can you please come and get it because it won't come out of the car and it's so hot."
For a full list of frequently asked questions check out our faq section.
Who doesn't want a Hummer? The Hummer donated by Lee S. of Melissa, TX, in 2003 sure was a wanted vehicle, selling for $10,000 in 2011
Any information on this page related to state laws and title requirements is correct to the best of our knowledge. But because this kind of information is liable to change, please check with your local motor vehicle authority for current guidelines and requirements.
Kars4kids Car Donation



1100 Northville Street




Houston

,

TX

77038




832-778-5150
Sun - Thu: 7 am - midnight EST
Fri: 8 am -
pm EST
Sat: 2 pm - midnight EST
Our Areas of Service.
We cover the entire Texas State area.
We receive the highest amount of vehicle donations from these cities:
Abbott City, Abilene, Addison, Alamo City, Alamo Heights, Albany City, Aldine, Alice, Allen, Alpine, Alvarado, Alvin, Amarillo, Ames, Anahuac, Anderson Mill, Andrews, Angleton, Aransas Pass, Archer, Argyle,
Arlington
, Athens, Atlanta,
Austin
, the state capital, Austwell, Averytown, Azle, Bailey's Prairie, Baird, Balch Springs, Ballinger, Barrett, Bartonville, Bastrop, Bay City, Baytown, Beach City, Beaumont, Bedford, Bee Cave, Beeville, Bellaire, Bellmead, Bellville, Belton, Benbrook, Big Bend, Big Lake, Big Sandy, Big Spring, Blue Ridge, Boerne, Bogata, Bolivar Peninsula, Bonham, Booker, Borger, Breckenridge, Bremond, Brenham, Bridge City, Bridgeport, Brookshire, Brookside Village, Brownsville, Brownwood, Bryan, Buda, Buffalo, Burkburnett, Burleson, Burnet, Caldwell, Calvert, Cameron, Camp Wood, Canadian, Canton, Canyon, Carrollton, Carthage, Castroville, Cedar Hill, Cedar Park, Centerville, Chappell Hill, Christoval, Cibolo, Cisco, Clear Lake, Cleburne, Cleveland, Clifton, Clute, Clyde, Cockrell Hill, Coldspring, College Station, Colleyville, Colony, Columbus, Comanche, Combine, Comfort, Commerce, Conroe, Converse, Coolidge, Cooper Canyon, Coppell, Copperas Cove, Corinth, Corpus Christi, Corsicana, Cove, Crane, Crosby, Cross Plains, Crowell, Crowley, Crystal Beach, Cuero, Cumings, Cut and Shoot, Daingerfield, Daisetta, Dalhart,
Dallas
, Danbury, Dayton, Dayton Lakes, De Leon, Decatur, Deer Park, Del Rio, Denison, Denton, Denver City, DeSoto, Detroit, Devers, Dickinson, Donna, Dripping Springs, Dublin, Dumas, Duncanville, Eagle Pass, Eden, Eola, Early, Eastland, Edinburg, El Campo,
El Paso
, Eldorado, Elgin, Elysian Fields, Emory, Ennis, Euless, Fairfield, Farmers Branch, Farmersville, Farwell, Flatonia, Flower Mound, Forney, Fort Davis, Fort Stockton,
Fort Worth
, Franklin, Fredericksburg, Freeport, Friendswood, Frisco, Fulshear, Gainesville, Galveston, Garden Ridge, Garland, Gatesville, Georgetown, Giddings, Gilmer, Glenn Heights, Glenrose, Goliad, Gonzales, Gordon, Graham, Granbury, Grand Prairie, Grape Creek, Grapeland, Grapevine, Hale Center, Hallettsville, Hallsville, Haltom City, Hamilton, Hardin, Harker Heights, Harleton, Harlingen, Harriett, Haskell, Hearne, Hempstead, Hewitt, Hico, Hidalgo, Highland Village, Highlands, Hill Country Village, Hillsboro, Hilshire Village, Hondo,
Houston
, Huntsville, Hurst, Independence, Ingleside on the Bay, Irving, Jacksboro, Jacksonville, Jamaica Beach, Jasper, Jefferson, Jewett, Johnson City, Junction, Karnack, Katy, Keller, Kemah, Kenefick, Kennedale, Kerens, Kerrville, Kilgore, Killeen, Kingwood, Krum, Kyle, La Marque, La Porte, Lacy Lakeview, LaGrange, Lake Brownwood, Lake Dallas, Lake Jackson, Lakeway, Lampasas, Lancaster, Laredo, League City, Leander, Leon Valley, Leonard, Levelland, Lewisville, Lindale, Littlefield, Live Oak, Livingston, Lockhart, Longview, Lorenzo, Los Fresnos, Lubbock, Lucas, Lufkin, Lumberton, Mansfield, Marble Falls, Marlin, Marshall, Mason, Mathis, McAllen, McGregor, McKinney, Menard, Merkel, Mesquite, Mexia, Midland, Miles, Millersview, Mineola, Mission, Missouri City, Monahans, Mont Belvieu, Moody, Morgans Point, Moulton, Mount Pleasant, Murphy, Nacogdoches, Nassau Bay, Neiderwald, Nesbitt, New Boston, New Braunfels, North Cleveland, North Richland Hills, Oak Point, Odessa, Old River-Winfree, Onalaska, Orange, Overton, Paint Rock, Palestine, Pampa, Paris, Parker, Pasadena, Pearland, Pecos, Perryton, Pflugerville, Pharr, Pittsburg, Plainview, Plano, Plum Grove, Ponder, Port Aransas, Port Arthur, Port Lavaca, Portland, Possum Kingdom Lake, Post, Presidio, Prosper, Quanah, Ranger, Ravenna, Red Oak, Reno, Richardson, Richland, Riesel, Rising Star, River Oaks, Roanoke, Robinson, Rockwall, Rosenberg, Round Rock, Round Top, Rowena, Rowlett, Rusk, Sachse, Saginaw, Salado, San Angelo,
San Antonio
, San Benito, San Marcos, San Saba, Sanctuary, Sanderson, Sanger, Santa Anna, Santa Fe, Savoy, Schertz, Scottsville, Scurry, Seabrook, Seagoville, Sealy, Seguin, Seymour, Shamrock, Shavano, Shenandoah, Sheldon, Sherman, Shiner, Shoreacres, Silsbee, Slaton, Smithville, Snyder, Somerville, Sonora, Sour Lake, South Padre Island, Southlake, Spearman, Spring Valley, Springtown, Spur, Stephenville, Stowell, Sugar Land, Sunnyvale, Sweetwater, Tahoka, Taylor, Teague, Temple, Terrell, Texarkana, Texas City, The Colony, The Woodlands, Tiki Island, Timpson, Tioga, Toledo Bend Lake, Tom Bean, Tomball, Trophy Club, Troup, Turkey, Tyler, Uncertain, Universal City, University Place, Utopia, Van Horn, Venus, Victoria, Vidor, Village of Tiki Island, Waco, Waskom, Watauga, Waxahachie, Weatherford, Webster, Weslaco, West Columbia, West Lake Hills, West Orange, West University Place, Westchase District, Westlake, Wheeler, White Oak, White Settlement, Whitehouse, Wichita Falls, Willow Park, Wimberley, Windrest, Winnie, Winters, Wolfe, Woodlawn, Woodway, Wortham, Wylie, Yoakum