Our Matching Gift Sponsors
How it works in RI

1. Tell us about your car
Take 2 minutes to fill out a donation form - online or over the phone.

2. Schedule a free pickup
Within 24 hours we'll call you to arrange a convenient pickup time.

3. You are done!
Within 2-4 weeks you receive a tax receipt and vacation voucher.
400,000+ donors trust us with their car.
Here's what our Rhode Island donors had to say about how donating went for them.
P.S. we didn't make these up! They're all real donors, with real experiences. (we even left the typos in :)
A way to dispose of our poor, damaged car
By
Bonnie W.

, Barrington RI (I donated a 1997 Honda Accord)
We found the donation experience quite effortless. Not only were we thrilled to find a way to dispose of our poor, damaged Honda, but to be able to do this with so little effort and imagine it could be helpful for others made this truly a positive experience.
The paperwork was not difficult at all
By
Richard H.

, Wakefield RI (I donated a 1995 Lexus LS 400)
Excellent. I donated two cars in 2011. The cars were picked up on time, the initial paperwork was not difficult at all, and the followup tax value receipt from Kars was timely and fair.
I am very happy with the tax reciept I received
By
Richard N.

, Woonsocket RI (I donated a 1998 Cadillac DeVille)
Excellent experience. One simple phone call and two days later the car was picked up.I am very happy with the tax reciept I received and even happler knowing that donating my car can make a difference.
How your car helps
Our charity programs are the essence of what we do. We are thankful to be able to give back to many local communities across North America and to bring educational opportunities to so many children. We're a registered nonprofit Jewish organization. Learn about what we do and see our charity programs here.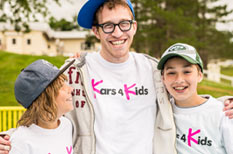 The Kars4Kids Vision
Kars4Kids' vision is to give our children the ability to succeed in life. We focus on educational, mentorship and year-round programs for our children, their families and their communities, looking at the big picture of our children's development and the environment they grow up in. We rely on thousands of volunteers to help us change the world, one child at a time.
Making Holidays Real
Some kids don't have much holiday fun due to economic or family difficulties. At our yearly holiday retreat Kars4Kids steps in to offer kids the rich holiday experience they'd never thought they'd have. Along with their mentors and families, kids are served up a menu of constant entertainment in a spacious, well-appointed facility in upstate New York.
Building Whole Children
When school is said and done, children still need to move forward. During the year, Kars4Kids pairs children with mentors to help them with their studies and to build their self-esteem. In the summer, children get a fun summer camp experience, led by specially-trained staff members who offer children warmth, inclusion, respect, and guidance.
Still have questions?
I want to donate a car in Rhode Island but I'm missing my title. Is my car still eligible for donation?
How can I replace my missing title?
What is the amount of the tax deduction I will receive?
What can I donate?
We accept the following donations: car, snow plow, boat, bus, jet ski, truck, RV (motor home), commercial, airplane, van, trailer, motorcycle, ATV, tractor, and fleet donations. Sorry no kids.
Where do I sign my Rhode Island title?
For a full list of frequently asked questions check out our faq section.
Everyone hopes to get a nice-sized tax deduction when donating a car. One lucky Rhode Islander received the highest tax deduction in that state when his 1998 Regal Boat sold for $13,500.
Any information on this page related to state laws and title requirements is correct to the best of our knowledge. But because this kind of information is liable to change, please check with your local motor vehicle authority for current guidelines and requirements.
Our Areas of Service.
We cover the entire Rhode Island State area.
We receive the highest amount of vehicle donations from these cities:
Barrington, Central Falls, Coventry Town, Cranston, Cumberland Town, East Providence, Jamestown, Pawtucket, Kingston, Narragansett, Newport, North Kingstown, Providence, Warwick, West Greenwich, Wickford, Woonsocket