Our Matching Gift Sponsors
How it works in NY

1. Tell us about your car
Take 2 minutes to fill out a donation form - online or over the phone.

2. Schedule a free pickup
Within 24 hours we'll call you to arrange a convenient pickup time.

3. You are done!
Within 2-4 weeks you receive a tax receipt and vacation voucher.
400,000+ donors trust us with their car.
Here's what our New York donors had to say about how donating went for them.
P.S. we didn't make these up! They're all real donors, with real experiences.
I would gladly donate again
By
Nancy J.

, Long Beach NY (I donated a 1990 Toyota Corolla)
I was happy to donate the car for Kars4Kids. And If I have another problem with one I would gladly donate it.
KARS4KIDS DID A GREAT JOB ALL AROUND
By
Joel T.

, Brooklyn NY (I donated a 1995 Nissan Maxima)
THE EXPERIENCE WAS TOP NOTCH. I FELT THAT KARS 4 KIDS DID A GREAT JOB ALL AROUND. WHEN I WAS GETTING OFF TRACK IN WHAT I NEEDED TO PROVIDE (SINCE WE HAD LOST THE TITLE DOCUMENTS), K 4 K CAME THROUGH FOR US. I WOULD VERY MUCH RECOMMEND KARS 4 KIDS TO ALL MY FRIENDS AND FAMILY BECAUSE I WAS MORE THAN FULLY SATISFIED. THAT IS NOT SOMETHING I CAN OFTEN SAY IN DEALING WITH SERVICE-ORIENTED ORGANIZATIONS!
I wish every company had people like theirs
By
Lleka E.

, Yonkers NY (I donated a 2002 Dodge Intrepid)
I wish every company had people like they do to represent them.
How your car helps
Our charity programs are the essence of what we do. We are thankful to be able to give back to many local communities across North America and to bring educational opportunities to so many children. We're a registered nonprofit Jewish organization. Learn about what we do and see our charity programs here.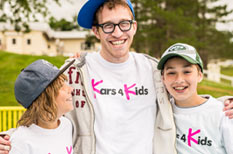 The Kars4Kids Vision
Kars4Kids' vision is to give our children the ability to succeed in life. We focus on educational, mentorship and year-round programs for our children, their families and their communities, looking at the big picture of our children's development and the environment they grow up in. We rely on thousands of volunteers to help us change the world, one child at a time.
Camp
New York State is home to the Kars4Kids-sponsored TheZone camp, located far up in the beautiful Catskill mountains. During the summer months, the quiet Gilboa countryside is witness to the close friendships that develop over the summer, the smiles on the children's faces, and the sheer happiness that radiates from the campus.
ChillZone
We've got ChillZone extracurricular groups throughout New York, in neighborhoods like Mill Basin and Flatbush in Brooklyn, Eltingville, Staten Island, Flushing, Queens and the Lower East Side of Manhattan. Boys, girls and teens gather with mentors every week for study groups, hot food, great prizes and healthy fun with friends
Still have questions?
What is the amount of the tax deduction I will receive?
The amount you can claim from the IRS as a
tax deduction
depends on the category applicable to you:
The IRS allows you to claim a tax deduction of:
a) The value of your vehicle up to $500. It is up to the donor to determine the fair market value.
b) The amount we sell your vehicle for - if it is more than $500.
Kars4kids is a classified 501(c)(3) charity organization. You can check with your tax advisor or accountant to determine the amount of your benefit. The deduction is of value only if the donor itemizes his or her deductions. For a more detailed overview the IRS publishes a
Donors Guide to Car Donation.
What can I donate?
We accept the following donations: car, snow plow, boat, bus, jet ski, truck, RV (motor home), commercial, airplane, van, trailer, motorcycle, ATV, tractor, and fleet donations. Sorry no kids.
I want to donate a car in New York but I'm missing my title. Is my car still eligible for donation?
We can pick up a vehicle without a title in New York. We just need the registered owner to sign some paperwork for us.

In the following counties you don't need to sign any paperwork at all. Just provide a proof of ownership (such as copy of registration or insurance card): Bronx, Kings, Nassau, New York, Orange, Putnam, Queens, Richmond, Rockland, Westchester
How can I replace my missing title?
In almost all scenarios Kars4kids will apply for the new title for you. We'll handle all the paperwork and pay the title fees too.
If you'd prefer you may apply for a new title on your own. Here's how:
You can apply for a new title online at
dmv.ny.gov/title/
. If you'd prefer to do it in person at your local DMV or via mail print out a
form MV-902
. It can be mailed to:
New York State Department of Motor Vehicles
Title Bureau
P.O. Box 2750
Albany, New York 12220-0750
For additional details visit:
http://dmv.ny.gov/
Where do I sign my New York title?
ZOOM IN
The sample title document to the left of this paragraph has a blue arrow. Sign where the arrow appears using the name listed on the front page of your car title. The title document should be given to the tow truck driver at the time your car is collected.
How do I transfer the ownership of my car?
1. Remove all plates
All plates must be removed from your car prior to towing. Along with the plates, the frames and fasteners must be removed.
2. Return your plates to the DMV or transfer them to another vehicle
In New York State, plates must be surrendered to the Department of Motor Vehicles (DMV) except in the case where the plates are transferred to a second vehicle on the spot. License plates can be mailed to the DMV or dropped off in person.
Find your closest DMV
NY Counties: A through D
NY Counties: E through M
NY Counties: N through R

NY Counties: S through Y
Or mail the plates to:
Department of Motor Vehicles
2799 Route 112
Medford, NY 11763
The DMV considers the postmark date as the date of surrender for your license plates. Make sure to include a current return mailing address. An FS-6T receipt will be sent to you by the DMV at the address you supply. If you would like to be notified that your plates have been received, you may mail your plates by registered or certified mail at any U.S. Post Office, making sure to request a return receipt.
3. Cancel your insurance
Cancel your insurance after your car has been towed.
Visit
dmv.ny.gov
for more information on New York State car donation laws.
Would you like to meet one of our service providers?
Plakos Scrap Processing Inc. has been owned by the Ditore family from Brooklyn, New York for over thirty years. It's a real family business: all nine Ditore siblings work at the business their parents established, some doing actual towing and others on the business side of things. Located in the Canarsie neighborhood of Brooklyn, Plakos, as its name suggests, is a scrap processor, which means that the towed vehicles are prepared for recycling. It's the Ditore way of reducing the carbon footprint on an increasingly polluted environment. A busy business with a dozen tow trucks out at any given time, Plakos tows and processes over one hundred cars each day. The Ditores say that their busiest season is the end of the year, when they see a spike in car donations. Though cars and towing are in their blood, what the Ditores say they enjoy most about being in the towing business is the opportunity to interact with other people.
For a full list of frequently asked questions check out our faq section.
The oldest car we ever received was a 1923 Model T Ford. This 88 year old car was donated by John V. of Northport New York and sold for $6200.
Financial disclosure: J.O.Y for our youth is exempt from tax under section 501(c)(3) of the Internal Revenue Code and qualifies for the maximum charitable contribution deduction by donors. Our Federal Identification Number is 22-374-6050. We are proud of the way we manage our finances.
Any information on this page related to state laws and title requirements is correct to the best of our knowledge. But because this kind of information is liable to change, please check with your local motor vehicle authority for current guidelines and requirements.
Kars4kids Car Donation



769 East 95th Street




Brooklyn

,

NY

11236




718-954-9789
Sun - Thu: 7 am - midnight EST
Fri: 8 am -
pm EST
Sat: 2 pm - midnight EST
Our Areas of Service.
We cover the entire New York State area.
We receive the highest amount of vehicle donations from these cities:
Albany, Bay Shore, Bayside, Bethpage, Bronx, Brooklyn, East Meadow, Elmhurst, Floral Park, Flushing, Freeport, Hicksville, Huntington, Levittown, Middletown, Monsey, New Rochelle,
New York City
, Newburgh, Ridgewood, Rochester, Rye, Scarsdale, Selden, Springfield Gardens, Staten Island, Syosset, Valley Stream, West Babylon, White Plains, Yonkers