Our Matching Gift Sponsors
How it works in NC

1. Tell us about your car
Take 2 minutes to fill out a donation form - online or over the phone.

2. Schedule a free pickup
Within 24 hours we'll call you to arrange a convenient pickup time.

3. You are done!
Within 2-4 weeks you receive a tax receipt and vacation voucher.
400,000+ donors trust us with their car.
Here's what our North Carolina donors had to say about how donating went for them.
P.S. we didn't make these up! They're all real donors, with real experiences. (we even left the typos in :)
Pleasant and polite people
By
Venila O.

, Clayton NC (I donated a 1997 Mercury Tracer)
The person on the phone was pleasant and polite and when we lost some of the paper work another copy was sent/
By
Jackie M.

, Youngsville NC (I donated a 1997 Volvo )
Everything went well. Hope the car was a good help for the kids.
Happy to have provided to such a great cause
By
Adam B.

, Lincolnton NC (I donated a 1991 Chevrolet C/K 2500 Series)
It was a very simple process, and they followed through very quickly. I am happy to have provided to such a great cause.
How your car helps
Our charity programs are the essence of what we do. We are thankful to be able to give back to many local communities across North America and to bring educational opportunities to so many children. We're a registered nonprofit Jewish organization. Learn about what we do and see our charity programs here.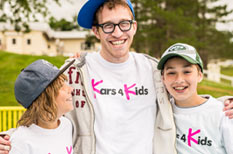 The Kars4Kids Vision
Kars4Kids' vision is to give our children the ability to succeed in life. We focus on educational, mentorship and year-round programs for our children, their families and their communities, looking at the big picture of our children's development and the environment they grow up in. We rely on thousands of volunteers to help us change the world, one child at a time.
Family Weekend Retreats
We invite our Kars4Kids families to celebrate the holidays together with us at our upstate New York resort with great food, fun activities for the children and lots of time for bonding. Because we're a family and that's what families do.Holiday cheer fills the air as volunteer mentors mingle with the members of our programs, creating a warm and positive atmosphere.
Holiday Packages
The holiday season bring so many people feelings of joy. Unfortunately, there are still many children and their families who don't feel cared about enough to celebrate. That is where our annual holiday packages come in to play, with the sole purpose of uplifting the spirits of these families. Beautiful, colorful gift boxes are filled with gifts, treats and activities for the entire family to enjoy.
Still have questions?
I want to donate a car in North Carolina but I'm missing my title. Is my car still eligible for donation?
How can I replace my missing title?
What is the amount of the tax deduction I will receive?
What can I donate?
We accept the following donations: car, snow plow, boat, bus, jet ski, truck, RV (motor home), commercial, airplane, van, trailer, motorcycle, ATV, tractor, and fleet donations. Sorry no kids.
Where do I sign my North Carolina title?
For a full list of frequently asked questions check out our faq section.
One car got around so much within the state of North Carolina, it ended up getting donated to us twice from within the same state! The first time around, it was donated by Clinton P. of Charlotte, the second time by Danny B. of Denver, NC.
Financial disclosure: J.O.Y for our youth is exempt from tax under section 501(c)(3) of the Internal Revenue Code and qualifies for the maximum charitable contribution deduction by donors. Our Federal Identification Number is 22-374-6050. We are proud of the way we manage our finances.
Any information on this page related to state laws and title requirements is correct to the best of our knowledge. But because this kind of information is liable to change, please check with your local motor vehicle authority for current guidelines and requirements.
Kars4kids Car Donation


7037 Highway 70 West




La Grange

,

NC

28551




252-712-0057
Our Areas of Service.
We cover the entire North Carolina State area.
We receive the highest amount of vehicle donations from these cities:
Aberdeen, Ahoskie, Alamance, Albemarle, Alexander Mills, Alliance, Andrews, Angier, Ansonville, Apex, Arapahoe, Archdale, Arlington, Asheboro, Askewville, Atkinson, Atlantic Beach, Aulander, Aurora, Autryville, Ayden, Badin, Bailey, Baskerville, Bald Head Island, Banner Elk, Bath, Battleboro, Bayboro, Beargrass, Beaufort, Beech Mountain, Belhaven, Belmont, Belville, Belwood, Benson, Bessemer City, Bethania, Bethel, Beulaville, Biltmore Forest, Biscoe, Black Creek, Black Mountain, Bladenboro, Blowing Rock, Boardman, Bogue, Boiling Springs, Bolivia, Bolton, Boone, Boonville, Bostic, Brevard, Bridgeton, Broadway, Brookford, Brunswick, Bryson City, Bunn, Burgaw, Burlington, Burnsville, Buxton, Cajah Mountain, Calabash, Calypso, Cameron, Candor, Canton, Cape Carteret, Carolina Beach, Carrboro, Carthage, Cary, Casar, Cashiers, Castalia, Caswell Beach, Catawba, Cedar Point, Centerville, Cerro Gordo, Chadbourn, Chapel Hill,
Charlotte
, Cherryville, Chimney Rock, China Grove, Chocowinity, Claremont, Clarkton, Clayton, Clemmons, Cleveland, Clinton, Clyde, Coats, Cofield, Colerain, Columbia, Columbus, Como, Concord, Conetoe, Connelly Springs, Conover, Conway, Cooleemee, Cornelius, Corolla, Cove City, Cramerton, Creedmoor, Crossnore, Dallas, Danbury, Davidson, Denton, Dillsboro, Dobson, Dortches, Dover, Drexel, Dublin, Duck, Dunn, Durham, Earl, East Arcadia, East Bend, East Laurinburg, East Spencer, Eden, Edenton, Elizabeth City, Elizabethtown, Elk Park, Elkin, Ellenboro, Ellerbe, Elm City, Elon College, Emerald Isle, Enfield, Erwin, Eureka, Everetts, Fair Bluff, Fairmont, Faison, Faith, Falcon, Falkland, Fallston, Farmville, Fayetteville, Flat Rock, Fletcher, Forest City, Fountain, Four Oaks, Foxfire Village, Franklin, Franklinton, Franklinville, Fremont, Frisco, Fuquay-Varina, Gamewell, Garland, Garner, Garysburg, Gaston, Gastonia, Gatesville, Gibson, Gibsonville, Glen Alpine, Godwin, Goldsboro, Graham, Grandfather, Granite Falls, Grantie Quarry, Green Level, Greenevers, Greensboro, Greenville, Grifton, Grimesland, Grover, Halifax, Hamilton, Hamlet, Harkers Island, Harmony, Harrells, Harrelsville, Hassell, Hatteras, Havelock, Haw River, Hayesville, Hazelwood, Henderson, Hemby Bridge, Hendersonville, Hertford, Hickory, High Point, High Shoals, Highlands, Hildebran, Hillsborough, Hobgood, Hoffman, Holden Beach, Holly Ridge, Holly Springs, Hookerton, Hope Mills, Hot Springs, Hudson, Huntersville, Indian Beach, Indian Trail, Jackson, Jacksonville, Jamestown, Jamesville, Jefferson, Jonesville, Kannapolis, Kelford, Kenansville, Kenly, Kernersville, Kill Devil Hills, King, Kings Mountain, Kingstown, Kinston, Kittrell, Kitty Hawk, Knightdale, Kure Beach, La Grange, Lake Lure, Lake Park, Lake Waccamaw, Landis, Lansing, Lasker, Lattimore, Laurel Park, Laurinburg, Lawndale, Leggett, Leland, Lenoir, Lewiston Woodville, Lewisville, Lexington, Liberty, Lilesville, Lillington, Lincolnton, Linden, Littleton, Locust, Long Beach, Louisburg, Love Valley, Lowell, Lucama, Lumber Bridge, Lumberton, MacClesfield, Macon, Madison, Maggie Valley, Magnolia, Maiden, Manteo, Marietta, Marion, Marshville, Mars Hill, Marshall, Marvin, Matthews, Maxton, Mayodan, Maysville, McAdenville, McDonalds, McFarlan, Mebane, Mesic, Micro, Middleburg, Middlesex, Milton, Mineral Springs, Minnesott Beach, Mint Hill, Mocksville, Momeyer, Monroe, Montreat, Mooresboro, Mooresville, Morehead City, Morganton, Morrisville, Morven, Mount Airy, Mount Gilead, Mount Holly, Mount Olive, Mount Pleasant, Murfreesboro, Murphy, Nags Head, Nashville, Navassa, New Bern, New London, Newland, Newport, Newton, Newton Grove, Norlina, Norman, North Topsail Beach, North Wilkesboro, Northwest, Norwood, Oak City, Oakboro, Oak Ridge, Ocean Isle Beach, Old Fort, Oriental, Orrum, Oxford, Pantego, Parkton, Parmele, Patterson Springs, Peachland, Pembroke, Pikeville, Pilot Mountain, Pine Knoll Shores, Pine Level, Pinebluff, Pinehurst, Pinetops, Pineville, Pink Hill, Pittsboro, Plymouth, Polkton, Pollocksville, Powellsville, Princeton, Princeville, Proctorville, Raeford, Raleigh, Ramseur, Randleman, Ranlo, Raynham, Red Oak, Red Springs, Reidsville, Rennert, Rhodhiss, Rich Square, Richfield, Richlands, River Bend, Roanoke Rapids, Robbins, Robbinsville, Robersonville, Rockingham, Rockwell, Rocky Mount, Rodanthe, Rolesville, Ronda, Roper, Rose Hill, Roseboro, Rosman, Rowland, Roxboro, Roxobel, Rural Hall, Ruth, Rutherfordton, Salemburg, Salisbury, Salter Path, Saluda, Salvo, Sandy Creek, Sandyfield, Sanford, Santeetlah, Saratoga, Sawmills, Scotland Neck, Seaboard, Seagrove, Selma, Seven Devils, Seven Springs, Severn, Shallotte, Sharpsburg, Shelby, Siler City, Simpson, Sims, Smithfield, Snow Hill, Southern Pines, Southern Shores, Southport, Sparta, Speed, Spencer, Spencer Mountain, Spindale, Spring Hope, Spring Lake, Spruce Pine, St. Helena, St. Pauls, Staley, Stallings, Stanfield, Stanley, Stantonsburg, Star, Statesville, Stedman, Stem, Stokesdale, Stoneville, Stonewall, Stovall, Sugar Mountain, Summerfield, Stovall, Sugar Mountain, Summerfield, Sunset Beach, Surf City, Swan Quarter, Swansboro, Sylva, Tabor City, Tar Heel, Tarboro, Taylorsville, Taylortown, Teachey, Thomasville, Tocaccoville, Topsail Beach, Trent Woods, Trenton, Troutman, Troy, Tryon, Turkey, Unionville, Valdese, Vanceboro, Vandemere, Varnamtown, Vass, Waco, Wade, Wadesboro, Wagram, Wake Forest, Walkertown, Wallace, Walnut Cove, Walnut Creek, Walstonburg, Warrenton, Washington, Washington Park, Watha, Waves, Waxhaw, Waynesville, Weaverville, Webster, Weddington, Weldon, Wendell, Wesley Chapel, West Jefferson, Whispering Pines, Whitakers, White Lake, Whiteville, Whitsett, Wilkesboro, Williamston, Wilmington, Wilson, Wilson's Mills, Windsor, Winfall, Wingate, Winston-Salem, Winterville, Winton, Woodfin, Woodland, Wrightsville Beach, Yadkinville, Yanceyville, Yaupon Beach, Youngsville, Zebulon