Our Matching Gift Sponsors
How it works in MN

1. Tell us about your car
Take 2 minutes to fill out a donation form - online or over the phone.

2. Schedule a free pickup
Within 24 hours we'll call you to arrange a convenient pickup time.

3. You are done!
Within 2-4 weeks you receive a tax receipt and vacation voucher.
400,000+ donors trust us with their car.
Here's what our Minnesota donors had to say about how donating went for them.
P.S. we didn't make these up! They're all real donors, with real experiences.
Glad I could help someone out
By
William B.

, Buffalo MN (I donated a 1998 Ford Taurus)
The courtiessness of the phone staff, being super helpful and patient to help me through the process of donating my car was PHENOMINAL. The toe truck driver was super friendly, I have reccomended your service to numerous frinds and a few have even done it . I am glad I could help someone out. I didn't even claim the donation so that it would be a true donation, not just something to write off on my taxes
Will recommend and donate any further cars to Kars4Kids!
By
Matthew R.

, Saint Paul MN (I donated a 1993 Pontiac Grand Prix)
This was my first time donating a car and everything went great. I could not have asked for a better experience. I called before I actually donated and the representative was more then happy to answer all my questions. I decided to go with Kars 4 Kids because i felt it benefited kids in need. I then called back to set up my appointment to pick up my car. I was nervous but the representative reassured me everything will be fine and im doing a great thing. I then got a phone call from the local towing company who were just as polite and answered all my questions. I will recommend and donate any further cars to Kars 4 Kids!
I called, they came, done deal
By
Adam C.

, Edina MN (I donated a 1996 Acura Integra)
Kars for kids was easy. I called, they came, bone deal. And I received a vacation. Couldn't have been any easier.
How your car helps
Our charity programs are the essence of what we do. We are thankful to be able to give back to many local communities across North America and to bring educational opportunities to so many children. We're a registered nonprofit Jewish organization. Learn about what we do and see our charity programs here.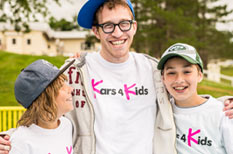 The Kars4Kids Vision
Kars4Kids' vision is to give our children the ability to succeed in life. We focus on educational, mentorship and year-round programs for our children, their families and their communities, looking at the big picture of our children's development and the environment they grow up in. We rely on thousands of volunteers to help us change the world, one child at a time.
Summer Camp Fun
Every child dreams of attending summer camp. Kars4Kids makes those dreams come true for a thousand children or more, each and every summer. The evidence is right here in living color: from zip-lining, to swimming, to talent shows where individual children can really shine. Kars4Kids knows that camp builds happy, healthy, confident children.
A Helping Hand
Kids deserve to have an uncomplicated life and to have fun. But unfortunately, some kids are dealt a rough hand. Things may be hard at home or with making friends. Kars4Kids mentors serve to fill in the gaps, giving kids what they need most, whether it's help with homework, some batting practice, a warm coat, a smile, or unconditional acceptance.
Still have questions?
What is the amount of the tax deduction I will receive?
The amount you can claim from the IRS as a
tax deduction
depends on the category applicable to you:
The IRS allows you to claim a tax deduction of:
a) The value of your vehicle up to $500. It is up to the donor to determine the fair market value.
b) The amount we sell your vehicle for - if it is more than $500.
Kars4kids is a classified 501(c)(3) charity organization. You can check with your tax advisor or accountant to determine the amount of your benefit. The deduction is of value only if the donor itemizes his or her deductions. For a more detailed overview the IRS publishes a
Donors Guide to Car Donation.
What can I donate?
We accept the following donations: car, snow plow, boat, bus, jet ski, truck, RV (motor home), commercial, airplane, van, trailer, motorcycle, ATV, tractor, and fleet donations. Sorry no kids.
I want to donate a car in Minnesota but I'm missing my title. Is my car still eligible for donation?
We can pick up a vehicle without a title in Minnesota. We just need the registered owner to sign some paperwork for us.

In the following counties you don't need to sign any paperwork at all. Just provide a proof of ownership (such as copy of registration or insurance card): Aitkin, Anoka, Becker, Beltrami, Benton, Big Stone, Blue Earth, Brown, Carlton, Carver, Cass, Chippewa, Chisago, Clay, Clearwater, Cook, Cottonwood, Crow Wing, Dakota, Dodge, Douglas, Faribault, Fillmore, Freeborn, Goodhue, Grant, Hennepin, Houston, Hubbard, Isanti, Itasca, Jackson, Kanabec, Kandiyohi, Kittson, Koochiching, Lac qui Parle, Lake of the Woods, Lake, Le Sueur, Lincoln, Lyon, Mahnomen, Marshall, Martin, McLeod, Meeker, Mille Lacs, Morrison, Mower, Murray, Nicollet, Nobles, Norman, Olmsted, Otter Tail, Pennington, Pine, Pipestone, Polk, Pope, Ramsey, Red Lake, Redwood, Renville, Rice, Rock, Roseau, Scott, Sherburne, Sibley, St. Louis, Stearns, Steele, Stevens, Swift, Todd, Traverse, Wabasha, Wadena, Waseca, Washington, Watonwan, Wilkin, Winona, Wright, Yellow Medicine
How can I replace my missing title?
Where do I sign my Minnesota title?
ZOOM IN
The sample title document to the left of this paragraph has a blue arrow. Sign where the arrow appears using the name listed on the front page of your car title. The title document should be given to the tow truck driver at the time your car is collected.
How do I transfer the ownership of my car?
1. Leave the plates on the car
In Minnesota the plates need to remain on the vehicle.
2. Submit a report of sale
A notice of sale card is attached to the title, or you can send a written notice to:
Driver and Vehicle Services
445 Minnesota Street Suite 168
St. Paul MN 55101-5168
The notice must include the title number or license plate number of the vehicle, the last four digits of the vehicle identification number, and the name and address of the party to which the vehicle was donated. You should include our headquarter address at: Kars4kids, 1805 Swarthmore Ave, Lakewood NJ 08701.
3. Cancel your insurance
Cancel your insurance after your car has been towed.
Visit
https://dps.mn.gov/
for more information on your state car donation laws.
Would you like to meet one of our service providers?
Minnesota is beyond cold. That in itself is a great reason for the imaginative name of the veteran towing company B'yond, which services car donations within a 50-mile radius of Minneapolis and St. Paul. B'yond has been in the business of towing cars for 9 years and currently has a fleet of 7 trucks dedicated to picking up car donations for Kars4Kids.

In almost a decade of service, B'yond has gone above and well, beyond, to give good service, but occasionally, things don't go according to plan. Once, the tow truck operators arrived to pick up an Oldsmobile at a property out in the country. The workers found the car sitting out in the middle of a field and discovered that the vehicle had been filled to the brim with dirt, and planted with flowers! The car had been turned into one very large, very unusual flower pot!

The staff chuckled about that incident for a good long time. One thing for sure, towing cars is never dull.
For a full list of frequently asked questions check out our faq section.
The car donation with the lowest mileage came to Kars4Kids by way of Patrick D. of Minneapolis, MN. His car had only 4,379 miles on it at the time it was donated.
Any information on this page related to state laws and title requirements is correct to the best of our knowledge. But because this kind of information is liable to change, please check with your local motor vehicle authority for current guidelines and requirements.
Kars4kids Car Donation



670 Pelham Boulevard #120




Saint Paul

,

MN

55114




651-829-3082
Sun - Thu: 7 am - midnight EST
Fri: 8 am -
pm EST
Sat: 2 pm - midnight EST
Our Areas of Service.
We cover the entire Minnesota State area.
We receive the highest amount of vehicle donations from these cities:
Ada, Adams, Adrian, Afton, Aitkin, Akeley, Albany, Alberta, Albert Lea, Albertville, Alden, Aldrich, Alexandria, Alpha, Altura, Alvarado, Amboy, Andover, Annandale, Anoka, Appleton, Apple Valley, Arco, Arden Hills, Argyle, Arlington, Ashby, Askov, Atwater, Audubon, Aurora, Austin, Avoca, Avon, Babbitt, Backus, Badger, Bagley, Balaton, Barnesville, Barnum, Barrett, Barry, Battle Lake, Baudette, Baxter, Bayport, Beardsley, Beaver Bay, Beaver Creek, Becker, Bejou, Belgrade, Bellechester, Belle Plaine, Bellingham, Beltrami, Belview, Bemidji, Bena, Benson, Bertha, Bethel, Bigelow, Big Falls, Bigfork, Big Lake, Bingham Lake, Birchwood Village, Bird Island, Biscay, Biwabik, Blackduck, Blaine, Blomkest, Blooming Prairie, Bloomington, Blue Earth, Bluffton, Bock, Borup, Bovey, Bowlus, Boyd, Boy River, Braham, Brainerd, Brandon, Breckenridge, Breezy Point, Brewster, Bricelyn, Brooklyn Center, Brooklyn Park, Brook Park, Brooks, Brookston, Brooten, Browerville, Brownsdale, Browns Valley, Brownsville, Brownton, Bruno, Buckman, Buffalo, Buffalo Lake, Buhl, Burnsville, Burtrum, Butterfield, Byron, Caledonia, Callaway, Calumet, Cambridge, Campbell, Canby, Cannon Falls, Canton, Carlos, Carlton, Carver, Cass Lake, Cedar Mills, Center City, Centerville, Ceylon, Champlin, Chandler, Chaska, Chatfield, Chickamaw Beach, Chisago City, Chisholm, Chokio, Circle Pines, Clara City, Claremont, Clarissa, Clarkfield, Clarks Grove, Clearbrook, Clear Lake, Clearwater, Clements, Cleveland, Climax, Clinton, Clitherall, Clontarf, Cloquet, Coates, Cobden, Cohasset, Cokato, Cold Spring, Coleraine, Cologne, Columbia Heights, Comfrey, Comstock, Conger, Cook, Coon Rapids, Corcoran, Correll, Cosmos, Cottage Grove, Cottonwood, Courtland, Cromwell, Crookston, Crosby, Crosslake, Crystal, Currie, Cuyuna, Cyrus, Dakota, Dalton, Danube, Danvers, Darfur, Darwin, Dassel, Dawson, Dayton, Deephaven, Deer Creek, Deer River, Deerwood, De Graff, Delano, Delavan, Delhi, Dellwood, Denham, Dennison, Dent, Detroit Lakes, Dexter, Dilworth, Dodge Center, Donaldson, Donnelly, Doran, Dover, Dovray, Duluth, Dumont, Dundas, Dundee, Dunnell, Eagan, Eagle Bend, Eagle Lake, East Bethel, East Grand Forks, East Gull Lake, Easton, Echo, Eden Prairie, Eden Valley, Edgerton, Edina, Effie, Eitzen, Elba, Elbow Lake, Elgin, Elizabeth, Elko, Elk River, Elkton, Ellendale, Ellsworth, Elmdale, Elmore, Elrosa, Ely, Elysian, Emily, Emmons, Erhard, Erskine, Evan, Evansville, Eveleth, Excelsior, Eyota, Fairfax, Fairmont, Falcon Heights, Faribault, Farmington, Farwell, Federal Dam, Felton, Fergus Falls, Fertile, Fifty Lakes, Finlayson, Fisher, Flensburg, Floodwood, Florence, Foley, Forada, Forest Lake, Foreston, Fort Ripley, Fosston, Fountain, Foxhome, Franklin, Frazee, Freeborn, Freeport, Fridley, Frost, Fulda, Funkley, Garfield, Garrison, Garvin, Gary, Gaylord, Gem Lake, Geneva, Genola, Georgetown, Ghent, Gibbon, Gilbert, Gilman, Glencoe, Glenville, Glenwood, Glyndon, Golden Valley, Gonvick, Goodhue, Goodridge, Good Thunder, Goodview, Graceville, Granada, Grand Marais, Grand Meadow, Grand Rapids, Granite Falls, Grant, Grasston, Greenbush, Greenfield, Green Isle, Greenwald, Greenwood, Grey Eagle, Grove City, Grygla, Gully, Hackensack, Hadley, Hallock, Halma, Halstad, Hamburg, Ham Lake, Hammond, Hampton, Hancock, Hanley Falls, Hanover, Hanska, Harding, Hardwick, Harmony, Harris, Hartland, Hastings, Hatfield, Hawley, Hayfield, Hayward, Hazel Run, Hector, Heidelberg, Henderson, Hendricks, Hendrum, Henning, Henriette, Herman, Hermantown, Heron Lake, Hewitt, Hibbing, Hill City, Hillman, Hills, Hilltop, Hinckley, Hitterdal, Hoffman, Hokah, Holdingford, Holland, Hollandale, Holloway, Holt, Hopkins, Houston, Howard Lake, Hoyt Lakes, Hugo, Humboldt, Hutchinson, Ihlen, Independence, International Falls, Inver Grove Heights, Iona, Iron Junction, Ironton, Isanti, Isle, Ivanhoe, Jackson, Janesville, Jasper, Jeffers, Jenkins, Johnson, Jordan, Kandiyohi, Karlstad, Kasota, Kasson, Keewatin, Kelliher, Kellogg, Kennedy, Kenneth, Kensington, Kent, Kenyon, Kerkhoven, Kerrick, Kettle River, Kiester, Kilkenny, Kimball, Kinbrae, Kingston, Kinney, La Crescent, Lafayette, Lake Benton, Lake Bronson, Lake City, Lake Crystal, Lake Elmo, Lakefield, Lake Henry, Lakeland, Lakeland Shores, Lake Lillian, Lake Park, Lake St. Croix Beach, Lake Shore, Lakeville, Lake Wilson, Lamberton, Lancaster, Landfall, Lanesboro, Laporte, La Prairie, La Salle, Lastrup, Lauderdale, Le Center, Lengby, Leonard, Leonidas, Le Roy, Lester Prairie, Le Sueur, Lewiston, Lewisville, Lexington, Lilydale, Lindstrom, Lino Lakes, Lismore, Litchfield, Little Canada, Little Falls, Littlefork, Long Beach, Long Lake, Long Prairie, Longville, Lonsdale, Loretto, Louisburg, Lowry, Lucan, Luverne, Lyle, Lynd, Mabel, McGrath, McGregor, McIntosh, McKinley, Madelia, Madison, Madison Lake, Magnolia, Mahnomen, Mahtomedi, Manchester, Manhattan Beach, Mankato, Mantorville, Maple Grove, Maple Lake, Maple Plain, Mapleton, Mapleview, Maplewood, Marble, Marietta, Marine on St. Croix, Marshall, Mayer, Maynard, Mazeppa, Meadowlands, Medford, Medicine Lake, Medina, Meire Grove, Melrose, Menahga, Mendota, Mendota Heights, Mentor, Middle River, Miesville, Milaca, Milan, Millerville, Millville, Milroy, Miltona,
Minneapolis
, Minneiska, Minneota, Minnesota City, Minnesota Lake, Minnetonka, Minnetonka Beach, Minnetrista, Mizpah, Montevideo, Montgomery, Monticello, Montrose, Moorhead, Moose Lake, Mora, Morgan, Morris, Morristown, Morton, Motley, Mound, Mounds View, Mountain Iron, Mountain Lake, Murdock, Myrtle, Nashua, Nashwauk, Nassau, Nelson, Nerstrand, Nevis, New Auburn, New Brighton, Newfolden, New Germany, New Hope, New London, New market, New Munich, Newport, New Prague, New Richland, New Trier, New Ulm, New York Mills, Nicollet, Nielsville, Nimrod, Nisswa, Norcross, North Branch, Northfield, North Mankato, North Oaks, Northome, Northrop, North St. Paul, Norwood Young America, Oakdale, Oak Grove, Oak Park Heights, Odessa, Odin, Ogema, Ogilvie, Okabena, Oklee, Olivia, Onamia, Ormsby, Orono, Oronoco, Orr, Ortonville, Osakis, Oslo, Osseo, Ostrander, Otsego, Ottertail, Owatonna, Palisade, Parkers Prairie, Park Rapids, Paynesville, Pease, Pelican Rapids, Pemberton, Pennock, Pequot Lakes, Perham, Perley, Peterson, Pierz, Pillager, Pine City, Pine Island, Pine River, Pine Springs, Pipestone, Plainview, Plato, Pleasant Lake, Plummer, Plymouth, Porter, Preston, Princeton, Prinsburg, Prior Lake, Proctor, Quamba, Racine, Ramsey, Randall, Randolph, Ranier, Raymond, Red Lake Falls, Red Wing, Redwood Falls, Regal, Remer, Renville, Revere, Rice, Richfield, Richmond, Richville, Riverton, Robbinsdale, Rochester, Rock Creek, Rockford, Rockville, Rogers, Rollingstone, Ronneby, Roosevelt, Roscoe, Roseau, Rose Creek, Rosemount, Roseville, Rothsay, Round Lake, Royalton, Rush City, Rushford, Rushford Village, Rushmore, Russell, Ruthton, Rutledge, Sabin, Sacred Heart, St. Anthony, St. Anthony, St. Augusta, St. Bonifacius, St. Charles, St. Clair, St. Cloud, St. Francis, St. Hilaire, St. James, St. Joseph, St. Leo, St. Louis Park, St. Martin, St. Marys Point, St. Michael, St. Paul, St. Paul Park, St. Peter, St. Rosa, St. Stephen, St. Vincent, Sanborn, Sandstone, Sargeant, Sartell, Sauk Centre, Sauk Rapids, Savage, Scanlon, Seaforth, Sebeka, Sedan, Shafer, Shakopee, Shelly, Sherburn, Shevlin, Shoreview, Shorewood, Silver Bay, Silver Lake, Skyline, Slayton, Sleepy Eye, Sobieski, Solway, South Haven, South St. Paul, Spicer, Springfield, Spring Grove, Spring Hill, Spring Lake Park, Spring Park, Spring Valley, Squaw Lake, Stacy, Staples, Starbuck, Steen, Stephen, Stewart, Stewartville, Stillwater, Stockton, Storden, Strandquist, Strathcona, Sturgeon Lake, Sunburg, Sunfish Lake, Swanville, Taconite, Tamarack, Taopi, Taunton, Taylors Falls, Tenney, Tenstrike, Thief River Falls, Thomson, Tintah, Tonka Bay, Tower, Tracy, Trail, Trimont, Trommald, Trosky, Truman, Turtle River, Twin Lakes, Twin Valley, Two Harbors, Tyler, Ulen, Underwood, Upsala, Urbank, Utica, Vadnais Heights, Vergas, Vermillion, Verndale, Vernon Center, Vesta, Victoria, Viking, Villard, Vining, Virginia, Wabasha, Wabasso, Waconia, Wadena, Wahkon, Waite Park, Waldorf, Walker, Walnut Grove, Walters, Waltham, Wanamingo, Wanda, Warba, Warren, Warroad, Waseca, Watertown, Waterville, Watkins, Watson, Waubun, Waverly, Wayzata, Welcome, Wells, Wendell, Westbrook, West Concord, Westport, West St. Paul, West Union, Whalan, Wheaton, White Bear Lake, Wilder, Willernie, Williams, Willmar, Willow River, Wilmont, Wilton, Windom, Winger, Winnebago, Winona, Winsted, Winthrop, Winton, Wolf Lake, Wolverton, Woodbury, Wood Lake, Woodland, Woodstock, Worthington, Wrenshall, Wright, Wykoff, Wyoming, Zemple, Zimmerman, Zumbro Falls, Zumbrota