Our Matching Gift Sponsors
How it works in KY

1. Tell us about your car
Take 2 minutes to fill out a donation form - online or over the phone.

2. Schedule a free pickup
Within 24 hours we'll call you to arrange a convenient pickup time.

3. You are done!
Within 2-4 weeks you receive a tax receipt and vacation voucher.
400,000+ donors trust us with their car.
Here's what our donors had to say about how donating went for them.
P.S. we didn't make these up! They're all real donors, with real experiences.
They made it easy to donate my car
By
Kelly F.

, Pewee Valley KY (I donated a 1997 Chrysler Sebring)
They made it easy to donate my car
Only good things to brag about Kars4Kids
By
William I.

, Lexington KY (I donated a 2000 Mercury Grand Marquis)
Donating my car was a very simple, convenient and rewarding experience. The process was not difficult at all, actually very easy and the car was picked up the next day. I have only good things to brag about Kars 4 Kids. GOD BLESS YOU ALL!

By
Eddie S.

, Eminence KY (I donated a 1998 Ford Taurus)
Pick up was very easy.
How your car helps
Our charity programs are the essence of what we do. We are thankful to be able to give back to many local communities across North America and to bring educational opportunities to so many children. We're a registered nonprofit Jewish organization. Learn about what we do and see our charity programs here.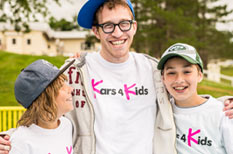 The Kars4Kids Vision
Kars4Kids' vision is to give our children the ability to succeed in life. We focus on educational, mentorship and year-round programs for our children, their families and their communities, looking at the big picture of our children's development and the environment they grow up in. We rely on thousands of volunteers to help us change the world, one child at a time.
Back-To-School Motivation
The teen dropout rate is higher than ever. Kars4Kids works to motivate teens to hang in there for the duration by organizing a backpack giveaway and street fair with live music, dancing, free food, and fun. We believe these events keep teens excited about learning and helps them to stay on track.
Keeps Kids Warm
It breaks the heart to see children inadequately dressed against the winter chill. Kars4Kids makes it a point of distributing much-needed winter coats so that no child has to shiver. Warm winter clothing is a basic need for children if we want them to grow up healthy and whole.
Still have questions?
What is the amount of the tax deduction I will receive?
The amount you can claim from the IRS as a
tax deduction
depends on the category applicable to you:
The IRS allows you to claim a tax deduction of:
a) The value of your vehicle up to $500. It is up to the donor to determine the fair market value.
b) The amount we sell your vehicle for - if it is more than $500.
Kars4kids is a classified 501(c)(3) charity organization. You can check with your tax advisor or accountant to determine the amount of your benefit. The deduction is of value only if the donor itemizes his or her deductions. For a more detailed overview the IRS publishes a
Donors Guide to Car Donation.
What can I donate?
We accept the following donations: car, snow plow, boat, bus, jet ski, truck, RV (motor home), commercial, airplane, van, trailer, motorcycle, ATV, tractor, and fleet donations. Sorry no kids.
I want to donate a car in Kentucky but I'm missing my title. Is my car still eligible for donation?
We can pick up a vehicle in Kentucky without a title. We will just need the registered owner to sign some paperwork for us.

How can I replace my missing title?
In almost all scenarios Kars4kids will apply for the new title for you. We'll handle all the paperwork and pay the title fees too.
If you'd prefer you may apply for a new title on your own. Here's how:
Application is made at your local county clerk's office. Application for title/registration (
VTR form # TC96-182
[PDF - 61KB]) must be completed, signed by all registered owners and notarized.
For additional details visit:
http://countyclerk.meadecounty.ky.gov/mv/title/duptitle.htm
Where do I sign my Kentucky title?
ZOOM IN
You will need to sign and have the title notarized in the presence of a notary public. The sample title document to the left of this paragraph has a blue arrow. Sign where the arrow appears using the name listed on the front page of your car title document. The title document should be given to the tow truck driver at the time your car is collected.
How do I transfer the ownership of my car?
License Plates
The license plate currently on the vehicle remains with the vehicle, unless the license plate is a specialty plate which includes collegiate plates, organization plates, etc. If it's a specialty plate, you should remove it and take the plates into your County Clerk's office county clerk. The clerk may then re-issue you the plate provided it's for the same vehicle type under your name.


Stop insurance
Cancel your insurance once your car has been towed.
For a full list of frequently asked questions check out our faq section.
A car donation that came close to setting the record for highest mileage came to us from the state of Kentucky with 359,806 miles on it. We were happy to have it!
Any information on this page related to state laws and title requirements is correct to the best of our knowledge. But because this kind of information is liable to change, please check with your local motor vehicle authority for current guidelines and requirements.
Kars4kids Car Donation



12613 Taylorsville Road




Louisville

,

KY

40299




859-559-4118
Sun - Thu: 7 am - midnight EST
Fri: 8 am -
pm EST
Sat: 2 pm - midnight EST
Our Areas of Service.
We cover the entire Kentucky State area.
We receive the highest amount of vehicle donations from these cities:
Adairville, Albany, Alexandria, Allen, Arlington, Ashland, Auburn, Augusta, Barbourville, Bardstown, Bardwell, Barlow, Beattyville, Beaver Dam, Bedford, Bellefonte, Bellevue, Benham, Benton, Berea, Berry, Blackey, Blaine, Bloomfield, Bonnieville, Booneville, Bowling Green, Bradfordsville, Brandenburg, Bremen, Brodhead, Bromley, Brooksville, Brownsville, Buckhorn, Burgin, Burkesville, Burnside, Butler, Cadiz, Calhoun, California, Calvert City, Camargo, Campbellsburg, Campbellsville, Campton, Caneyville, Carlisle, Carrollton, Carrsville, Catlettsburg, Cave City, Centertown, Central City, Clarkson, Clay, Clay City, Clinton, Cloverport, Coal Run Village, Cold Spring, Columbia, Columbus, Concord, Corbin, Corinth, Corydon, Covington, Crab Orchard, Crescent Springs, Crestview, Crestview Hills, Crestwood, Crittenden, Crofton, Cumberland, Cynthiana, Danville, Dawson Springs, Dayton, Dixon, Dover, Drakesboro, Dry Ridge, Earlington, Eddyville, Edgewood, Edmonton, Ekron, Elizabethtown, Elkhorn City, Elkton, Elsmere, Eminence, Erlanger, Eubank, Evarts, Ewing, Fairfield, Fairview, Falmouth, Ferguson, Flatwoods, Fleming-Neon, Flemingsburg, Florence, Fordsville, Fort Mitchell, Fort Thomas, Fort Wright, Fountain Run, Fox Chase, Frankfort, Franklin, Fredonia, Frenchburg, Fulton, Gamaliel, Georgetown, Germantown, Ghent, Glasgow, Glencoe, Goshen, Grand Rivers, Gratz, Grayson, Greensburg, Greenup, Greenville, Guthrie, Hanson, Hardin, Hardinsburg, Harlan, Harrodsburg, Hartford, Hawesville, Hazard, Hazel, Hebron Estates, Henderson, Hickman, Highland Heights, Hillview, Hindman, Hiseville, Hodgenville, Hopkinsville, Horse Cave, Hunters Hollow, Hustonville, Hyden, Independence, Inez, Irvine, Irvington, Island, Jackson, Jamestown, Jeffersonville, Jenkins, Junction City, Kenton Vale, Kevil, Kuttawa, La Center, LaFayette, La Grange, Lakeside Park, Lakeview Heights, Lancaster, Latonia Lakes, Lawrenceburg, Lebanon, Lebanon Junction, Leitchfield, Lewisburg, Lewisport, Lexington, Liberty, Livermore, Livingston, London, Lone Oak, Loretto, Louisa, Louisville, Loyall, Ludlow, Lynch, McHenry, McKee, Mackville, Madisonville, Manchester, Marion, Martin, Mayfield, Maysville, Melbourne, Mentor, Middlesborough, Midway, Millersburg, Milton, Monterey, Monticello, Morehead, Morganfield, Morgantown, Mortons Gap, Mount Olivet, Mount Sterling, Mount Vernon, Mount Washington, Muldraugh, Munfordville, Murray, Nebo, New Castle, New Haven, Newport, Nicholasville, North Middletown, Nortonville, Oak Grove, Oakland, Olive Hill, Orchard Grass Hills, Owensboro, Owenton, Owingsville, Paducah, Paintsville, Paris, Park City, Park Hills, Park Lake, Pembroke, Perryville, Pewee Valley, Pikeville, Pineville, Pioneer Village, Pippa Passes, Pleasureville, Plum Springs, Powderly, Prestonsburg, Prestonville, Princeton, Providence, Raceland, Radcliff, Ravenna, Raywick, Richmond, River Bluff, Robards, Rochester, Rockport, Russell, Russell Springs, Russellville, Ryland Heights, Sacramento, Sadieville, St. Charles, Salem, Salt Lick, Salyersville, Sanders, Sandy Hook, Sardis, Science Hill, Scottsville, Sebree, Sharpsburg, Shelbyville, Shepherdsville, Silver Grove, Simpsonville, Slaughters, Smithfield, Smithland, Smiths Grove, Somerset, Sonora, South Carrollton, Southgate, South Shore, Sparta, Springfield, Stamping Ground, Stanford, Stanton, Sturgis, Taylor Mill, Taylorsville, Tompkinsville, Trenton, Union, Uniontown, Upton, Vanceburg, Versailles, Vicco, Villa Hills, Vine Grove, Wallins Creek, Walton, Warfield, Warsaw, Water Valley, Waverly, Wayland, West Liberty, West Point, Westwood, Wheatcroft, Wheelwright, White Plains, Whitesburg, Whitesville, Wickliffe, Wilder, Williamsburg, Williamstown, Willisburg, Wilmore, Winchester, Wingo, Woodburn, Woodbury, Woodlawn, Worthington, Worthville, Wurtland