Our Matching Gift Sponsors
How it works in IL

1. Tell us about your car
Take 2 minutes to fill out a donation form - online or over the phone.

2. Schedule a free pickup
Within 24 hours we'll call you to arrange a convenient pickup time.

3. You are done!
Within 2-4 weeks you receive a tax receipt and vacation voucher.
400,000+ donors trust us with their car.
Here's what our Illinois donors had to say about how donating went for them.
P.S. we didn't make these up! They're all real donors, with real experiences.
Done in a matter of minutes
By
Paul K.

, Palatine IL (I donated a 1995 Ford Probe)
Everything went very well. The tow truck was here when promised, and the operator was very polite. The whole thing was done in a matter of minutes! I will donate another car to Kars4Kids when that time comes.
By
Mario M.

, Streamwood IL (I donated a 1990 Cadillac Eldorado)
Very helpful on time and the driver was so kind and great tue and I'm so glad we could help out kids in need god bless :)
I like that the Jeep went to good use instead of the junk yard
By
Susan K.

, Oakwood Hills IL (I donated a 1996 Jeep Cherokee)
This experience was awesome. I had trouble selling our old Jeep. Kars4Kids was able to help us get rid of our vehicle. The tow truck representative that came was extremely friendly and nice. Time arranged was right on schedule. I like that the Jeep went to good use instead of sitting in a junk yard. The free voucher for a getaway was a nice perk. I would definately recommend your organization to anyone getting rid of a vehicle.
Susan Keller
How your car helps
Our charity programs are the essence of what we do. We are thankful to be able to give back to many local communities across North America and to bring educational opportunities to so many children. We're a registered nonprofit Jewish organization. Learn about what we do and see our charity programs here.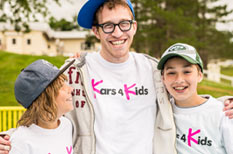 The Kars4Kids Vision
Kars4Kids' vision is to give our children the ability to succeed in life. We focus on educational, mentorship and year-round programs for our children, their families and their communities, looking at the big picture of our children's development and the environment they grow up in. We rely on thousands of volunteers to help us change the world, one child at a time.
Seeing Is Believing
Our gallery offers thrilling documentation of a thriving organization, from its wildly annoying jingle (!) to the shiny happy faces of all those who have benefited from Kars4Kids programs. Here is where you can see Kars4Kids moments captured for posterity: holiday packages, a coat giveaway, fulfilling the dream of someone with a disability, and more.
Fun in TheZone
Hundreds of children from across the country call TheZone home each summer. With a nearly one-on-one staff to camper ratio, the atmosphere of warmth and unconditional love makes TheZone "the happiest place on Earth" for our children. And the friendships and mentorships nurtured in summer camp are kept up throughout the year.
Still have questions?
What is the amount of the tax deduction I will receive?
The amount you can claim from the IRS as a
tax deduction
depends on the category applicable to you:
The IRS allows you to claim a tax deduction of:
a) The value of your vehicle up to $500. It is up to the donor to determine the fair market value.
b) The amount we sell your vehicle for - if it is more than $500.
Kars4kids is a classified 501(c)(3) charity organization. You can check with your tax advisor or accountant to determine the amount of your benefit. The deduction is of value only if the donor itemizes his or her deductions. For a more detailed overview the IRS publishes a
Donors Guide to Car Donation.
What can I donate?
We accept the following donations: car, snow plow, boat, bus, jet ski, truck, RV (motor home), commercial, airplane, van, trailer, motorcycle, ATV, tractor, and fleet donations. Sorry no kids.
I want to donate a car in Illinois but I'm missing my title. Is my car still eligible for donation?
We can pick up a vehicle without a title in Illinois. We just need the registered owner to sign some paperwork for us.

In the following counties you don't need to sign any paperwork at all. Just provide a proof of ownership (such as copy of registration or insurance card): Adams, Alexander, Bond, Boone, Brown, Bureau, Calhoun, Carroll, Cass, Champaign, Christian, Clark, Clay, Clinton, Coles, Cook, Crawford, Cumberland, De Witt, DeKalb, Douglas, DuPage, Edgar, Edwards, Effingham, Fayette, Ford, Franklin, Fulton, Gallatin, Greene, Grundy, Hamilton, Hancock, Hardin, Henderson, Henry, Iroquois, Jackson, Jasper, Jefferson, Jersey, Jo Daviess, Johnson, Kane, Kankakee, Kendall, Knox, La Salle, Lake, Lawrence, Lee, Livingston, Logan, Macon, Macoupin, Madison, Marion, Marshall, Mason, Massac, McDonough, McHenry, McLean, Menard, Mercer, Monroe, Montgomery, Morgan, Moultrie, Ogle, Peoria, Perry, Piatt, Pike, Pope, Pulaski, Putnam, Randolph, Richland, Rock Island, Saline, Sangamon, Schuyler, Scott, Shelby, St. Clair, Stark, Stephenson, Tazewell, Union, Vermilion, Wabash, Warren, Washington, Wayne, White, Whiteside, Will, Williamson, Winnebago, Woodford
How can I replace my missing title?
Where do I sign my Illinois title?
ZOOM IN
The sample title document to the left of this paragraph has a blue arrow. Sign where the arrow appears using the name listed on the front page of your car title. The title document should be given to the tow truck driver at the time your car is collected.
How do I transfer the ownership of my car?
1. Remove all plates
All plates must be removed from your car prior to towing. Destroy the plates if they are not going to be transfered to another vehicle.
You may transfer the plates to a new vehicle by filling out the
Application for Vehicle Transaction
and bringing it to your local Secretary of State facility .
2. Seller's Report of Sale
Then mail it to:
Secretary of State Vehicle Services
Department Record Inquiry
Division 501 S. Second St., Rm. 408
Springfield, IL 62756
3. Cancel your insurance
Cancel your insurance after your car has been towed.
Visit
http://www.cyberdriveillinois.com/
for more information on your state car donation laws.
Would you like to meet one of our service providers?
The family-owned and operated towing business known as North Shore Towing has been in the business of serving "Chicagoland" for over three decades, towing cars on demand within a 75-mile radius of Chicago proper. North Shore's fleet is impressive with more than 30 tow trucks of every size and type one could desire for the job of towing vehicles. No job too big or too small may be a cliche, but it's an apt statement of fact in relation to this veteran of the towing business.

The job of towing cars can become exciting from time to time what with finding what the staff likes to call its "junk yard jewels." These would include such items as a purse with all its contents still inside, including a money-filled wallet; a rare early 1900's 3-fingered baseball glove, accidentally left behind by its owner; and a wooden trunk, packed to the brim with baseball cards. The company does its best to reunite these rare items with its owners.
For a full list of frequently asked questions check out our faq section.
Some of the donations we've received have really shocked us, but not so the all terrain vehicle donated by Tom L. of Waukegan, Il. This ATV had the best shock absorbers we've ever had to pleasure to experience.
Any information on this page related to state laws and title requirements is correct to the best of our knowledge. But because this kind of information is liable to change, please check with your local motor vehicle authority for current guidelines and requirements.
Kars4kids Car Donation



2527 Oakton Street




Evanston

,

IL

60202




847-400-0047
Sun - Thu: 7 am - midnight EST
Fri: 8 am -
pm EST
Sat: 2 pm - midnight EST
Our Areas of Service.
We cover the entire Illinois State area.
We receive the highest amount of vehicle donations from these cities:
Abingdon, Albion, Aledo, Altamont, Alton, Amboy, Anna, Arcola, Ashley, Assumption, Athens, Atlanta, Auburn, Aurora, Ava, Barry, Batavia, Beardstown, Belleville, Belvidere, Benld, Benton, Berwyn, Bloomington, Blue Island, Braidwood, Breese, Bridgeport, Brookport, Bunker Hill, Burbank, Bushnell, Byron, Cairo, Calumet City, Canton, Carbondale, Carlinville, Carlyle, Carmi, Carrollton, Carterville, Carthage, Casey, Centralia, Centreville, Champaign, Charleston, Chenoa, Chester,
Chicago
, Chillicothe, Chrisman, Christopher, Clinton, Coffeen, Colchester, Collinsville, Colona, Columbia, Country Club Hills, Countryside, Creal Springs, Crest Hill, Crystal Lake, Cuba, Dallas City, Danville, Darien, Decatur, DeKalb, Delavan, Des Plaines, Dixon, Du Quoin, Earlville, East Dubuque, East Moline, East Peoria, East St. Louis, Edwardsville, Effingham, Eldorado, Elgin, Elmhurst, Elmwood, El Paso, Eureka, Evanston, Fairbury, Fairfield, Fairview Heights, Farmer City, Farmington, Flora, Freeport, Fulton, Galena, Galesburg, Galva, Geneseo, Geneva, Genoa, Georgetown, Gibson, Gillespie, Gilman, Girard, Golconda, Grafton, Grand Tower, Granite City, Grayville, Greenfield, Greenville, Griggsville, Hamilton, Harrisburg, Harvard, Harvey, Havana, Henry, Herrin, Hickory Hills, Highland, Highland Park, Highwood, Hillsboro, Hometown, Hoopeston, Hurst, Jacksonville, Jerseyville, Johnston City, Joliet, Jonesboro, Kankakee, Keithsburg, Kewanee, Kinmundy, Knoxville, Lacon, La Harpe, Lake Forest, Lanark, La Salle, Lawrenceville, Lebanon, Leland Grove, Le Roy, Lewistown, Lexington, Lincoln, Litchfield, Lockport, Loves Park, McHenry, McLeansboro, Macomb, Macon, Madison, Marengo, Marion, Markham, Maroa, Marquette Heights, Marseilles, Marshall, Martinsville, Mascoutah, Mason City, Mattoon, Mendota, Metropolis, Minonk, Moline, Momence, Monmouth, Monticello, Morris, Morrison, Mound City, Mounds, Mount Carmel, Mount Carroll, Mount Olive, Mount Pulaski, Mount Sterling, Mount Vernon, Murphysboro, Naperville, Nashville, Nason, Nauvoo, Neoga, New Boston, Newman, Newton, Nokomis, North Chicago, Northlake, Oakbrook Terrace, Oak Forest, Oakland, O'Fallon, Oglesby, Olney, Oneida, Oregon, Orient, Ottawa, Palos Heights, Palos Hills, Pana, Paris, Park City, Park Ridge, Paxton, Pekin, Peoria, Peru, Petersburg, Pinckneyville, Pittsfield, Plano, Polo, Pontiac, Princeton, Prophetstown, Prospect Heights, Quincy, Red Bud, Robinson, Rochelle, Rock Falls, Rockford, Rock Island, Rolling Meadows, Roodhouse, Rosiclare, Rushville, St. Charles, St. Elmo, St. Francisville, Salem, Sandwich, Savanna, Sesser, Shawneetown, Shelbyville, Silvis, South Beloit, Sparta, Springfield, Spring Valley, Staunton, Sterling, Streator, Sullivan, Sumner, Sycamore, Taylorville, Toluca, Toulon, Trenton, Troy, Tuscola, Urbana, Vandalia, Venice, Vienna, Villa Grove, Virden, Virginia, Wamac, Warrenville, Warsaw, Washington, Waterloo, Watseka, Waukegan, Waverly, Wenona, West Chicago, West Frankfort, West Peoria, Wheaton, White Hall, Wilmington, Winchester, Windsor, Witt, Wood Dale, Wood River, Woodstock, Wyoming, Yorkville, Zeigler