Our Matching Gift Sponsors
How it works in HI

1. Tell us about your car
Take 2 minutes to fill out a donation form - online or over the phone.

2. Schedule a free pickup
Within 24 hours we'll call you to arrange a convenient pickup time.

3. You are done!
Within 2-4 weeks you receive a tax receipt and vacation voucher.
400,000+ donors trust us with their car.
Here's what our Hawaii donors had to say about how donating went for them.
P.S. we didn't make these up! They're all real donors, with real experiences. (we even left the typos in :)
Easy to donate and get a tax deduction
By
Norbert K.

, Mililani HI (I donated a 1990 Acura Legend)
Easy to donate and get a tax deduction
By
Rakesh M.

, Honolulu HI (I donated a 1996 Infiniti I30)
This was really easy and happy i did it for a great cause
Donating was amazingy simple
By
Gilbert B.

, Honolulu HI (I donated a 1971 Ford LTD)
Donating to Kars4kids was amazingy simple. The web site was quick to find and easy to use. Kars4kids stayed in contact with me throuhout
The process and kept me up to date on the scheduled pickup. The towing service was professal and quick.
Both of my vehicles were pick up within a couple days. Great service..
How your car helps
Our charity programs are the essence of what we do. We are thankful to be able to give back to many local communities across North America and to bring educational opportunities to so many children. We're a registered nonprofit Jewish organization. Learn about what we do and see our charity programs here.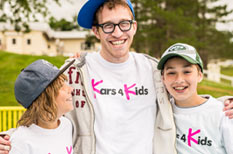 The Kars4Kids Vision
Kars4Kids' vision is to give our children the ability to succeed in life. We focus on educational, mentorship and year-round programs for our children, their families and their communities, looking at the big picture of our children's development and the environment they grow up in. We rely on thousands of volunteers to help us change the world, one child at a time.
Summer Camp
A summer at Kars4Kids-sponsored camp, TheZone, does wonders for a child. Watch this action-packed video to get a glimpse at the fun that awaits campers at this special, one of a kind place. The smiles on their faces tell the whole story.
Holiday Caring
We distribute thousands of holiday care packages to families in need. We include food items along with games and related items to ensure that families have what they need to feel festive at the holiday season. Our carefully crafted packages help families cross much-needed items off their lists so they can just enjoy their families.
Still have questions?
I want to donate a car in Hawaii but I'm missing my title. Is my car still eligible for donation?
How can I replace my missing title?
What is the amount of the tax deduction I will receive?
What can I donate?
We accept the following donations: car, snow plow, boat, bus, jet ski, truck, RV (motor home), commercial, airplane, van, trailer, motorcycle, ATV, tractor, and fleet donations. Sorry no kids.
Where do I sign my Hawaii title?
For a full list of frequently asked questions check out our faq section.
Not exactly vintage, no, but a 1967 Toyota Land Cruiser did set a record for the oldest car donation ever received from the state of Hawaii. And no, no orchid leis wrapped around the antenna. We were as disappointed as anyone :)
Any information on this page related to state laws and title requirements is correct to the best of our knowledge. But because this kind of information is liable to change, please check with your local motor vehicle authority for current guidelines and requirements.
Our Areas of Service.
We cover the entire Hawaii State area.
We receive the highest amount of vehicle donations from these cities:
Aiea, Aina Haina, Alakea, Anachoomlu, Brbrsptnas, Cape Smith, Capehart, Ewa, Ewa Beach, Ford Island, Fort Shafter, Hana, Hanalei, Hanapepe, Hickam, Hilo, Honaunau, Honokaa, Honolulu, Honomu, Kaaawa, Kahaluu, Kahuliu, Kailua, Kailua-Kona, Kaimuki, Kakaako, Kakaakou, Kalaheo, Kalaoa, Kalihi, Kamuela, Kaneohe, Kaneohmcas, Kapaa, Kapolei, Kauai, Kawaihae, Kawailani, Keaau, Keahi, Kealakekua, Keauhou, Kekaha, Kihei, Kilauea, Kohala, Koko Head, Koloa, Kona, Kula, Lahaina, Laie, Lanai City, Laupahoeho, Lihue, Lualualei, Makaha, Makakilo, Makawao, Manoa, Maui, Mililani, Mililanimk, Moanalua, Mokapu, Molokai, Mountain View, Naalehu, Nanakuli, Napili, Oahu, Pahala, Pahoa, Paia, Papaikou, Papakolea, Pearl City, Pearl Harbor, Punahou, Puukapu, Puuloa, Royal Kunia, Schofield, Soda Creek, Sunset Beach, Tripler, Volcano, Wahiawa, Waialua, Waianae, Waikoloa, Wailuku, Waimanalo, Waimea, Waimea, Kauai , Waipahu, Wheeler