Our Matching Gift Sponsors
How it works in WI

1. Tell us about your car
Take 2 minutes to fill out a donation form - online or over the phone.

2. Schedule a free pickup
Within 24 hours we'll call you to arrange a convenient pickup time.

3. You are done!
Within 2-4 weeks you receive a tax receipt and vacation voucher.
400,000+ donors trust us with their car.
Here's what our Wisconsin donors had to say about how donating went for them.
P.S. we didn't make these up! They're all real donors, with real experiences.
My second donation went just as smoothly as the 1st
By
Luis R.

, Greenfield WI (I donated a 2002 Pontiac Sunfire)
This is was my second donation to K4K's and it went just as smoothly as the 1st one. For sure my next donation will go again to K4K's!
The process required very little work on our part
By
Dennis S.

, Waterford WI (I donated a 1993 Plymouth Acclaim)
The process for donating was easy and required very little work on our part. It was great knowing that the money received for the car was going to a great cause.
Did a fine job in the removal of our car
By
Lester W.

, Kenosha WI (I donated a 2001 Dodge Intrepid)
They did a fine job in accommodating the removal of our car.
How your car helps
Our charity programs are the essence of what we do. We are thankful to be able to give back to many local communities across North America and to bring educational opportunities to so many children. We're a registered nonprofit Jewish organization. Learn about what we do and see our charity programs here.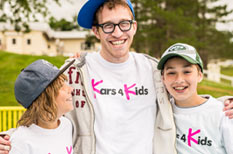 The Kars4Kids Vision
Kars4Kids' vision is to give our children the ability to succeed in life. We focus on educational, mentorship and year-round programs for our children, their families and their communities, looking at the big picture of our children's development and the environment they grow up in. We rely on thousands of volunteers to help us change the world, one child at a time.
Helping Families
Kars4Kids sends out thousands of holiday packages to families, doing everything to ensure meaningful, stress-free family togetherness at the holiday season. We send families on retreats to help them revive the family warmth that sometimes gets lost in the daily struggle to keep afloat and pay the bills. Professional advice and a listening ear helps families feel less alone.
School Help
An effective tutor can mean the difference between just sliding by and a stellar report card. A tutor can also serve as a mentor and an extra support to a child who may simply be lacking in self-confidence. Our results are proof that our tutors and tutoring programs are top notch.
Still have questions?
What is the amount of the tax deduction I will receive?
The amount you can claim from the IRS as a
tax deduction
depends on the category applicable to you:
The IRS allows you to claim a tax deduction of:
a) The value of your vehicle up to $500. It is up to the donor to determine the fair market value.
b) The amount we sell your vehicle for - if it is more than $500.
Kars4kids is a classified 501(c)(3) charity organization. You can check with your tax advisor or accountant to determine the amount of your benefit. The deduction is of value only if the donor itemizes his or her deductions. For a more detailed overview the IRS publishes a
Donors Guide to Car Donation.
What can I donate?
We accept the following donations: car, snow plow, boat, bus, jet ski, truck, RV (motor home), commercial, airplane, van, trailer, motorcycle, ATV, tractor, and fleet donations. Sorry no kids.
I want to donate a car in Wisconsin but I'm missing my title. Is my car still eligible for donation?
We can pick up a vehicle in Wisconsin without a title. We will just need the registered owner to sign some paperwork for us.

How can I replace my missing title?
Where do I sign my Wisconsin title?
ZOOM IN
The sample title document to the left of this paragraph has a blue arrow. Sign where the arrow appears using the name listed on the front page of your car title. The title document should be given to the tow truck driver at the time your car is collected.
How do I transfer the ownership of my car?
Remove plates
The plates should be removed from the vehicle.


Transfer or Destroy Plates
You should destroy the plates (cut them up) if you are not going to transfer them to another vehicle. Do not return the plates to DMV. If you've accidentally left the plates on your vehicle, you should download and complete a License Plates Cancellation Application form.


Stop insurance
Cancel your insurance coverage on the donated vehicle once it's been picked up.


For a full list of frequently asked questions check out our faq section.
Wisconsin is famed for its dairy farms and we all know that dairy products start with milk. This fact is reflected in the most common color chosen for Wisconsin cars: white.
Any information on this page related to state laws and title requirements is correct to the best of our knowledge. But because this kind of information is liable to change, please check with your local motor vehicle authority for current guidelines and requirements.
Kars4kids Car Donation



544 East Ogden Avenue #700-228




Milwaukee

,

WI

53202




414-214-1100
Sun - Thu: 7 am - midnight EST
Fri: 8 am -
pm EST
Sat: 2 pm - midnight EST
Our Areas of Service.
We cover the entire Wisconsin State area.
We receive the highest amount of vehicle donations from these cities:
Abbotsford, Adams, Algoma, Alma, Altoona, Amery, Antigo, Appleton, Arcadia, Ashland, Augusta, Baraboo, Barron, Bayfield, Beaver Dam, Beloit, Berlin, Black River Falls, Blair, Bloomer, Boscobel, Brillion, Brodhead, Brookfield, Buffalo City, Burlington, Cedarburg, Chetek, Chilton, Chippewa Falls, Clintonville, Colby, Columbus, Cornell, Crandon, Cuba City, Cudahy, Cumberland, Darlington, Delafield, Delavan, De Pere, Dodgeville, Durand, Eagle River, Eau Claire, Edgerton, Elkhorn, Elroy, Evansville, Fennimore, Fitchburg, Fond du Lac, Fort Atkinson, Fountain City, Fox Lake, Franklin, Galesville, Gillett, Glendale, Glenwood City, Green Bay, Greenfield, Green Lake, Greenwood, Hartford, Hayward, Hillsboro, Horicon, Hudson, Hurley, Independence, Janesville, Jefferson, Juneau, Kaukauna, Kenosha, Kewaunee, Kiel, La Crosse, Ladysmith, Lake Geneva, Lake Mills, Lancaster, Lodi, Loyal, Madison, Manawa, Manitowoc, Marinette, Marion, Markesan, Marshfield, Mauston, Mayville, Medford, Mellen, Menasha, Menomonie, Mequon, Merrill, Middleton, Milton,
Milwaukee
, Mineral Point, Mondovi, Monona, Monroe, Montello, Montreal, Mosinee, Muskego, Neenah, Neillsville, Nekoosa, New Berlin, New Holstein, New Lisbon, New London, New Richmond, Niagara, Oak Creek, Oconomowoc, Oconto, Oconto Falls, Omro, Onalaska, Oshkosh, Osseo, Owen, Park Falls, Peshtigo, Pewaukee, Phillips, Pittsville, Platteville, Plymouth, Portage, Port Washington, Prairie du Chien, Prescott, Princeton, Racine, Reedsburg, Rhinelander, Rice Lake, Richland Center, Ripon, River Falls, St. Croix Falls, St. Francis, Schofield, Seymour, Shawano, Sheboygan, Sheboygan Falls, Shell Lake, Shullsburg, South Milwaukee, Sparta, Spooner, Stanley, Stevens Point, Stoughton, Sturgeon Bay, Sun Prairie, Superior, Thorp, Tomah, Tomahawk, Two Rivers, Verona, Viroqua, Washburn, Waterloo, Watertown, Waukesha, Waupaca, Waupun, Wausau, Wautoma, Wauwatosa, West Allis, West Bend, Westby, Weyauwega, Whitehall, Whitewater