Our Matching Gift Sponsors
How it works in WA

1. Tell us about your car
Take 2 minutes to fill out a donation form - online or over the phone.

2. Schedule a free pickup
Within 24 hours we'll call you to arrange a convenient pickup time.

3. You are done!
Within 2-4 weeks you receive a tax receipt and vacation voucher.
400,000+ donors trust us with their car.
Here's what our Washington donors had to say about how donating went for them.
P.S. we didn't make these up! They're all real donors, with real experiences.
The phone were very sweet and understanding
By
Holly M.

, Seattle WA (I donated a 1994 Buick )
I loved Kars4Kids the tow truck driver was amazing and the people on the phone were very sweet and understanding!~!
By
Matthew H.

, Edmonds WA (I donated a 1996 Ford Ranger)
I had a great experience with this organization. The pick up of my donated truck was simple, and a tax form followed a few weeks after the sale of the truck. I have yet to use the vacation package, but plan on it very soon. Hopefully someone is getting good use from my old truck.
By
Julie A.

, Everett WA (I donated a 1992 Chevrolet Corsica)
Nice, smooth transaction. Tow truck came and got the car and I was given a receipt for the pickup. Shortly after that, I received the certificate to use with my taxes for my donation. Later, while filing my taxes, I couldn't find the receipt and emailed Kars4kids and asked if they could email me another copy of the certificate. Within a day I received the emailed copy of the receipt and was able to complete the taxes.
How your car helps
Our charity programs are the essence of what we do. We are thankful to be able to give back to many local communities across North America and to bring educational opportunities to so many children. We're a registered nonprofit Jewish organization. Learn about what we do and see our charity programs here.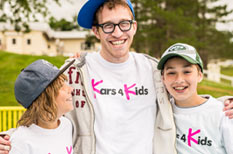 The Kars4Kids Vision
Kars4Kids' vision is to give our children the ability to succeed in life. We focus on educational, mentorship and year-round programs for our children, their families and their communities, looking at the big picture of our children's development and the environment they grow up in. We rely on thousands of volunteers to help us change the world, one child at a time.
Gift Of Giving
Each year, Kars4Kids distributes holiday packages for kids in difficult straits who might not otherwise mark a special day as something out of the ordinary. But this time, a class of middle school children was organized to help create and label the packages. It was a learning experience that taught those child volunteers about the gift of giving.
The Zone: Summer Camp
Our summer camp is a world-class resort facility situated on 500 acres of sprawling mountains in upstate New York. Specialty workshops include woodworking, leather craft and martial arts for the boys and hair styling, baking and kickboxing for the girls. Most importantly the unity and care that permeates the air is what keeps kids coming back year after year.
Still have questions?
What is the amount of the tax deduction I will receive?
The amount you can claim from the IRS as a
tax deduction
depends on the category applicable to you:
The IRS allows you to claim a tax deduction of:
a) The value of your vehicle up to $500. It is up to the donor to determine the fair market value.
b) The amount we sell your vehicle for - if it is more than $500.
Kars4kids is a classified 501(c)(3) charity organization. You can check with your tax advisor or accountant to determine the amount of your benefit. The deduction is of value only if the donor itemizes his or her deductions. For a more detailed overview the IRS publishes a
Donors Guide to Car Donation.
What can I donate?
We accept the following donations: car, snow plow, boat, bus, jet ski, truck, RV (motor home), commercial, airplane, van, trailer, motorcycle, ATV, tractor, and fleet donations. Sorry no kids.
I want to donate a car in Washington but I'm missing my title. Is my car still eligible for donation?
We can pick up a vehicle without a title in Washington. We just need the registered owner to sign some paperwork for us.

In the following counties you don't need to sign any paperwork at all. Just provide a proof of ownership (such as copy of registration or insurance card): Adams, Asotin, Benton, Chelan, Clallam, Clark, Columbia, Cowlitz, Douglas, Ferry, Franklin, Garfield, Grant, Grays Harbor, Island, Jefferson, King, Kitsap, Kittitas, Klickitat, Lewis, Lincoln, Mason, Okanogan, Pacific, Pend Oreille, Pierce, San Juan, Skagit, Skamania, Snohomish, Spokane, Stevens, Thurston, Wahkiakum, Walla Walla, Whatcom, Whitman, Yakima
How can I replace my missing title?
Where do I sign my Washington title?
ZOOM IN
The sample title document to the left of this paragraph has two blue arrows. Sign where both arrows appear using the name listed on the front page of your car title document. The title document should be given to the tow truck driver at the time your car is collected.
How do I transfer the ownership of my car?
1. Leave the License Plates on the car
All plates should remain on the vehicle.
2. Report the sale of the vehicle
As the donor you are required to file a Report of Sale within five days of the donation. You'll need the License plate number, date of donation, an email address and the name and address of the organization where you donated your car to. (Kars4kids 1805 Swarthmore Ave, Lakewood NJ 08701)
You can deliver your Report of Sale to a local DMV, or fill out an online application.
In person.
Find an office near you >
Online:
File a Report of Sale online >
3. Cancel your insurance
Cancel your insurance after your car has been towed.
Visit
http://www.dol.wa.gov/
for more information on your state car donation laws.
For a full list of frequently asked questions check out our faq section.
Nothing takes Kars4Kids by surprise, including the occasional perk that comes with a recreational vehicle, such as a bathroom! Bathroom-outfitted RV's have come to us by way of Neil from Maple Valley, WA.
Financial disclosure: J.O.Y for our youth is exempt from tax under section 501(c)(3) of the Internal Revenue Code and qualifies for the maximum charitable contribution deduction by donors. Our Federal Identification Number is 22-374-6050. We are proud of the way we manage our finances.
Any information on this page related to state laws and title requirements is correct to the best of our knowledge. But because this kind of information is liable to change, please check with your local motor vehicle authority for current guidelines and requirements.
Kars4kids Car Donation



18200 Highway 99




Lynnwood

,

WA

98037




425-578-9054
Sun - Thu: 7 am - midnight EST
Fri: 8 am -
pm EST
Sat: 2 pm - midnight EST
Our Areas of Service.
We cover the entire Washington State area.
We receive the highest amount of vehicle donations from these cities:
Aberdeen, Airway Heights, Amanda Park, Anacortes, Arlington, Ashford, Asotin, Auburn, Bainbridge Isle, Beaver, Belfair, Bellevue, Bellingham, Benton City, Bingen, Blaine, Bremerton, Brewster, Bridgeport, Brinnon, Buckley, Burlington, Camas, Carlton, Carson, Cashmere, Castle Rock, Cathlamet, Centralia, Chehalis, Chelan, Cheney, Chewelah, Clallam Bay, Clarkston, Cle Elum, Colfax, Colville, Conconully, Concrete, Connell, Copalis Beach, Cosmopolis, Cougar, Coulee, Coupeville, Curlew, Davenport, Dayton, Deer Park, Des Moines, Dryden, East Wenatchee, Easton, Eastsound, Eatonville, Edmonds, Elbe, Ellensburg, Elma, Entiat, Enumclaw, Ephrata, Everett, Fairchild, Federal Way, Ferndale, Fife, Forks, Freeland, Friday Harbor, Fruitland, Gig Harbor, Glacier, Glenwood, Goldendale, Grand Coulee, Grandview, Granger, Grayland, Greenacres, Hoodsport, Hoquiam, Humptulips, Ilwaco, Index, Ione, Issaquah, Kalama, Kelso, Kenmore, Kennewick, Kent, Kettle Falls, Keyport, Kingston, Kirkland, La Conner, La Push, Lacey, Langley, Leavenworth, Lilliwaup, Long Beach, Longview, Loon Lake, Lopez, Lopez Island, Lyle, Lynden, Lynnwood, Manson, Marblemount, Marysville, Mattawa, Mazama, Metaline Falls, Milton, Moclips, Monroe, Montesano, Morton, Moses Lake, Mossyrock, Mountlake Terrace, Mt Vernon, Naches, Nahcotta, Naselle, Neah Bay, Newport, North Bend, Northport, Oak Harbor, Ocean Park, Ocean Shores, Odessa, Okanogan, Olga, Olympia, Omak, Oroville, Othello, Pacific Beach, Packwood, Pasco, Pateros, Peshastin, Pomeroy, Port Angeles, Port Hadlock, Port Ludlow, Port Orchard, Port Townsend, Poulsbo, Prosser, Pullman, Puyallup, Quilcene, Quinault, Quincy, Randle, Raymond, Redmond, Renton, Richland, Ritzville, Rochester, Rockport, Roslyn, Salkum, Seabeck,
Seattle
, Seaview, Sedro Woolley, Sekiu, Sequim, Shelton, Silver Creek, Silverdale, Silverlake, Skykomish, Snohomish, Snoqualmie, Snoqualmie Pass, Soap Lake, South Bend, Spanaway, Spokane, Sprague, Stanwood, Starbuck, Steptoe, Stevenson, Sultan, Sumas, Sumner, Sunnyside, Tacoma, Tokeland, Toledo, Tonasket, Toppenish, Trout Lake, Tukwila, Twisp, Union, Usk, Van Cuver, Vancouver, Vantage, Vashon, Waitsburg, Walla Walla, Wapato, Waterville, Wenatchee, Westport, White Salmon, Wilbur, Winthrop, Woodland, Yakima, Yelm