Our Matching Gift Sponsors
How it works in VT

1. Tell us about your car
Take 2 minutes to fill out a donation form - online or over the phone.

2. Schedule a free pickup
Within 24 hours we'll call you to arrange a convenient pickup time.

3. You are done!
Within 2-4 weeks you receive a tax receipt and vacation voucher.
400,000+ donors trust us with their car.
Here's what our donors had to say about how donating went for them.
P.S. we didn't make these up! They're all real donors, with real experiences.
Kars4kids provided accurate details
By
Gwen W.

, White River Junction VT (I donated a 1999 Jeep Cherokee)
My experience with Kars4kids was seamless. Kars4kids provided detailed steps of what I needed to do and when I needed to do it. Every detail that they provided was accurate and timing of the transaction was down to the day. If you are looking to work with an charitable organization that benefits kids/families and is trustworthy and organized I highly recommend Kars4kids! Thank you!!!
I would gladly donate again
By
Nancy J.

, Long Beach NY (I donated a 1990 Toyota Corolla)
I was happy to donate the car for Kars4Kids. And If I have another problem with one I would gladly donate it.
Prompt, professional, and a useful tax statement
By
David L.

, Thornton CO (I donated a 1992 Audi 100)
They were very prompt and professional when it came time to pickup the vehicle. They also followed up with a tax statement to use at the end of the year!
Thanks
How your car helps
Our charity programs are the essence of what we do. We are thankful to be able to give back to many local communities across North America and to bring educational opportunities to so many children. We're a registered nonprofit Jewish organization. Learn about what we do and see our charity programs here.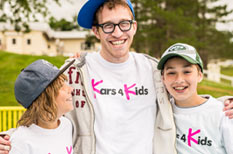 The Kars4Kids Vision
Kars4Kids' vision is to give our children the ability to succeed in life. We focus on educational, mentorship and year-round programs for our children, their families and their communities, looking at the big picture of our children's development and the environment they grow up in. We rely on thousands of volunteers to help us change the world, one child at a time.
Holiday Packages
Thousands of families are thrilled to find a holiday package from Kars for Kids, hand packed with love by our dedicated volunteers, on their doorstep several times a year. Filled with goodies and brightly decorated, the boxes bring a smile to every face in the family.
Creature Comforts
The benefits of spending time with animals are well known. A child may not be able to talk about his fears, but he won't mind whispering them into a bunny's ear. The extensive petting and farm animal zoo at the Kars4Kids camp facility offers children a noncritical form of support while teaching responsibility and caring for others.
Still have questions?
What is the amount of the tax deduction I will receive?
The amount you can claim from the IRS as a
tax deduction
depends on the category applicable to you:
The IRS allows you to claim a tax deduction of:
a) The value of your vehicle up to $500. It is up to the donor to determine the fair market value.
b) The amount we sell your vehicle for - if it is more than $500.
Kars4kids is a classified 501(c)(3) charity organization. You can check with your tax advisor or accountant to determine the amount of your benefit. The deduction is of value only if the donor itemizes his or her deductions. For a more detailed overview the IRS publishes a
Donors Guide to Car Donation.
What can I donate?
We accept the following donations: car, snow plow, boat, bus, jet ski, truck, RV (motor home), commercial, airplane, van, trailer, motorcycle, ATV, tractor, and fleet donations. Sorry no kids.
I want to donate a car in Vermont but I'm missing my title. Is my car still eligible for donation?
We can pick up a vehicle in Vermont without a title. We will just need the registered owner to sign some paperwork for us.

How can I replace my missing title?
In almost all scenarios Kars4kids will apply for the new title for you. We'll handle all the paperwork and pay the title fees too.
If you'd prefer you may apply for a new title on your own. Here's how:
Complete a
Duplicate Title Application
. The application should be mailed to: 120 State Street Montpelier, Vermont 05603-0001.
You can also take your form over in person to your
local DMV
. Here's a list of DMV's located in Vermont:
Barre
,
Bennington
,
Dummerston
,
Middlebury
,
Montpelier (Main Office)
,
Newport
,
Rutland
,
South Burlington
,
Springfield
,
Saint Albans
,
Saint Johnsbury
,
White River Junction
.
Where do I sign my Vermont title?
ZOOM IN
The sample title document to the left of this paragraph has a blue arrow. Sign where the arrow appears using the name listed on the front page of your car title. The title document should be given to the tow truck driver at the time your car is collected.
How do I transfer the ownership of my car?
Remove plates
Remove the license plates from the car, prior to it being towed.


Return the plates
Return the plates, registration certificate and the stickers (if they have not been attached to the plates) to your local DMV office. You may also mail the plates and registration to the main office at: DMV 120 State Street Montpelier, VT 05603-0001.


Notify the DMV
You should notify the DMV that you've donated the vehicle. You can notify them either through the mail, in person at any DMV office, or via email to ComissionersOffice@state.vt.us.


Stop insurance
Cancel your insurance coverage on the donated vehicle once it's been picked up.
For a full list of frequently asked questions check out our faq section.
Chris P. of Proctor, Vermont, sure gets around. His donated car racked up the highest mileage in the state at 301,258 miles.
Any information on this page related to state laws and title requirements is correct to the best of our knowledge. But because this kind of information is liable to change, please check with your local motor vehicle authority for current guidelines and requirements.
Kars4kids Car Donation
Sun - Thu: 7 am - midnight EST
Fri: 8 am -
pm EST
Sat: 2 pm - midnight EST
Our Areas of Service.
We cover the entire Vermont State area.
We receive the highest amount of vehicle donations from these cities:
Addison, Albany, Alburg, Andover, Arlington, Athens, Averill, Bakersfield, Baltimore, Barnard, Barnet, Barre City, Barre Town, Barton, Belvidere, Bennington, Benson, Berkshire, Berlin, Bethel, Bloomfield, Bolton, Bradford, Braintree, Brandon, Brattleboro, Bridgewater, Bridport, Brighton, Bristol, Brookfield, Brookline, Brownington, Brunswick, Burke, Burlington, Cabot, Calais, Cambridge, Canaan, Castleton, Cavendish, Charleston, Charlotte, Chelsea, Chester, Chittenden, Clarendon, Colchester, Concord, Corinth, Cornwall, Coventry, Craftsbury, Danby, Danville, Derby, Dorset, Dover, Dummerston, Duxbury, East Haven, East Montpelier, Eden, Elmore, Enosburg, Essex, Fairfax, Fairfield, Fair Haven, Fairlee, Fayston, Ferdinand, Ferrisburg, Fletcher, Franklin, Georgia, Glastenbury, Glover, Goshen, Grafton, Granby, Grand Isle, Granville, Greensboro, Groton, Guildhall, Guilford, Halifax, Hancock, Hardwick, Hartford, Hartland, Highgate, Hinesburg, Holland, Hubbardton, Huntington, Hyde Park, Ira, Irasburg, Isle La Motte, Jamaica, Jay, Jericho, Johnson, Killington, Kirby, Landgrove, Leicester, Lemington, Lewis, Lincoln, Londonderry, Lowell, Ludlow, Lunenburg, Lyndon, Maidstone, Manchester, Marlboro, Marshfield, Mendon, Middlebury, Middlesex, Middletown Springs, Milton, Monkton, Montgomery, Montpelier, Moretown, Morgan, Morristown, Mount Holly, Mount Tabor, Newark, Newbury, Newfane, New Haven, Newport City, Newport Town, Northfield, North Hero, Norton, Norwich, Orange, Orwell, Panton, Pawlet, Peacham, Peru, Pittsfield, Pittsford, Plainfield, Plymouth, Pomfret, Poultney, Pownal, Proctor, Putney, Randolph, Reading, Readsboro, Richford, Richmond, Ripton, Rochester, Rockingham, Roxbury, Royalton, Rupert, Rutland City, Rutland, Ryegate, St. Albans City, St. Albans Town, St. George, St. Johnsbury, Salisbury, Sandgate, Searsburg, Shaftsbury, Sharon, Sheffield, Shelburne, Sheldon, Shoreham, Shrewsbury, Somerset, South Burlington, South Hero, Springfield, Stamford, Stannard, Starksboro, Stockbridge, Stowe, Strafford, Stratton, Sudbury, Sunderland, Sutton, Swanton, Thetford, Tinmouth, Topsham, Townshend, Troy, Tunbridge, Underhill, Vergennes, Vernon, Vershire, Victory, Waitsfield, Walden, Wallingford, Waltham, Wardsboro, Warren, Washington, Waterbury, Waterford, Waterville, Weathersfield, Wells, West Fairlee, Westfield, Westford, West Haven, Westminster, Westmore, Weston, West Rutland, West Windsor, Weybridge, Wheelock, Whiting, Whitingham, Williamstown, Williston, Wilmington, Windham, Windsor, Winhall, Winooski, Wolcott, Woodbury, Woodford, Woodstock, Worcester