Our Matching Gift Sponsors
How it works in VA

1. Tell us about your car
Take 2 minutes to fill out a donation form - online or over the phone.

2. Schedule a free pickup
Within 24 hours we'll call you to arrange a convenient pickup time.

3. You are done!
Within 2-4 weeks you receive a tax receipt and vacation voucher.
400,000+ donors trust us with their car.
Here's what our Virginia donors had to say about how donating went for them.
P.S. we didn't make these up! They're all real donors, with real experiences.
Simple, easy, pleasurable experience
By
Mark H.

, Fredericksburg VA (I donated a 2001 Pontiac Grand Prix)
Donating my car was made simple and easy. Kars4Kids made giving back a pleasurable experience Thank you so much.
The second time I have donated through them
By
Brad B.

, Leesburg VA (I donated a 2005 Ford Taurus)
As always, the team and K4K did a great job. This is the second time I have donated through them and they were professional, helpful and honest.
The process was fast, easy, and very convenient for me
By
Shane R.

, Chesterfield VA (I donated a 1997 Saturn )
The process was fast and easy for me. They ccameane and picked up my car while I was away, which was very convenient for me.
How your car helps
Our charity programs are the essence of what we do. We are thankful to be able to give back to many local communities across North America and to bring educational opportunities to so many children. We're a registered nonprofit Jewish organization. Learn about what we do and see our charity programs here.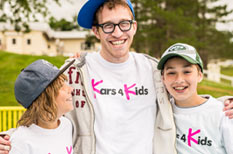 The Kars4Kids Vision
Kars4Kids' vision is to give our children the ability to succeed in life. We focus on educational, mentorship and year-round programs for our children, their families and their communities, looking at the big picture of our children's development and the environment they grow up in. We rely on thousands of volunteers to help us change the world, one child at a time.
Community Backpack Giveaways
It's no fun starting school with last year's dingy backpack. That's why Kars4Kids goes straight to the heart of communities, partnering with local officials to make sure thousands of children have new ones. Just having that one new item can motivate a child to academic success, as the smiles of these backpacks recipients attest.
Children's Own Voices
Listen to the children tell you in their own words about the many ways they benefit from the work of Kars4Kids. Round the clock mentoring and homework help ensure that children have a chance to succeed and get ahead. Volunteers make sure their charges have all the supports necessary to make it through school.
Still have questions?
What is the amount of the tax deduction I will receive?
The amount you can claim from the IRS as a
tax deduction
depends on the category applicable to you:
The IRS allows you to claim a tax deduction of:
a) The value of your vehicle up to $500. It is up to the donor to determine the fair market value.
b) The amount we sell your vehicle for - if it is more than $500.
Kars4kids is a classified 501(c)(3) charity organization. You can check with your tax advisor or accountant to determine the amount of your benefit. The deduction is of value only if the donor itemizes his or her deductions. For a more detailed overview the IRS publishes a
Donors Guide to Car Donation.
What can I donate?
We accept the following donations: car, snow plow, boat, bus, jet ski, truck, RV (motor home), commercial, airplane, van, trailer, motorcycle, ATV, tractor, and fleet donations. Sorry no kids.
I want to donate a car in Virginia but I'm missing my title. Is my car still eligible for donation?
We can pick up a vehicle without a title in Virginia. We just need the registered owner to sign some paperwork for us.

In the following counties you don't need to sign any paperwork at all. Just provide a proof of ownership (such as copy of registration or insurance card): Accomack, Albemarle, Alleghany, Amelia, Amherst, Appomattox, Arlington, Augusta, Bath, Bedford, Bland, Botetourt, Brunswick, Buchanan, Buckingham, Campbell, Caroline, Carroll, Charles City, Charlotte, Chesterfield, Clarke, Craig, Culpeper, Cumberland, Dickenson, Dinwiddie, Essex, Fairfax, Fauquier, Floyd, Fluvanna, Franklin, Frederick, Giles, Gloucester, Goochland, Grayson, Greene, Greensville, Halifax, Hanover, Henrico, Henry, Highland, Isle of Wight, James City, King and Queen, King George, King William, Lancaster, Lee, Loudoun, Louisa, Lunenburg, Madison, Mathews, Mecklenburg, Middlesex, Montgomery, Nelson, New Kent, Northampton, Northumberland, Nottoway, Orange, Page, Patrick, Pittsylvania, Powhatan, Prince Edward, Prince George, Prince William, Pulaski, Rappahannock, Richmond, Roanoke, Rockbridge, Rockingham, Russell, Scott, Shenandoah, Smyth, Southampton, Spotsylvania, Stafford, Surry, Sussex, Tazewell, Warren, Washington, Westmoreland, Wise, Wythe, York
How can I replace my missing title?
In almost all scenarios Kars4kids will apply for the new title for you. We'll handle all the paperwork and pay the title fees too.
If you'd prefer you may apply for a new title on your own. Here's how:
To apply for a replacement title you can:
1. Apply
online
via the virginia.gov website.
2. Call 1-888-337-4782
3. Bring your current registration card and your driver's license or ID card to your local
customer service center
.
4. Complete an "Application for Supplemental Lien and Transfer Liens or Replacement and Substitute Titles" (
VSA 66
).
For additional details visit:
http://www.dmv.state.va.us/vehicles/#replacement.asp
Where do I sign my Virginia title?
ZOOM IN
The sample title document to the left of this paragraph has a blue arrow. Sign where the arrow appears using the name listed on the front page of your car title. The title document should be given to the tow truck driver at the time your car is collected.
How do I transfer the ownership of my car?
1. Remove all plates
All plates must be removed from your car prior to towing.
2. Dispose or return your plates to the DMV
If you purchase a replacement vehicle, you may transfer your old plates to the replacement vehicle.If the plates are not transferred to another vehicle, you may return them to any DMV customer service center for recycling or destroy and dispose of them yourself.
Notify DMV that you have donated the vehicle.
You must notify DMV that you have donated your vehicle. This may be accomplished by going
online
, visiting a
customer service center
or
contacting the DMV
by phone.
NOTE:
If you have a full six months or more remaining in your vehicle registration period, you may qualify for a refund by returning the plates to DMV. Complete an Application for Vehicle Registration Refund Form (
FMS-210
) and mail it with the license plates to the address shown on the form. You may also request a refund by returning the completed
FMS-210
and plates to a Customer Service Center or DMV Select.
3. Cancel your insurance
Notify the insurance company that you donated the vehicle. You must notify the insurance company when you have sold, traded or donated a vehicle. If you bought another vehicle, you may transfer insurance coverage to the new vehicle, providing the required information to the insurance company. Be sure to obtain liability insurance for the other vehicle before you register it with DMV and transfer the old plates or purchase new plates for it.
Avoid Future Problems:
Insurance companies notify DMV whenever they cancel, add or write new coverage for a motor vehicle. Therefore, if your insurance company cancels liability coverage on your vehicle because you no longer own it and you don't notify DMV, our records will show that the vehicle is registered in your name but is uninsured. Since it is unlawful to have an uninsured registered vehicle, DMV may suspend your driver's license and vehicle registration privileges.
Visit
http://www.dmv.virginia.gov/#/
for more information on your state car donation laws.
For a full list of frequently asked questions check out our faq section.
It must be "Kar"ma that had the same car come back to us a second time. The first time around, the car was donated to us by Aaron A., of Fort Bragg, NC. The second time, we received the same car from Anthony C. of Dumfries, VA.
Financial disclosure: J.O.Y for our youth is exempt from tax under section 501(c)(3) of the Internal Revenue Code and qualifies for the maximum charitable contribution deduction by donors. Our Federal Identification Number is 22-374-6050. We are proud of the way we manage our finances.
Any information on this page related to state laws and title requirements is correct to the best of our knowledge. But because this kind of information is liable to change, please check with your local motor vehicle authority for current guidelines and requirements.
Kars4kids Car Donation



3856 South Military Highway




Chesapeake

,

VA

23321




757-351-0701
Sun - Thu: 7 am - midnight EST
Fri: 8 am -
pm EST
Sat: 2 pm - midnight EST
Our Areas of Service.
We cover the entire Virginia State area.
We receive the highest amount of vehicle donations from these cities:
Abingdon, Afton, Aldie, Alexandria, Amelia Court, Amherst, Ampthill, Appomattox, Arlington, Arrington, Ashland, Basye, Bedford, Berryville, Big Rock, Big Stone Gap, Blacksburg, Blackstone, Bland, Blue Grass, Bluefield, Bowling Green, Boyce, Breaks, Bristol, Brookneal, Buchanan, Buena Vista, Burkeville, Callao, Cape Charles, Cape Ville, Castlewood, Chantilly, Charlottesville, Chase City, Chesapeake, Chester, Chilhowie, Chincoteague, Churchville, Clarksville, Clifton Forge, Clintwood, Cloverdale, Collinsville, Colonial Beach, Courtland, Covington, Crewe, Culpeper, Daleville, Damascus, Danville, Deltaville, Dillwyn, Dinwiddie, Doran, Drakes Branch, Dublin, Elkton, Emporia, Faber, Fairfax, Farmville, Floyd, Fork Union, Fort Lee, Fredericksburg, Front Royal, Galax, Glade Spring, Glen Allen, Gloucester Point, Gordonsville, Gore, Greenville, Gretna, Grimstead, Grundy, Halifax, Hampton, Hardy, Harrisburg, Harrisonburg, Haysi, Herndon, Hillsville, Hollins, Hopewell, Hot Springs, Hurt, Independence, Irvington, Jonesville, Keswick, Keysville, King George, La Crosse, Lancaster, Lanexa, Lebanon, Leesburg, Lexington, Louisa, Lovingston, Luray, Lynchburg, Madison Heights, Manassas, Marion, Martinsville, Meadows, Mc Gaheysville, Mc Kenney, Mc Lean, Meadows Of Dan Melfa, Middleburg, Middletown, Midlothian, Millboro, Millwood, Mineral, Mollusk, Monterey, Montross, Mountain Lake, Mt Sidney, Nassawadox, Natural Bridge, New market, Newington, Newport,
Norfolk
, North Garden, North Tazewell, Onancock, Onley, Orange, Paris, Parksley, Pearisburg, Pembroke, Pennington, Petersburg, Pocahontas, Port Royal, Portsmouth, Pound, Pounding Mill, Pulaski, Quantico, Quinton, Radford, Reedville, Rich Creek, Richlands, Richmond, Ridgeway, Roanoke, Rocky Gap, Rosedale, Ruckersville, Rural, Retreat, Rustburg, Salem, Saltville, Sandston, Scottsville, Shawsville, Shenandoah, Smithfield, South Boston, South Hill, Sperryville, Spotsylvania, Springfield, Stafford, Stanley, Staunton, Steeles Tavern, Stephens City, Stony Creek, Strasburg, Stuart, Suffolk, Surry, Syria, Tangier, Tappahannock, Tasley, Tazewell, Thornburg, Toano, Topping, Townsend, Triangle, Trout Dale, Troy, Upperville, Urbanna, Valentines, Vansant, Verona, Vienna, Vinton,
Virginia Beach
, Wachapreague, Wakefield, Warfield, Warfield, Warm Springs, Warrenton, Warsaw, Washington, Waterford, Waverly, Waynesboro, Weber, West Augusta, West Point, White Post, White Stone, Williamsburg, Winchester, Wintergreen, Wise, Woodbridge, Woodstock, Wytheville, Yorktown