Our Matching Gift Sponsors
How it works in UT

1. Tell us about your car
Take 2 minutes to fill out a donation form - online or over the phone.

2. Schedule a free pickup
Within 24 hours we'll call you to arrange a convenient pickup time.

3. You are done!
Within 2-4 weeks you receive a tax receipt and vacation voucher.
400,000+ donors trust us with their car.
Here's what our Utah donors had to say about how donating went for them.
P.S. we didn't make these up! They're all real donors, with real experiences.
It was quick, easy, and all around AWESOME!
By
Mark T.

, Taylorsville UT (I donated a 2000 Mazda Protege)
It was quick, easy, and all around AWESOME!
They work with us at our timeframe
By
Bryan M.

, Logan UT (I donated a 1995 Honda Civic)
it was really easy and simple and they work with us and our timeframe. Thank you!

I liked the online process and the friendly phone calls
By
Curtis V.

, Ogden UT (I donated a 1987 Nissan Truck)
I appreciate being able to make a donation to such a worthy cause. Response time with pick up and receipt were a little slow but I'm sure you are very busy. At least I hope so. I liked the online application process and the friendly phone calls. Keep up the good work. pg
How your car helps
Our charity programs are the essence of what we do. We are thankful to be able to give back to many local communities across North America and to bring educational opportunities to so many children. We're a registered nonprofit Jewish organization. Learn about what we do and see our charity programs here.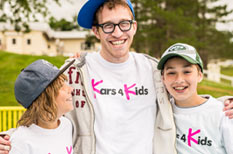 The Kars4Kids Vision
Kars4Kids' vision is to give our children the ability to succeed in life. We focus on educational, mentorship and year-round programs for our children, their families and their communities, looking at the big picture of our children's development and the environment they grow up in. We rely on thousands of volunteers to help us change the world, one child at a time.
Fun Fun Fun...
We are careful to reward the children's hard work in school and after-school programs with: fun, fun, fun! Whether its rock climbing, ATVing, horseback riding or just bonding together with friends by a bond fire, the children are assured to receive the outlets they need to ensure further development and growth.
Tutoring 1 on 1
So many children struggle in the average classroom setting, needing individualized attention outside of school, which many times is not supplemented by a child's parents for numerous reasons. That is why we have carefully designed a tutoring program giving each child the care they need to help bring out their true potential which will help jumpstart a cycle of success.
Still have questions?
What is the amount of the tax deduction I will receive?
The amount you can claim from the IRS as a
tax deduction
depends on the category applicable to you:
The IRS allows you to claim a tax deduction of:
a) The value of your vehicle up to $500. It is up to the donor to determine the fair market value.
b) The amount we sell your vehicle for - if it is more than $500.
Kars4kids is a classified 501(c)(3) charity organization. You can check with your tax advisor or accountant to determine the amount of your benefit. The deduction is of value only if the donor itemizes his or her deductions. For a more detailed overview the IRS publishes a
Donors Guide to Car Donation.
What can I donate?
We accept the following donations: car, snow plow, boat, bus, jet ski, truck, RV (motor home), commercial, airplane, van, trailer, motorcycle, ATV, tractor, and fleet donations. Sorry no kids.
I want to donate a car in Utah but I'm missing my title. Is my car still eligible for donation?
We can pick up a vehicle in Utah without a title. We will just need the registered owner to sign some paperwork for us.

How can I replace my missing title?
Where do I sign my Utah title?
ZOOM IN
The sample title document to the left of this paragraph has a blue arrow. Sign where the arrow appears using the name listed on the front page of your car title. The title document should be given to the tow truck driver at the time your car is collected.
How do I transfer the ownership of my car?
Remove plates
Remove the license plates from the car, prior to it being towed. It is recommended that you deface the plates so that no one else can use it.


Notify the DMV
Notify the Division of Motor Vehicles in writing that your vehicle has been sold. The notification must include the vehicle year, make, plate or vehicle identification number and the owner's signature. This notification can be sent by fax or mail to:
Division of Motor Vehicles
Suspended Transaction Unit
P.O. Box 30412
Salt Lake City, UT 84130
Fax: (801) 297-3570


Stop insurance
Cancel your insurance coverage on the donated vehicle once it's been picked up.
For a full list of frequently asked questions check out our faq section.
The car donation with the highest mileage from the state of Utah came to us with 331,488 miles on it. They do get around in Utah, don't they?
Any information on this page related to state laws and title requirements is correct to the best of our knowledge. But because this kind of information is liable to change, please check with your local motor vehicle authority for current guidelines and requirements.
Kars4kids Car Donation
Sun - Thu: 7 am - midnight EST
Fri: 8 am -
pm EST
Sat: 2 pm - midnight EST
Our Areas of Service.
We cover the entire Utah State area.
We receive the highest amount of vehicle donations from these cities:
Alta, Altamont, Beaver, Bicknel, Big Water, Blanding, Bluff, Boulder, Brian Head, Brigham City, Bryce, Canyon, Cannonville, Castle Dale, Cedar City, Circleville, Clearfield, Coalville, Delta, Draper, Duchesne, Duck Creek, Dutch John, Echo, Eden, Enterprise, Ephraim, Escalante, Eureka, Fairview, Ferron, Fillmore, Fruitland, Garden City, Green River, Gunnison, Hanksville, Hatch, Heber City, Helper, Henefer, Huntington, Huntsville, Kanab, Kaysville, Koosharem, La Verkin, Lake Powell, Layton, Loa, Logan, Manila, Manti, Marysvale, Midvale, Midway, Milford, Moab, Monticello, Monument Valley, Morgan, Mt Carmel, Mt Pleasant, Murray, Nephi, Ogden, Orderville, Orem, Panguitch, Park City, Parowan, Payson, Price, Providence, Provo, Richfield, Riverside, Riverton, Rockville, Roosevelt, Roy, Salina, Salt Lake, Sandy, Scipio, Snowbird, South Jordan, Spanish Fork, Spring Cit, Springdale, Springville, St George, Sterling, Teasdale, Tooele, Torrey, Tremonton, Tropic, Verna, Veyo, Washington, Wellington, Wendover, West Valley City, West Yellowstone