Our Matching Gift Sponsors
How it works in TN

1. Tell us about your car
Take 2 minutes to fill out a donation form - online or over the phone.

2. Schedule a free pickup
Within 24 hours we'll call you to arrange a convenient pickup time.

3. You are done!
Within 2-4 weeks you receive a tax receipt and vacation voucher.
400,000+ donors trust us with their car.
Here's what our Tennessee donors had to say about how donating went for them.
P.S. we didn't make these up! They're all real donors, with real experiences. (we even left the typos in :)
Very easy and people were friendly
By
Susan W.

, Nashville TN (I donated a 1990 Mazda MPV)
Very easy and people were friendly
Very prompt and provided all the documentation as promised
By
Traci D.

, Brentwood TN (I donated a 1995 Ford Windstar)
They were very prompt and provided all the documentation as promised
Easy arrangement and quick pick up
By
Branden M.

, Franklin TN (I donated a 1999 Honda Accord)
Easy arrangement and quick pick up.
How your car helps
Our charity programs are the essence of what we do. We are thankful to be able to give back to many local communities across North America and to bring educational opportunities to so many children. We're a registered nonprofit Jewish organization. Learn about what we do and see our charity programs here.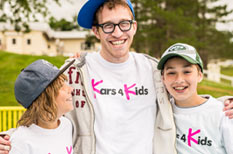 The Kars4Kids Vision
Kars4Kids' vision is to give our children the ability to succeed in life. We focus on educational, mentorship and year-round programs for our children, their families and their communities, looking at the big picture of our children's development and the environment they grow up in. We rely on thousands of volunteers to help us change the world, one child at a time.
Encouraging Literacy
The unique Kars4Kids Book Buddies program offers guided reading with mentors to further children's literacy. Working parents may not have the time to sit and listen to a child read and lots of kids have reading difficulties like dyslexia. Book Buddies makes reading a priority but also makes it enjoyable, a prime factor in motivating kids to read.
ChillZone Extracurricular Programs
With over two dozen locations across the country and more to come, our ChillZone extracurricular programs are a special place for children and teens to get together with mentors and chill. There's hot food, fun activities and great prizes, but best of all is the warm atmosphere of unconditional love.
Still have questions?
I want to donate a car in Tennessee but I'm missing my title. Is my car still eligible for donation?
How can I replace my missing title?
What is the amount of the tax deduction I will receive?
What can I donate?
We accept the following donations: car, snow plow, boat, bus, jet ski, truck, RV (motor home), commercial, airplane, van, trailer, motorcycle, ATV, tractor, and fleet donations. Sorry no kids.
Where do I sign my Tennessee title?
For a full list of frequently asked questions check out our faq section.
When Fedex, the master of fast delivery had an order for 19 vehicles to be towed away in Memphis, TN, back in January of 2012, the company knew that fast pickup was as easy as phoning Kars4Kids. Kars4Kids delivered.
Any information on this page related to state laws and title requirements is correct to the best of our knowledge. But because this kind of information is liable to change, please check with your local motor vehicle authority for current guidelines and requirements.
Kars4kids Car Donation


1708 21st Avenue South #180




Nashville

,

TN

37212




615-932-6980
Our Areas of Service.
We cover the entire Tennessee State area.
We receive the highest amount of vehicle donations from these cities:
Adams, Alcoa, Allardt, Ardmore, Athens, Baneberry, Bartlett, Bean Station, Belle Meade, Bells, Berry Hill, Blaine, Bluff City, Bolivar, Brentwood, Bristol, Brownsville, Camden, Cedar Hill, Celina, Charleston, Chattanooga, Church Hill, Clarksville, Cleveland, Clifton, Clinton, Coalmont, Collegedale, Collinwood, Columbia, Cookeville, Copperhill, Covington, Cowan, Crab Orchard, Cross Plains, Crossville, Crump, Dayton, Decherd, Dickson, Dover, Ducktown, Dunlap, Dyer, Dyersburg, Eagleville, East Ridge, Elizabethton, Elkton, Erin, Etowah, Fairview, Fayetteville, Finger, Forest Hills, Franklin, Friendship, Friendsville, Gallatin, Gallaway, Gatlinburg, Germantown, Gilt Edge, Goodlettsville, Grand Junction, Greenback, Greenfield, Gruetli-Laager, Harriman, Harrogate, Hartsville, Henderson, Hendersonville, Hohenwald, Humboldt, Iron City, Jackson, Jamestown, Jefferson City, Jellico, Johnson City, Kingsport, Kingston, Knoxville, Lafayette, La Follette, Lakeland, Lakesite, Lakewood, La Vergne, Lawrenceburg, Lebanon, Lenoir City, Lewisburg, Lexington, Lobelville, Loretto, Louisville, McEwen, McKenzie, McMinnville, Madisonville, Manchester, Martin, Maryville, Maynardville, Medina, Medon,
Memphis
, Middleton, Midtown, Milan, Millersville, Millington, Minor Hill, Mitchellville, Morristown, Moscow, Mount Juliet, Mount Pleasant, Murfreesboro,
Nashville
, New Hope, New Johnsonville, Newport, Niota, Norris, Oak Hill, Oak Ridge, Orlinda, Paris, Parkers Crossroads, Parsons, Philadelphia, Pigeon Forge, Pikeville, Piperton, Plainview, Pleasant View, Portland, Pulaski, Puryear, Ramer, Red Bank, Red Boiling Springs, Ridgeside, Ridgetop, Ripley, Rockford, Rockwood, St. Joseph, Savannah, Sevierville, Shelbyville, Smithville, Soddy-Daisy, South Fulton, South Pittsburg, Sparta, Springfield, Spring Hill, Sunbright, Sweetwater, Three Way, Townsend, Trenton, Tullahoma, Tusculum, Union City, Wartburg, Watauga, Watertown, Waverly, Waynesboro, White House, Whitwell, Williston, Winchester, Woodland Mills, Yorkville