Our Matching Gift Sponsors
How it works in PA

1. Tell us about your car
Take 2 minutes to fill out a donation form - online or over the phone.

2. Schedule a free pickup
Within 24 hours we'll call you to arrange a convenient pickup time.

3. You are done!
Within 2-4 weeks you receive a tax receipt and vacation voucher.
400,000+ donors trust us with their car.
Here's what our Pennsylvania donors had to say about how donating went for them.
P.S. we didn't make these up! They're all real donors, with real experiences.
Kars4Kids made donating my car very simple!
By
Emily G.

, Wayne PA (I donated a 2000 Saturn S-Series)
Kars4Kids made the process of donating my car very simple! There was no extra work on my part, which was great.
Easy, convenient. Showed up when they should
By
Edward T.

, Bushkill PA (I donated a 1990 Dodge Dakota)
Easy, convenient, they showed up when they said they would. Couldn't have asked for a better interaction.
Thanks, Kars 4 Kids for helping both the owners the youth
By
Joann A.

, Milford PA (I donated a 1991 Mercedes-Benz 190-Class)
Both my daughter had cars tobe donated to Kars 4 Kids. After initial contact, we heard immediately from them. Ours cars were picked up in record time. The entire process was seamless! If ever we have vehicles to donate, Kars 4 Kids will be #1 on our list. Thanks, Kars 4 Kids for helping both owners of cars find a new home for their used vehicles and in turn, helping the youth of our nation.
How your car helps
Our charity programs are the essence of what we do. We are thankful to be able to give back to many local communities across North America and to bring educational opportunities to so many children. We're a registered nonprofit Jewish organization. Learn about what we do and see our charity programs here.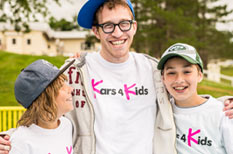 The Kars4Kids Vision
Kars4Kids' vision is to give our children the ability to succeed in life. We focus on educational, mentorship and year-round programs for our children, their families and their communities, looking at the big picture of our children's development and the environment they grow up in. We rely on thousands of volunteers to help us change the world, one child at a time.
Warmth In Winter
When it's cold and snowy out, there's nothing like a Kars4Kids' winter retreat. Kids may not be getting the warmth they need at home and school, but our volunteers make sure that every child attending the retreat gets warm attention. There are lots of smiles in evidence as kids play at winter sports and make new lifelong friends.
Strengthening Family Bonds
Kars4Kids recognizes that children are part of a whole and that strengthening the family strengthens the child and his chances for success. Mentoring services are available for every member of the family. There's always someone ready to lend a listening ear or offer advice and help. Weekend family retreats fortify and restore the loving ties that bind.
Still have questions?
What is the amount of the tax deduction I will receive?
The amount you can claim from the IRS as a
tax deduction
depends on the category applicable to you:
The IRS allows you to claim a tax deduction of:
a) The value of your vehicle up to $500. It is up to the donor to determine the fair market value.
b) The amount we sell your vehicle for - if it is more than $500.
Kars4kids is a classified 501(c)(3) charity organization. You can check with your tax advisor or accountant to determine the amount of your benefit. The deduction is of value only if the donor itemizes his or her deductions. For a more detailed overview the IRS publishes a
Donors Guide to Car Donation.
What can I donate?
We accept the following donations: car, snow plow, boat, bus, jet ski, truck, RV (motor home), commercial, airplane, van, trailer, motorcycle, ATV, tractor, and fleet donations. Sorry no kids.
I want to donate a car in Pennsylvania but I'm missing my title. Is my car still eligible for donation?
We can pick up a vehicle without a title in Pennsylvania. We just need the registered owner to sign some paperwork for us.

In the following counties you don't need to sign any paperwork at all. Just provide a proof of ownership (such as copy of registration or insurance card): Adams, Allegheny, Armstrong, Beaver, Bedford, Berks, Blair, Bradford, Bucks, Butler, Cambria, Cameron, Carbon, Centre, Chester, Clarion, Clearfield, Clinton, Columbia, Crawford, Cumberland, Dauphin, Delaware, Elk, Erie, Fayette, Forest, Franklin, Fulton, Greene, Huntingdon, Indiana, Jefferson, Juniata, Lackawanna, Lancaster, Lawrence, Lebanon, Lehigh, Luzerne, Lycoming, McKean, Mercer, Mifflin, Monroe, Montgomery, Montour, Northampton, Northumberland, Perry, Philadelphia, Pike, Potter, Schuylkill, Snyder, Somerset, Sullivan, Susquehanna, Tioga, Union, Venango, Warren, Washington, Wayne, Westmoreland, Wyoming, York
How can I replace my missing title?
In almost all scenarios Kars4kids will apply for the new title for you. We'll handle all the paperwork and pay the title fees too.
If you'd prefer you may apply for a new title on your own. Here's how:
To request a replacement registration (license) plate, card or sticker because yours has been , lost, stolen or defaced, you will need to complete form
MV-44
.
For additional details visit:
http://www.dmv.state.pa.us/registration/Duplicate.shtml
Where do I sign my Pennsylvania title?
ZOOM IN
You will need to sign and have the title notarized in the presence of a notary public. The sample title document to the left of this paragraph has a blue arrow. Sign where the arrow appears using the name listed on the front page of your car title document. The title document should be given to the tow truck driver at the time your car is collected.
How do I transfer the ownership of my car?
1. Remove all plates
All plates must be removed from your car prior to towing.
2. Return your plates to the DMV
License plates can be mailed to the DMV or dropped off in person.
Once your plate has been received by PennDOT (Pennsylvania Department of Transportation), it will be marked as a "dead tag" on the vehicle record. By returning your Pennsylvania license plate to PennDOT, this will help protect you from any future liability on this vehicle.
Drop your plates off in person.
Find a PennDot near your area >
Or mail the plates to:
Bureau of Motor Vehicles
Return Tag Unit
P.O. Box 68597
Harrisburg, PA 17106-8597
3. Cancel your insurance
Cancel your insurance after your car has been towed.
Visit
http://www.dmv.state.pa.us/
for more information on your state car donation laws.
Would you like to meet one of our service providers?
Capital operates from two branch offices so is able to cover quite a wide swath of territory. The company services car donations anywhere from Delaware to Harrisburg, to Bridgeport, Connecticut, New York, New Jersey, and surrounding areas. In business for 17 years, the company doesn't actually have its own fleet but sublets from a variety of area operators.

The company has a lot of wild stories to tell about the items customers leave behind, but perhaps the one that really touches the heart is about something very sentimental that a car owner had left in the trunk of her car before the towers came to take it away. Luckily, the staff found the item and called the owner. It was-wait for it-her dad's grave marker.

Apparently, after the tombstone was put down, the deceased man's daughter decided to take the marker for sentimental reasons and was very happy that the workers had made the effort to locate her-she wanted it back. The company reunited the customer with this precious item and all were happy once more.
For a full list of frequently asked questions check out our faq section.
Older cars don't always have A/C but the golf carts donated by David G. of Clifton, NJ, and Sheila F. of Phoenixville, PA, had the best natural ventilation we've ever experienced in moving vehicles, bar none!
Financial disclosure: J.O.Y for our youth is exempt from tax under section 501(c)(3) of the Internal Revenue Code and qualifies for the maximum charitable contribution deduction by donors. Our Federal Identification Number is 22-374-6050. We are proud of the way we manage our finances.
Any information on this page related to state laws and title requirements is correct to the best of our knowledge. But because this kind of information is liable to change, please check with your local motor vehicle authority for current guidelines and requirements.
Kars4kids Car Donation



1100 East Philadelphia Avenue




Gilbertsville

,

PA

19525




610-502-3126
Sun - Thu: 7 am - midnight EST
Fri: 8 am -
pm EST
Sat: 2 pm - midnight EST
Our Areas of Service.
We cover the entire Pennsylvania State area.
We receive the highest amount of vehicle donations from these cities:
Aliquippa, Allentown, Altoona, Arnold, Beaver Falls, Bethlehem, Bradford, Butler, Carbondale, Chester, Clairton, Coatesville, Connellsville, Corry, DuBois, Duquesne, Easton, Erie, Farrell, Franklin, Greensburg, Harrisburg, Hazleton, Hermitage, Jeannette, Johnstown, Lancaster, Latrobe, Lebanon, Lock Haven, Lower Burrell, McKeesport, Meadville, Monessen, Monongahela, Nanticoke, New Castle, New Kensington, Oil City, Parker,
Philadelphia
,
Pittsburgh
, Pittston, Pottsville, Reading, St. Marys, Scranton, Shamokin, Sharon, Sunbury, Titusville, Uniontown, Warren, Washington, Wilkes-Barre, Williamsport, York