Our Matching Gift Sponsors
How it works in OK

1. Tell us about your car
Take 2 minutes to fill out a donation form - online or over the phone.

2. Schedule a free pickup
Within 24 hours we'll call you to arrange a convenient pickup time.

3. You are done!
Within 2-4 weeks you receive a tax receipt and vacation voucher.
400,000+ donors trust us with their car.
Here's what our Oklahoma donors had to say about how donating went for them.
P.S. we didn't make these up! They're all real donors, with real experiences.
Very hassle free procedure
By
Massoud T.

, Norman OK (I donated a 2002 Toyota Highlander)
Very hassle free procedure. Well done.
GLAD WE WERE ABLE TO HELP
By
Ray T.

, Choctaw OK (I donated a 1993 Mercury Topaz)
WE DONATED OUR CAR AND KARS4KIDS PICKED T UP PROMPTLY HAD NO PROBLEM WHATS SO EVER WAS GLAD WE WERE ABLE TO HELP
Everyone was very helpful
By
Gina C.

, Edmond OK (I donated a 1991 Nissan )
Everyone was very helpful and was taken care of in a timely manor.
How your car helps
Our charity programs are the essence of what we do. We are thankful to be able to give back to many local communities across North America and to bring educational opportunities to so many children. We're a registered nonprofit Jewish organization. Learn about what we do and see our charity programs here.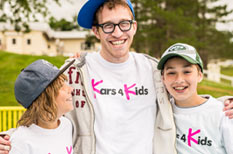 The Kars4Kids Vision
Kars4Kids' vision is to give our children the ability to succeed in life. We focus on educational, mentorship and year-round programs for our children, their families and their communities, looking at the big picture of our children's development and the environment they grow up in. We rely on thousands of volunteers to help us change the world, one child at a time.
Structured Safe Fun
Kids should be safe in and out of school with mentors by their sides, and involved in activities that are both productive and fun. The most important thing one can do for a child is put a smile on his face and that's something we work hard at accomplishing with our Chillzone Program, whether skating, boating, zip-lining, golfing, or doing crafts.
Kid By Kid
At Kars4Kids we know that every child matters. That's our rule of thumb and that's the key to our huge impact on so many children and their families. The numbers tell the story of the many children we feed, clothe, and educate. We're making a difference, one child at a time.
Still have questions?
What is the amount of the tax deduction I will receive?
The amount you can claim from the IRS as a
tax deduction
depends on the category applicable to you:
The IRS allows you to claim a tax deduction of:
a) The value of your vehicle up to $500. It is up to the donor to determine the fair market value.
b) The amount we sell your vehicle for - if it is more than $500.
Kars4kids is a classified 501(c)(3) charity organization. You can check with your tax advisor or accountant to determine the amount of your benefit. The deduction is of value only if the donor itemizes his or her deductions. For a more detailed overview the IRS publishes a
Donors Guide to Car Donation.
What can I donate?
We accept the following donations: car, snow plow, boat, bus, jet ski, truck, RV (motor home), commercial, airplane, van, trailer, motorcycle, ATV, tractor, and fleet donations. Sorry no kids.
I want to donate a car in Oklahoma but I'm missing my title. Is my car still eligible for donation?
We can pick up a vehicle in Oklahoma without a title. We will just need the registered owner to sign some paperwork for us.

How can I replace my missing title?
In almost all scenarios Kars4kids will apply for the new title for you. We'll handle all the paperwork and pay the title fees too.
If you'd prefer you may apply for a new title on your own. Here's how:
To apply for a duplicate Oklahoma title complete (
Form 701-7
) and submit it to the Motor Vehicle Division. The form must be notarized by a Notary Public. If you'd prefer you may also mail your application to the following address:
Oklahoma Tax Commission
Motor Vehicle Division
2501 North Lincoln Boulevard
For additional details visit:
http://www.tax.ok.gov/mv5g.html
Where do I sign my Oklahoma title?
ZOOM IN
You will need to sign and have the title notarized in the presence of a notary public. The sample title document to the left of this paragraph has a blue arrow. Sign where the arrow appears using the name listed on the front page of your car title document. The title document should be given to the tow truck driver at the time your car is collected.
How do I transfer the ownership of my car?
Remove plates
The license plates and registration from the donated vehicle must be removed. The holder of a license plate may transfer that plate to a new vehicle. Although not required, you may surrender the plates at your local tag office. If you will be disposing of the plates on your own you should deface the plates to ensure that they will not be used illegally on another vehicle.


Notice of Transfer of Ownership
You may you may download a Notice of Transfer of Ownership Form or complete a notice of transfer of ownership that's attached to the bottom of your title. The form should be detached from the title certificate and delivered or mailed to any Oklahoma Tag Agency.


Stop insurance
Cancel your insurance coverage on the donated vehicle once it's been picked up.
For a full list of frequently asked questions check out our faq section.
People in Oklahoma are making tracks. We know it because the car with the most mileage ever donated in that state had 372,922 miles on it when we picked it up in Norman, OK.
Any information on this page related to state laws and title requirements is correct to the best of our knowledge. But because this kind of information is liable to change, please check with your local motor vehicle authority for current guidelines and requirements.
Kars4kids Car Donation



1611 South Utica Avenue #341




Tulsa

,

OK

74104




918-289-2053
Sun - Thu: 7 am - midnight EST
Fri: 8 am -
pm EST
Sat: 2 pm - midnight EST
Our Areas of Service.
We cover the entire Oklahoma State area.
We receive the highest amount of vehicle donations from these cities:
Ada, Altus, Alva, Anadarko, Antlers, Ardmore, Atoka, Barnsdall, Bartlesville, Beaver, Beggs, Bethany, Bixby, Blackwell, Blanchard, Boise City, Bridgeport, Bristow, Broken Arrow, Broken Bow, Cache, Catoosa, Cedar Valley, Centrahoma, Chandler, Checotah, Chelsea, Cherokee, Chickasha, Choctaw, Claremore, Cleveland, Clinton, Coalgate, Collinsville, Comanche, Commerce, Coweta, Crescent, Cushing, Davis, Del City, Dewey, Drumright, Duncan, Durant, Edmond, Elgin, Elk City, El Reno, Enid, Erick, Eufaula, Fairview, Frederick, Garber, Geary, Glenpool, Grandfield, Grove, Guthrie, Guymon, Haileyville, Harrah, Hartshorne, Healdton, Heavener, Henryetta, Hobart, Holdenville, Hollis, Hominy, Hooker, Hugo, Idabel, Jay, Jenks, Kaw City, Kingfisher, Konawa, Krebs, Lawton, Lehigh, Lexington, Lindsay, Lone Grove, McAlester, Madill, Mangum, Marietta, Marlow, Maud, Medford, Miami, Midwest City, Minco, Moore, Morris, Muskogee, Mustang, Newcastle, New Cordell, Newkirk, Nichols Hills, Nicoma Park, Noble, Norman, Nowata, Oilton, Okemah,
Oklahoma City
, Okmulgee, Owasso, Pauls Valley, Pawhuska, Pawnee, Perkins, Perry, Picher, Piedmont, Ponca City, Pond Creek, Poteau, Prague, Pryor Creek, Purcell, Ringwood, Sallisaw, Sand Springs, Sapulpa, Sayre, Seiling, Seminole, Shawnee, Shidler, Snyder, Spencer, Stigler, Stillwater, Stilwell, Stroud, Sulphur, Tahlequah, Tecumseh, The Village, Thomas, Tishomingo, Tonkawa,
Tulsa
, Tupelo, Tuttle, Vinita, Wagoner, Walters, Warr Acres, Watonga, Waurika, Waynoka, Weatherford, Wetumka, Wewoka, Wilburton, Wilson, Woodward, Wynnewood, Yale, Yukon