Our Matching Gift Sponsors
How it works in OH

1. Tell us about your car
Take 2 minutes to fill out a donation form - online or over the phone.

2. Schedule a free pickup
Within 24 hours we'll call you to arrange a convenient pickup time.

3. You are done!
Within 2-4 weeks you receive a tax receipt and vacation voucher.
400,000+ donors trust us with their car.
Here's what our Ohio donors had to say about how donating went for them.
P.S. we didn't make these up! They're all real donors, with real experiences.
Very easy to communicate with. Excellent service
By
Tracey H.

, Findlay OH (I donated a 1999 Dodge Grand Caravan)
Very easy to communicate with. Excellent service
Have donated to others and this was the simplest
By
Kim M.

, Painesville OH (I donated a 1994 Toyota Camry)
It was very easy! We lived in the Cleveland Area and my son had physical possession of the car at college in Columbus at OSU. They helped coordinate the pick up of the vehicle giving clear instructions how to transfer the title. The tax information was received soon after the vehicle's transfer to the new owner. We have donated to Salvation Army and Our Lady of the Wayside in Cleveland in the past and this was by far the simplest. Thank you!
The process was straightforward and simple
By
Alan P.

, Kent OH (I donated a 1992 GMC )
I had an old car that still ran, but was not valued enough to even use as a trade-in. I contacted Kars 4 Kids and they handled everything. The process was straightforward and simple. They told me what I needed to have, arranged the transportation, and sent me my tax documents very efficiently.

One phone call and my old car was turned into a donation without any stress or hassles!
How your car helps
Our charity programs are the essence of what we do. We are thankful to be able to give back to many local communities across North America and to bring educational opportunities to so many children. We're a registered nonprofit Jewish organization. Learn about what we do and see our charity programs here.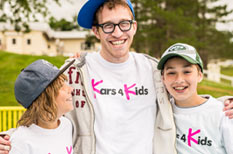 The Kars4Kids Vision
Kars4Kids' vision is to give our children the ability to succeed in life. We focus on educational, mentorship and year-round programs for our children, their families and their communities, looking at the big picture of our children's development and the environment they grow up in. We rely on thousands of volunteers to help us change the world, one child at a time.
Conquering Hunger
Kids can't learn when they're hungry. Hunger makes the numbers and letters on the blackboard go blurry. That's why Kars4Kids teams up with food banks to ensure kids have a nutritionally dense diet. Education is the number one priority. Feeding kids and their families translates to academic success and a brighter future.
Afterschool Fun
Keeping children safe and stimulated in the hours after school is a challenge we meet with aplomb. At our after school program Chillzone, we offer activities that are both fun and educational, keeping kids off the streets and occupied with appropriate crafts, sports, and games. Kids are kept productive in a structured but enjoyable environment eliminating the worry from a parent's working day.
Still have questions?
What is the amount of the tax deduction I will receive?
The amount you can claim from the IRS as a
tax deduction
depends on the category applicable to you:
The IRS allows you to claim a tax deduction of:
a) The value of your vehicle up to $500. It is up to the donor to determine the fair market value.
b) The amount we sell your vehicle for - if it is more than $500.
Kars4kids is a classified 501(c)(3) charity organization. You can check with your tax advisor or accountant to determine the amount of your benefit. The deduction is of value only if the donor itemizes his or her deductions. For a more detailed overview the IRS publishes a
Donors Guide to Car Donation.
What can I donate?
We accept the following donations: car, snow plow, boat, bus, jet ski, truck, RV (motor home), commercial, airplane, van, trailer, motorcycle, ATV, tractor, and fleet donations. Sorry no kids.
I want to donate a car in Ohio but I'm missing my title. Is my car still eligible for donation?
We can pick up a vehicle without a title in Ohio. We just need the registered owner to sign some paperwork for us.

In the following counties you don't need to sign any paperwork at all. Just provide a proof of ownership (such as copy of registration or insurance card): Adams, Allen, Ashland, Ashtabula, Athens, Auglaize, Belmont, Brown, Butler, Carroll, Champaign, Clark, Clermont, Clinton, Columbiana, Coshocton, Crawford, Cuyahoga, Darke, Defiance, Delaware, Erie, Fairfield, Fayette, Franklin, Fulton, Gallia, Geauga, Greene, Guernsey, Hamilton, Hancock, Hardin, Harrison, Henry, Highland, Hocking, Holmes, Huron, Jackson, Jefferson, Knox, Lake, Lawrence, Licking, Logan, Lorain, Lucas, Madison, Mahoning, Marion, Medina, Meigs, Mercer, Miami, Monroe, Montgomery, Morgan, Morrow, Muskingum, Noble, Ottawa, Paulding, Perry, Pickaway, Pike, Portage, Preble, Putnam, Richland, Ross, Sandusky, Scioto, Seneca, Shelby, Stark, Summit, Trumbull, Tuscarawas, Union, Van Wert, Vinton, Warren, Washington, Wayne, Williams, Wood, Wyandot
How can I replace my missing title?
In almost all scenarios Kars4kids will apply for the new title for you. We'll handle all the paperwork and pay the title fees too.
If you'd prefer you may apply for a new title on your own. Here's how:
The duplicate title can only be applied for by the owner(s) or lienholder of the vehicle. If after the duplicate has been issued, and the original is found, the original must be returned to the title office for cancellation. The car owner will need to fill out and complete an
Application for certificate of title to a motor vehicle
and then drop it off at a local title office.
For additional details visit:
http://bmv.ohio.gov/faq_vehicle_titling.stm
Where do I sign my Ohio title?
ZOOM IN
You will need to sign and have the title notarized in the presence of a notary public. The sample title document to the left of this paragraph has a blue arrow. Sign where the arrow appears using the name listed on the front page of your car title document. The title document should be given to the tow truck driver at the time your car is collected.
How do I transfer the ownership of my car?
Remove plates
The license plates and registration from the donated vehicle must be removed.


Return or Transfer Plates
You can either transfer those plates and registration to a newly purchased vehicle titled in the exact same name as the vehicle the plates came off, or you may choose to cancel the plates and registration. The state of Ohio does not require that you return the plates. The registered owner may cancel their current or expired Ohio vehicle registration by submitting a notarized Ohio BMV form number BMV4311. Once your request has been processed, you will receive a confirmation notice by mail.


Stop insurance
Cancel your insurance coverage on the donated vehicle once it's been picked up.
For a full list of frequently asked questions check out our faq section.
Clevelanders must be a generous lot considering the same car was donated twice - first by Jetnor P. and then by Eduart Q.- both city residents.
Any information on this page related to state laws and title requirements is correct to the best of our knowledge. But because this kind of information is liable to change, please check with your local motor vehicle authority for current guidelines and requirements.
Kars4kids Car Donation



222 Broad Street




Struthers

,

OH

44471




330-954-0066
Sun - Thu: 7 am - midnight EST
Fri: 8 am -
pm EST
Sat: 2 pm - midnight EST
Our Areas of Service.
We cover the entire Ohio State area.
We receive the highest amount of vehicle donations from these cities:
Akron, Alliance, Amherst, Ashland, Ashtabula, Athens, Aurora, Avon, Barberton, Batavia, Bay Village, Beachwood, Beavercreek, Bedford, Bellbrook, Bellefontaine, Bellevue, Belpre, Berea, Bexley, Blue Ash, Bowling Green, Brecksville, Broadview Heights, Brook Park, Brookville, Brunswick, Bryan, Bucyrus, Cadiz, Caldwell, Cambridge, Campbell, Canal Fulton, Canfield, Canton, Carlisle, Carrollton, Celina, Centerville, Chardon, Cheviot, Chillicothe,
Cincinnati
, Circleville, Clayton,
Cleveland
, Clyde, Columbiana,
Columbus
, Conneaut, Cortland, Coshocton, Crestline, Cuyahoga Falls, Dayton, Deer Park, Defiance, Delaware, Delphos, Dover, Dublin, Eastlake, East Liverpool, East Palestine, Eaton, Elyria, Englewood, Euclid, Fairborn, Fairfield, Fairlawn, Fairview Park, Findlay, Forest Park, Fostoria, Franklin, Fremont, Gahanna, Galion, Gallipolis, Garfield Heights, Geneva, Georgetown, Girard, Grandview Heights, Green, Greenfield, Greenville, Grove City, Hamilton, Harrison, Heath, Highland Heights, Hilliard, Hillsboro, Hubbard, Huber Heights, Hudson, Independence, Ironton, Jackson, Jefferson, Kent, Kenton, Kettering, Kirtland, Lakewood, Lancaster, Lebanon, Lima, Lisbon, Logan, Lorain, Louisville, Loveland, Lyndhurst, Macedonia, Madeira, Mansfield, Maple Heights, Marietta, Marion, Martins Ferry, Marysville, Mason, Massillon, Maumee, Mayfield Heights, McArthur, McConnelsville, Medina, Mentor, Mentor-on-the-Lake, Miamisburg, Middleburg Heights, Middletown, Milford, Millersburg, Monroe, Montgomery, Moraine, Mount Gilead, Mount Healthy, Mount Vernon, Munroe Falls, Napoleon, Nelsonville, New Carlisle, New Lexington, New Philadelphia, Newton Falls, Niles, North Canton, North College Hill, North Olmsted, North Ridgeville, North Royalton, Northwood, Norton, Norwalk, Norwood, Oakwood, Oberlin, Olmsted Falls, Ontario, Oregon, Orrville, Oxford, Painesville, Parma, Parma Heights, Pataskala, Paulding, Pepper Pike, Perrysburg, Pickerington, Piketon, Piqua, Pomeroy, Port Clinton, Portsmouth, Powell, Ravenna, Reading, Reynoldsburg, Richmond Heights, Rittman, Riverside, Rocky River, Rossford, St. Bernard, St. Clairsville, St. Marys, Salem, Sandusky, Seven Hills, Shaker Heights, Sharonville, Sheffield Lake, Shelby, Sidney, Silverton, Solon, South Euclid, Springboro, Springdale, Springfield, St. Clairsville, Steubenville, Stow, Streetsboro, Strongsville, Struthers, Sylvania, Tallmadge, Tiffin, Tipp City, Toledo, Trenton, Trotwood, Troy, Twinsburg, Uhrichsville, Union, University Heights, Upper Arlington, Upper Sandusky, Urbana, Vandalia, Van Wert, Vermilion, Wadsworth, Wapakoneta, Warren, Warrensville Heights, Washington, Wauseon, Waverly, Wellston, West Carrollton City, Westerville, Westlake, West Union, Whitehall, Wickliffe, Willard, Willoughby, Willoughby Hills, Willowick, Wilmington, Woodsfield, Wooster, Worthington, Wyoming, Xenia, Youngstown, Zanesville