Our Matching Gift Sponsors
How it works in NV

1. Tell us about your car
Take 2 minutes to fill out a donation form - online or over the phone.

2. Schedule a free pickup
Within 24 hours we'll call you to arrange a convenient pickup time.

3. You are done!
Within 2-4 weeks you receive a tax receipt and vacation voucher.
400,000+ donors trust us with their car.
Here's what our Nevada donors had to say about how donating went for them.
P.S. we didn't make these up! They're all real donors, with real experiences.
I feel good that I could help the kids
By
Robert M.

, Reno NV (I donated a 2004 Dodge Grand Caravan)
Very good. II feel good that I could help the kids.
Good comunications and services
By
Chanchalao P.

, Las Vegas NV (I donated a 1991 Toyota Previa)
Nice staffs... Good comunications and services
Kars4kids arranged the pick up
By
Leo C.

, Reno NV (I donated a 1986 Dodge 600)
FANTASTIC!!!!
I had a car that was not running and I was moving, so I contacted Kars4kids and they arranged to have it picked up and towed away. I did not even have to be there. I hope that the money you got from it helped your organization and if you really want to give me an Amazon gift card, I could use a new Nook, or Kindle. Thank you, Leo Carew
How your car helps
Our charity programs are the essence of what we do. We are thankful to be able to give back to many local communities across North America and to bring educational opportunities to so many children. We're a registered nonprofit Jewish organization. Learn about what we do and see our charity programs here.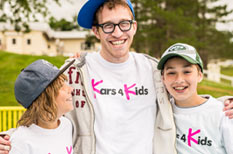 The Kars4Kids Vision
Kars4Kids' vision is to give our children the ability to succeed in life. We focus on educational, mentorship and year-round programs for our children, their families and their communities, looking at the big picture of our children's development and the environment they grow up in. We rely on thousands of volunteers to help us change the world, one child at a time.
Bonding 4 our Future: Mentorships
What makes our programs so successful is that at the core of all of them are our Mentors, individuals volunteering their time and energy out of pure love and care for these children. Each mentor keeps close contact with the child assigned to them throughout the year, which eventually leads them to be a trusted friend of the child's family.
Building the Complete Child
We understand the complexity of a child's mind and heart. It's a fully developed child that ultimately succeeds in life. By making quality use of a child's free time outside of the school arena through after-school programs, trips, weekend getaways and summer camp, the child is nurtured on all fronts and stands a real chance of being the best he can be.
Still have questions?
What is the amount of the tax deduction I will receive?
The amount you can claim from the IRS as a
tax deduction
depends on the category applicable to you:
The IRS allows you to claim a tax deduction of:
a) The value of your vehicle up to $500. It is up to the donor to determine the fair market value.
b) The amount we sell your vehicle for - if it is more than $500.
Kars4kids is a classified 501(c)(3) charity organization. You can check with your tax advisor or accountant to determine the amount of your benefit. The deduction is of value only if the donor itemizes his or her deductions. For a more detailed overview the IRS publishes a
Donors Guide to Car Donation.
What can I donate?
We accept the following donations: car, snow plow, boat, bus, jet ski, truck, RV (motor home), commercial, airplane, van, trailer, motorcycle, ATV, tractor, and fleet donations. Sorry no kids.
I want to donate a car in Nevada but I'm missing my title. Is my car still eligible for donation?
We can pick up a vehicle without a title in Nevada. We just need the registered owner to sign some paperwork for us.

In the following counties you don't need to sign any paperwork at all. Just provide a proof of ownership (such as copy of registration or insurance card): Churchill, Clark, Douglas, Elko, Esmeralda, Eureka, Humboldt, Lander, Lincoln, Lyon, Mineral, Nye, Pershing, Storey, Washoe, White Pine
How can I replace my missing title?
In almost all scenarios Kars4kids will apply for the new title for you. We'll handle all the paperwork and pay the title fees too.
If you'd prefer you may apply for a new title on your own. Here's how:
Complete an
Application for Duplicate Certificate of Title
and take it by your
local DMV
. The application must be notarized, or witnessed by an authorized Nevada Department of Motor
Vehicles Representative.
You can also also apply for a replacement title by mail. Submit the notarized
Application for Duplicate Title
to the:
Nevada DMV
555 Wright Way
Carson City, NV 89711
For additional details visit:
http://www.dmvnv.com/title.htm
Where do I sign my Nevada title?
ZOOM IN
The sample title document to the left of this paragraph has a blue arrow. Sign where the arrow appears using the name listed on the front page of your car title. The title document should be given to the tow truck driver at the time your car is collected.
How do I transfer the ownership of my car?
Remove your license plates
Remove the license plates from the car, prior to it being towed.


Transfer or Cancel the Plates
Nevada law requires you to either use the plates on another vehicle or turn them in for cancellation within 30 days of the donation. If you wish to retain personalized plates for a longer period, you must surrender the decal. You will receive a credit for the unused portion of the current registration fees. The credit will decline on a pro-rated basis and reach zero on the day your registration would have expired.

You can return your plates in person at your local DMV, or via mail.

IN PERSON
Bring the plate(s) and decal to any DMV location and surrender them to a technician inside the office. Do not place them in a drop box. You may cancel the registration and keep personalized or specialty plates as a souvenir. Bring the rear plate to the DMV and scrape off the decal in person.

VIA MAIL
You may mail the plates, decal, and a signed letter requesting cancellation to the address below. You may wish to send the plates via certified mail with return signature required. Be sure to include your correct return address and daytime telephone number in case the DMV needs to contact you.
Department of Motor Vehicles
Central Services Division
555 Wright Way
Carson City, NV 89711-0700


Vehicle Resale Notification
Complete a online "vehicle resale notification". The information should be submitted within five days after the donation.


Cancel insurance
Cancel your insurance coverage on the donated vehicle once it's been picked up.
For a full list of frequently asked questions check out our faq section.
The colors of the donations we receive pretty much follow the order of the most common colors for cars, which are (in order) white, blue, black, and red. Boring or predictable? You decide.
Any information on this page related to state laws and title requirements is correct to the best of our knowledge. But because this kind of information is liable to change, please check with your local motor vehicle authority for current guidelines and requirements.
Kars4kids Car Donation
Sun - Thu: 7 am - midnight EST
Fri: 8 am -
pm EST
Sat: 2 pm - midnight EST
Our Areas of Service.
We cover the entire Nevada State area.
We receive the highest amount of vehicle donations from these cities:
Alamo, Amargosa Valley, Austin, Baker, Battle Mountain, Beatty, Beowawe, Blue Diamond, Boulder City, Bunkerville, Caliente, Carlin, Carson City, Dayton, Denio, Duckwater, Dyer, East, Ely, Elko, Empire, Eureka, Fallon, Fernley, Gabbs, Gardnervillle, Gerlach, Goldfield, Goodsprings, Hawthorne, Henderson, Imlay, Incline Village, Indian Springs, Jackpot, Jarbidge, Jean, Jiggs,
Las Vegas
, Laughlin, Lemmon Valley, Logandale, Lovelock, Lund, McDermitt, McGill, Mesquite, Minden, Moapa Town, Montello, Nixon, North Las Vegas, Orovada, Overton, Owyhee, Pahrump, Panaca, Paradise Valley, Pioche, Reno, Round Mountain, Sandy Valley, Schurz, Searchlight, Silver Park, Silver Springs, Smith, Sparks, Tonopah, Tuscarora, Verdi, Virginia City, Wadsworth, Wells, West Wendover, Winnemucca, Yerington, Zephyr Cove