Our Matching Gift Sponsors
How it works in NJ

1. Tell us about your car
Take 2 minutes to fill out a donation form - online or over the phone.

2. Schedule a free pickup
Within 24 hours we'll call you to arrange a convenient pickup time.

3. You are done!
Within 2-4 weeks you receive a tax receipt and vacation voucher.
400,000+ donors trust us with their car.
Here's what our New Jersey donors had to say about how donating went for them.
P.S. we didn't make these up! They're all real donors, with real experiences.
This is the second car donated it has been a pleasure
By
David L.

, Dayton NJ (I donated a 2001 Pontiac Sunfire)
The Kars 4 Kids representatives are always timely and very polite. This is the second car I have donated to the charity and it has been a pleasure.
Really surprised at how easy it was
By
Andrew M.

, Hopewell NJ (I donated a 2000 GMC Jimmy)
We were really surprised at how easy it was to donate. The service was fast and easy, the people were very friendly and helpfull, as a whole process was great!
Donated two cars and both times were wonderfully simple
By
Zachary L.

, South Orange NJ (I donated a 2002 Kia Rio)
I've actually donated two cars to you, and both times were wonderfully simple. The first car, you guys picked up that day. The other car the next day. You can't beat the simplicity and dedication of that. Well done guys!!!
How your car helps
Our charity programs are the essence of what we do. We are thankful to be able to give back to many local communities across North America and to bring educational opportunities to so many children. We're a registered nonprofit Jewish organization. Learn about what we do and see our charity programs here.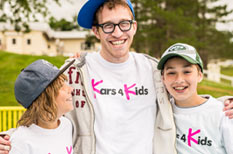 The Kars4Kids Vision
Kars4Kids' vision is to give our children the ability to succeed in life. We focus on educational, mentorship and year-round programs for our children, their families and their communities, looking at the big picture of our children's development and the environment they grow up in. We rely on thousands of volunteers to help us change the world, one child at a time.
Coat Giveaways with Mayor Cory Booker
The first coat giveaway we ever did was in Newark, New Jersey with Mayor Cory Booker. There was a tremendous turnout, showing us the great need that exists. We're proud that we've been able to reproduce that success in many subsequent events, keeping New Jersey's children warm and safe.
ChillZone
We've got ChillZone extracurricular groups throughout New Jersey, from Edison to Lakewood to Manalapan to Morganville. Boys, girls and teens gather with mentors every week for study groups, hot food, great prizes and healthy fun with friends. But it's the warmth and relaxed atmosphere that keep the kids coming back week after week.
Still have questions?
What is the amount of the tax deduction I will receive?
The amount you can claim from the IRS as a
tax deduction
depends on the category applicable to you:
The IRS allows you to claim a tax deduction of:
a) The value of your vehicle up to $500. It is up to the donor to determine the fair market value.
b) The amount we sell your vehicle for - if it is more than $500.
Kars4kids is a classified 501(c)(3) charity organization. You can check with your tax advisor or accountant to determine the amount of your benefit. The deduction is of value only if the donor itemizes his or her deductions. For a more detailed overview the IRS publishes a
Donors Guide to Car Donation.
What can I donate?
We accept the following donations: car, snow plow, boat, bus, jet ski, truck, RV (motor home), commercial, airplane, van, trailer, motorcycle, ATV, tractor, and fleet donations. Sorry no kids.
I want to donate a car in New Jersey but I'm missing my title. Is my car still eligible for donation?
We can pick up a vehicle without a title in New Jersey. We just need the registered owner to sign some paperwork for us.

In the following counties you don't need to sign any paperwork at all. Just provide a proof of ownership (such as copy of registration or insurance card): Atlantic, Bergen, Burlington, Camden, Cape May, Cumberland, Essex, Gloucester, Hudson, Hunterdon, Mercer, Middlesex, Monmouth, Morris, Ocean, Passaic, Salem, Somerset, Sussex, Union, Warren
How can I replace my missing title?
In almost all scenarios Kars4kids will apply for the new title for you. We'll handle all the paperwork and pay the title fees too.
If you'd prefer you may apply for a new title on your own. Here's how:
Complete an
application
for a duplicate title. The application can be dropped off at your local DMV or mailed to:
State of New Jersey
Motor Vehicle Commission
Special Services
P.O. Box 017
Trenton, New Jersey 08666-001
For additional info visit:
http://www.nj.gov/mvc/Vehicle/LostStolen.htm
Where do I sign my New Jersey title?
ZOOM IN
The sample title document to the left of this paragraph has a blue arrow. Sign where the arrow appears using the name listed on the front page of your car title. The title document should be given to the tow truck driver at the time your car is collected.
How do I transfer the ownership of my car?
1. Remove all plates
All plates must be removed from your car prior to towing.
2. Return your plates to the DMV or transfer them to another vehicle
License plates can be mailed to the DMV or dropped off in person. You can transfer your plates to a different vehicle as long as the same name is used on both registrations and the registration code needs to remain the same.
Drop your plates off in person.
Drop your plates off at your local DMV. Find your closest DMV including hours, directions and service information.
New Jersey DMV Locator >
Or mail the plates to:
Motor Vehicle Commission
P.O. Box 129 Trenton,
New Jersey 08666-0129
*include a self-addressed, stamped envelope for receipt
You will receive a receipt once you surrender your plates that you will need to save. This will serve as proof that they were surrendered in the event that charges are wrongfully acquired on them.
3. Cancel your insurance
Cancel your insurance after your car has been towed.
Visit
http://www.state.nj.us/mvc/
for more information on your state car donation laws.
Would you like to meet one of our service providers?
Allied recycling services customers from the train station down to the Delaware Memorial Bridge and across. The current owner of Allied Recycling has been there for just over 4 years, but Allied has been at the same address since the 1940's. That makes for a lot of interesting history, for instance the time a woman called in a panic, after realizing she'd left her last will and testament, along with her wallet, in the glove compartment of her car.

The woman's donation was old and could no longer run, so Allied had done what it had to do, recycling the car to make the world a better place. Still, Allied Recycling went the limit, somehow retrieving the woman's (intact!) will and wallet from the recycled car, and delivering them to her in person. The woman's gratitude was boundless and the staff was glad to have gone the extra mile on a customer's behalf!
For a full list of frequently asked questions check out our faq section.
Alan F. of Elizabeth, N.J.'s 1983 Oldsmobile had the distinction of becoming the first car ever donated to Kars4Kids.
Financial disclosure: J.O.Y for our youth is exempt from tax under section 501(c)(3) of the Internal Revenue Code and qualifies for the maximum charitable contribution deduction by donors. Our Federal Identification Number is 22-374-6050. We are proud of the way we manage our finances.
Any information on this page related to state laws and title requirements is correct to the best of our knowledge. But because this kind of information is liable to change, please check with your local motor vehicle authority for current guidelines and requirements.
Kars4kids Car Donation



308 2nd Street




Hackensack

,

NJ

07601




201-633-9668
Sun - Thu: 7 am - midnight EST
Fri: 8 am -
pm EST
Sat: 2 pm - midnight EST