Our Matching Gift Sponsors
How it works in NH

1. Tell us about your car
Take 2 minutes to fill out a donation form - online or over the phone.

2. Schedule a free pickup
Within 24 hours we'll call you to arrange a convenient pickup time.

3. You are done!
Within 2-4 weeks you receive a tax receipt and vacation voucher.
400,000+ donors trust us with their car.
Here's what our New Hampshire donors had to say about how donating went for them.
P.S. we didn't make these up! They're all real donors, with real experiences. (we even left the typos in :)
My car was towed at no expense to me
By
Kevin B.

, Nashua NH (I donated a 2003 Subaru Forester)
My Kars4kids experience was great. Totally hassle free. Everyone involved were friendly anc curtious. My car was towed at no expense to me and I received my tax deduction forms and vacation voucher in a timely manner. Thanks everyone!

Kevin Britton
By
Beverly A.

, Exeter NH (I donated a 2003 Mitsubishi Galant)
I had never donated a car before. Your team made it very easy! I called in the morning, and the car was picked up that day by 5 pm.Everyone I spoke with, by phone or in person was delighful. Thanks very much, for such a good job.
My overall experience with Kars4Kids was excellent
By
Alex H.

, Milford NH (I donated a 1992 Chrysler Imperial)
Hi there, my overall experience with cars for kids was excellent. They came right on time picked up the car With no problems. They gave me a vacation voucher and sme tax relief all at the same time And more i Importantly than that just knowing that I'm helping children who are sick Makes you feel great what's not to love.
How your car helps
Our charity programs are the essence of what we do. We are thankful to be able to give back to many local communities across North America and to bring educational opportunities to so many children. We're a registered nonprofit Jewish organization. Learn about what we do and see our charity programs here.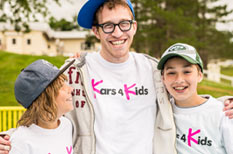 The Kars4Kids Vision
Kars4Kids' vision is to give our children the ability to succeed in life. We focus on educational, mentorship and year-round programs for our children, their families and their communities, looking at the big picture of our children's development and the environment they grow up in. We rely on thousands of volunteers to help us change the world, one child at a time.
KAMP 4 KIDS: Summer Camp
Just the thought of the pristine country surroundings and fun-filled days at our summer camps help the hundreds of children we help every year to finish off the school year with a smile. Lifetime friendships and memories are made almost instantly. Our camper-to-staff ratio is an amazing two-to-one, ensuring each child gets the care that they need.
Book Buddies: After School Learning
We are sensitive to the fact that there are many different ways the human mind processes information. As a result the standard classroom setting does not work well for many children. That is why we designed our Book Buddies program which carefully matches up tutors to children that need the extra personal attention to help them thrive and develop their scholastic capabilities.
Still have questions?
I want to donate a car in New Hampshire but I'm missing my title. Is my car still eligible for donation?
How can I replace my missing title?
What is the amount of the tax deduction I will receive?
What can I donate?
We accept the following donations: car, snow plow, boat, bus, jet ski, truck, RV (motor home), commercial, airplane, van, trailer, motorcycle, ATV, tractor, and fleet donations. Sorry no kids.
Where do I sign my New Hampshire title?
For a full list of frequently asked questions check out our faq section.
The car donation with the highest mileage ever was donated by Sierra E., of Plymouth, NH, who donated a 1995 Volvo with 542,221 miles on it.
Any information on this page related to state laws and title requirements is correct to the best of our knowledge. But because this kind of information is liable to change, please check with your local motor vehicle authority for current guidelines and requirements.
Our Areas of Service.
We cover the entire New Hampshire State area.
We receive the highest amount of vehicle donations from these cities:
Berlin, Claremont, Concord, Dover, Franklin, Keene, Laconia, Lebanon, Manchester, Nashua, Portsmouth, Rochester, Somersworth