Our Matching Gift Sponsors
How it works in NE

1. Tell us about your car
Take 2 minutes to fill out a donation form - online or over the phone.

2. Schedule a free pickup
Within 24 hours we'll call you to arrange a convenient pickup time.

3. You are done!
Within 2-4 weeks you receive a tax receipt and vacation voucher.
400,000+ donors trust us with their car.
Here's what our donors had to say about how donating went for them.
P.S. we didn't make these up! They're all real donors, with real experiences. (we even left the typos in :)
The staff was very friendly and appreciative
By
M.

, Omaha NE (I donated a 1989 Jaguar XJL)
Kars4Kids was great. They made it very easy to donate my car. The staff was very friendly and appreciative.
Exceptionally easy throughout the entire process!
By
John L.

, Lincoln NE (I donated a 1993 Oldsmobile Eighty-Eight Royale)
Exceptionally easy throughout the entire process! Through the phone call and set up for the tow truck, and then the actual tow truck, everything went smoothly! I would highly, and have already, recommended this great opportunity to anyone! Thanks!!
By
Brad B.

, Tekamah NE (I donated a 1998 Honda Civic)
The experience was a great one. The whole process was easy, everything with smoothly, and I'm glad I donated.
How your car helps
Our charity programs are the essence of what we do. We are thankful to be able to give back to many local communities across North America and to bring educational opportunities to so many children. We're a registered nonprofit Jewish organization. Learn about what we do and see our charity programs here.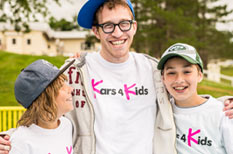 The Kars4Kids Vision
Kars4Kids' vision is to give our children the ability to succeed in life. We focus on educational, mentorship and year-round programs for our children, their families and their communities, looking at the big picture of our children's development and the environment they grow up in. We rely on thousands of volunteers to help us change the world, one child at a time.
Holiday / Winter Retreats
From the beginning of the school year, as the children get ready to take on a long challenging winter of hard work, we start planning and coordinating a winter retreat filled with fun and bonding with old friends and mentors that will help rejuvenate, encourage and ensure a continued effort of productivity and success throughout the rest of the year.
Backpack Giveaway
Before every school year we organize our annual school backpack giveaways for children in communities that are desperately struggling financially and can't afford to supply their children with the essentials needed before the new school year. Kars4kids ensures these children are equipped with backpacks, notebooks, pencils and most importantly pride and excitement to start a new year of education.
Still have questions?
I want to donate a car in Nebraska but I'm missing my title. Is my car still eligible for donation?
How can I replace my missing title?
What is the amount of the tax deduction I will receive?
What can I donate?
We accept the following donations: car, snow plow, boat, bus, jet ski, truck, RV (motor home), commercial, airplane, van, trailer, motorcycle, ATV, tractor, and fleet donations. Sorry no kids.
Where do I sign my Nebraska title?
For a full list of frequently asked questions check out our faq section.
We don't know if it says something good or bad about the Ford Taurus that it is the most commonly donated car in Nebraska. The Taurus is either very popular with Nebraskans or Nebraskans are trading up!
Any information on this page related to state laws and title requirements is correct to the best of our knowledge. But because this kind of information is liable to change, please check with your local motor vehicle authority for current guidelines and requirements.
Kars4kids Car Donation



402-403-1298
Our Areas of Service.
We cover the entire Nebraska State area.
We receive the highest amount of vehicle donations from these cities:
Ainsworth, Albion, Alliance, Alma, Arapahoe, Ashland, Atkinson, Auburn, Aurora, Bassett, Battle Creek, Bayard, Beatrice, Beaver City, Bellevue, Benkelman, Bennington, Blair, Bloomfield, Blue Hill, Blue Springs, Bridgeport, Broken Bow, Burwell, Cambridge, Central City, Chadron, Chappell, Clarkson, Clay Center, Columbus, Cozad, Crawford, Creighton, Crete, Crofton, Curtis, Dakota City, David City, Deshler, Edgar, Elgin, Elkhorn, Fairbury, Fairfield, Falls City, Fort Calhoun, Franklin, Fremont, Friend, Fullerton, Geneva, Genoa, Gering, Gibbon, Gordon, Gothenburg, Grand Island, Grant, Gretna, Hartington, Harvard, Hastings, Hebron, Henderson, Hickman, Holdrege, Hooper, Humboldt, Humphrey, Imperial, Indianola, Kearney, Kimball, Laurel, La Vista, Lexington, Lincoln, Long Pine, Loup City, Lyons, McCook, Madison, Milford, Minatare, Minden, Mitchell, Nebraska City, Neligh, Nelson, Newman Grove, Norfolk, North Bend, North Platte, Oakland, Ogallala,
Omaha
, O'Neill, Ord, Osceola, Oshkosh, Osmond, Papillion, Pawnee City, Peru, Pierce, Plainview, Plattsmouth, Ponca, Ralston, Randolph, Ravenna, Red Cloud, Rushville, St. Edward, St. Paul, Sargent, Schuyler, Scottsbluff, Scribner, Seward, Sidney, South Sioux City, Springfield, Stanton, Stromsburg, Superior, Sutton, Syracuse, Tecumseh, Tekamah, Tilden, Valentine, Valley, Wahoo, Wakefield, Waverly, Wayne, Weeping Water, West Point, Wilber, Wisner, Wood River, Wymore, York, Yutan