Our Matching Gift Sponsors
How it works in ND

1. Tell us about your car
Take 2 minutes to fill out a donation form - online or over the phone.

2. Schedule a free pickup
Within 24 hours we'll call you to arrange a convenient pickup time.

3. You are done!
Within 2-4 weeks you receive a tax receipt and vacation voucher.
400,000+ donors trust us with their car.
Here's what our donors had to say about how donating went for them.
P.S. we didn't make these up! They're all real donors, with real experiences.
Customer service was great
By
Kraig A.

, Fargo ND (I donated a 1992 Toyota Celica)
Custome service was great. Overall was a pretty fantastic expierence. My only suggestion would be to advise the standard $500 deduction won't do anything on your taxes.
Thank you for what you provide children in need
By
Michael R.

, Grand Forks ND (I donated a 2003 Buick Century)
Very little paperwork, car picked up from my driveway, a charitable deduction and a two day vacation....the fact I was doing something good for those less fortunate than me was almost lost in all the perks I got back. Thank you for maiking it a smooth transaction for me and for what you provide to children in need.
Donated and received prompt and easy pick up
By
Arpen P.

, Columbia SC (I donated a 1999 Toyota Camry)
I was able to donate a working car that was not being used and I also received prompt and easy pick up.!!!
How your car helps
Our charity programs are the essence of what we do. We are thankful to be able to give back to many local communities across North America and to bring educational opportunities to so many children. We're a registered nonprofit Jewish organization. Learn about what we do and see our charity programs here.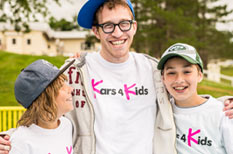 The Kars4Kids Vision
Kars4Kids' vision is to give our children the ability to succeed in life. We focus on educational, mentorship and year-round programs for our children, their families and their communities, looking at the big picture of our children's development and the environment they grow up in. We rely on thousands of volunteers to help us change the world, one child at a time.
Bringing Families Together
It is well known that the security that a loving and stable family unit provides for a child is irreplaceable. That is why every child's mentor develops a lasting relationship with the child's family to address any struggles that they may be facing. This relationship is nurtured through family retreats to inspirational seminars, family holiday packages and a constant open line to our professional staff.
Animal Therapy
For many of the children at our camps, the farm program is one of the special highlights of the summer. From milking the cows and riding the horses to cuddling the bunnies and bottlefeeding the baby goats, these city kids love caring for their animals. It gives them the chance to tap in to the power of giving of oneself and in return experience pure unconditional love.
Still have questions?
What is the amount of the tax deduction I will receive?
The amount you can claim from the IRS as a
tax deduction
depends on the category applicable to you:
The IRS allows you to claim a tax deduction of:
a) The value of your vehicle up to $500. It is up to the donor to determine the fair market value.
b) The amount we sell your vehicle for - if it is more than $500.
Kars4kids is a classified 501(c)(3) charity organization. You can check with your tax advisor or accountant to determine the amount of your benefit. The deduction is of value only if the donor itemizes his or her deductions. For a more detailed overview the IRS publishes a
Donors Guide to Car Donation.
What can I donate?
We accept the following donations: car, snow plow, boat, bus, jet ski, truck, RV (motor home), commercial, airplane, van, trailer, motorcycle, ATV, tractor, and fleet donations. Sorry no kids.
I want to donate a car in North Dakota but I'm missing my title. Is my car still eligible for donation?
We can pick up a vehicle in North Dakota without a title. We will just need the registered owner to sign some paperwork for us.

How can I replace my missing title?
In almost all scenarios Kars4kids will apply for the new title for you. We'll handle all the paperwork and pay the title fees too.
If you'd prefer you may apply for a new title on your own. Here's how:
The legal car owner must complete
SFN 2872 Application for Certificate of Title and Registration of a Motor Vehicle
. A reason for the duplicate must be indicated on the application. The duplicate title will be mailed to the lien holder of record, or the registered owner. If you'd prefer to mail in the form you can send it to:
North Dakota Department of Transportation
Motor Vehicle Division
608 E. Boulevard Ave.
Bismarck, ND 58505-0780
For additional details visit:
http://www.dot.nd.gov/dotnet2/faq/faq.aspx
Where do I sign my North Dakota title?
ZOOM IN
The sample title document to the left of this paragraph has a blue arrow. Sign where the arrow appears using the name listed on the front page of your car title. The title document should be given to the tow truck driver at the time your car is collected.
How do I transfer the ownership of my car?
Remove plates
Vehicle owners must remove the license plate(s) from their. If you will be transferring the plates to a new vehicle you may be allowed a credit towards the registration fees due on a replacement vehicle. If you will not be transferring the plates to another vehicle you should deface the plates to ensure that they will not be used illegally on another vehicle.


Stop insurance
Cancel your insurance coverage on the donated vehicle once it's been picked up.
For a full list of frequently asked questions check out our faq section.
Remember the song, "Blue is the color of my true love's eyes?" The same is apparently true of the color of cars in the state of North Dakota. Must be something about that beautiful blue sky overhead.
Any information on this page related to state laws and title requirements is correct to the best of our knowledge. But because this kind of information is liable to change, please check with your local motor vehicle authority for current guidelines and requirements.
Kars4kids Car Donation
Sun - Thu: 7 am - midnight EST
Fri: 8 am -
pm EST
Sat: 2 pm - midnight EST
Our Areas of Service.
We cover the entire North Dakota State area.
We receive the highest amount of vehicle donations from these cities:
Abercrombie, Adams, Alamo, Alexander, Alice, Almont, Alsen, Ambrose, Amenia, Amidon, Anamoose, Aneta, Antler, Ardoch, Argusville, Arnegard, Arthur, Ashley, Ayr, Balfour, Balta, Bantry, Barney, Bathgate, Beach, Belfield, Benedict, Bergen, Berlin, Berthold, Beulah, Binford, Bisbee, Bismarck, Bottineau, Bowbells, Bowdon, Bowman, Braddock, Briarwood, Brinsmade, Brocket, Buchanan, Bucyrus, Buffalo, Burlington, Butte, Buxton, Calio, Calvin, Cando, Canton City, Carpio, Carrington, Carson, Casselton, Cathay, Cavalier, Cayuga, Center, Christine, Churchs Ferry, Cleveland, Clifford, Cogswell, Coleharbor, Colfax, Columbus, Conway, Cooperstown, Courtenay, Crary, Crosby, Crystal, Davenport, Dawson, Dazey, Deering, Des Lacs, Devils Lake, Dickey, Dickinson, Dodge, Donnybrook, Douglas, Drake, Drayton, Dunn Center, Dunseith, Dwight, Edgeley, Edinburg, Edmore, Egeland, Elgin, Ellendale, Elliott, Emerado, Enderlin, Epping, Esmond, Fairdale, Fairmount, Fargo, Fessenden, Fingal, Finley, Flasher, Flaxton, Forbes, Fordville, Forest River, Forman, Fort Ransom, Fortuna, Fort Yates, Fredonia, Frontier, Fullerton, Gackle, Galesburg, Gardena, Gardner, Garrison, Gascoyne, Gilby, Gladstone, Glenburn, Glenfield, Glen Ullin, Golden Valley, Golva, Goodrich, Grace City, Grafton, Grand Forks, Grandin, Grano, Granville, Great Bend, Grenora, Gwinner, Hague, Halliday, Hamberg, Hamilton, Hampden, Hankinson, Hannaford, Hannah, Hansboro, Harvey, Harwood, Hatton, Havana, Haynes, Hazelton, Hazen, Hebron, Hettinger, Hillsboro, Hoople, Hope, Horace, Hove Mobile Park, Hunter, Hurdsfield, Inkster, Jamestown, Jud, Karlsruhe, Kathryn, Kenmare, Kensal, Kief, Killdeer, Kindred, Knox, Kramer, Kulm, Lakota, LaMoure, Landa, Langdon, Lankin, Lansford, Larimore, Larson, Lawton, Leal, Leeds, Lehr, Leith, Leonard, Lidgerwood, Lignite, Lincoln, Linton, Lisbon, Litchville, Loma, Loraine, Ludden, Luverne, McClusky, McHenry, McVille, Maddock, Makoti, Mandan, Mantador, Manvel, Mapleton, Marion, Marmarth, Martin, Max, Maxbass, Mayville, Maza, Medina, Medora, Mercer, Michigan City, Milnor, Milton, Minnewaukan, Minot, Minto, Mohall, Monango, Montpelier, Mooreton, Mott, Mountain, Munich, Mylo, Napoleon, Neche, Nekoma, Newburg, New England, New Leipzig, New Rockford, New Salem, New Town, Niagara, Nome, Noonan, North River, Northwood, Oakes, Oberon, Oriska, Osnabrock, Overly, Oxbow, Page, Palermo, Park River, Parshall, Pekin, Pembina, Perth, Petersburg, Pettibone, Pick City, Pillsbury, Pingree, Pisek, Plaza, Portal, Portland, Powers Lake, Prairie Rose, Rawson, Ray, Reeder, Regan, Regent, Reile's Acres, Reynolds, Rhame, Richardton, Riverdale, Robinson, Rocklake, Rogers, Rolette, Rolla, Ross, Rugby, Ruso, Rutland, Ryder, St. John, St. Thomas, Sanborn, Sarles, Sawyer, Scranton, Selfridge, Sentinel Butte, Sharon, Sheldon, Sherwood, Sheyenne, Sibley, Solen, Souris, South Heart, Spiritwood Lake, Springbrook, Stanley, Stanton, Starkweather, Steele, Strasburg, Streeter, Surrey, Sykeston, Tappen, Taylor, Thompson, Tioga, Tolley, Tolna, Tower City, Towner, Turtle Lake, Tuttle, Underwood, Upham, Valley City, Velva, Venturia, Verona, Voltaire, Wahpeton, Walcott, Wales, Walhalla, Warwick, Washburn, Watford City, West Fargo, Westhope, White Earth, Wildrose, Williston, Willow City, Wilton, Wimbledon, Wing, Wishek, Wolford, Woodworth, Wyndmere, York, Zap, Zeeland