Our Matching Gift Sponsors
How it works in MS

1. Tell us about your car
Take 2 minutes to fill out a donation form - online or over the phone.

2. Schedule a free pickup
Within 24 hours we'll call you to arrange a convenient pickup time.

3. You are done!
Within 2-4 weeks you receive a tax receipt and vacation voucher.
400,000+ donors trust us with their car.
Here's what our donors had to say about how donating went for them.
P.S. we didn't make these up! They're all real donors, with real experiences.
They did what they said and fast
By
Martha H.

, Clinton MS (I donated a 1995 Mazda MX-6)
I was a very easy and worthwill experience. They did what they said and fast. This is my second donation. Would do it again !!!!
It was so easy to donate our car!
By
Kristin J.

, Ocean Springs MS (I donated a 1999 Toyota Camry Solara)
It was so easy to donate our car! They sent someone out to pick it up, and it was a quick process. Great work, and a great cause!
Surprised at how easy it was
By
Eddie K.

, Rocky Face GA (I donated a 2000 GMC Sierra 1500)
the whole process went rather smoothly. i was surprised at how easy it was.
How your car helps
Our charity programs are the essence of what we do. We are thankful to be able to give back to many local communities across North America and to bring educational opportunities to so many children. We're a registered nonprofit Jewish organization. Learn about what we do and see our charity programs here.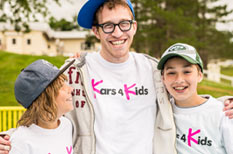 The Kars4Kids Vision
Kars4Kids' vision is to give our children the ability to succeed in life. We focus on educational, mentorship and year-round programs for our children, their families and their communities, looking at the big picture of our children's development and the environment they grow up in. We rely on thousands of volunteers to help us change the world, one child at a time.
The Impact We've Had
We're so thankful to have been able to make a difference in so many children's lives. From partnering over 5,000 children with mentors to 32,000+ people in our programs, our reach is quickly growing. And of course, it's all thanks to the many hundreds of thousands of donors who have made all this goodness possible!
Youth Development
As our name implies, we're all about the kids. Our programs are designed to help the children in our programs develop to their full potential as productive and respected members of society. From summer camps and extracurricular programs to mentorship and youth leadership programs, the impact we have on our children is far-reaching.
Still have questions?
What is the amount of the tax deduction I will receive?
The amount you can claim from the IRS as a
tax deduction
depends on the category applicable to you:
The IRS allows you to claim a tax deduction of:
a) The value of your vehicle up to $500. It is up to the donor to determine the fair market value.
b) The amount we sell your vehicle for - if it is more than $500.
Kars4kids is a classified 501(c)(3) charity organization. You can check with your tax advisor or accountant to determine the amount of your benefit. The deduction is of value only if the donor itemizes his or her deductions. For a more detailed overview the IRS publishes a
Donors Guide to Car Donation.
What can I donate?
We accept the following donations: car, snow plow, boat, bus, jet ski, truck, RV (motor home), commercial, airplane, van, trailer, motorcycle, ATV, tractor, and fleet donations. Sorry no kids.
I want to donate a car in Mississippi but I'm missing my title. Is my car still eligible for donation?
We can pick up a vehicle in Mississippi without a title. We will just need the registered owner to sign some paperwork for us.

How can I replace my missing title?
In almost all scenarios Kars4kids will apply for the new title for you. We'll handle all the paperwork and pay the title fees too.
If you'd prefer you may apply for a new title on your own. Here's how:
Fill out an
Application for Replacement Certificate of Title
and submit it to your your local tax collector's office, or mail it to:
Mississippi Department of Revenue
Title Bureau
P.O. Box 1383
Jackson, MS 39215
Mississippi also offers a
Fast Track Title Program
where the titles are processed within 72 hours of receiving the application.
Where do I sign my Mississippi title?
ZOOM IN
The sample title document to the left of this paragraph has a blue arrow. Sign where the arrow appears using the name listed on the front page of your car title. The title document should be given to the tow truck driver at the time your car is collected.
How do I transfer the ownership of my car?
Remove plates
Remove the plates from the car prior to it being towed.


Return plates
The donor should surrender plates to their county Tax collector and a credit will be given to them. License plates may not be transferred to a new car. Find local DMVoffice >


Stop insurance
Cancel your insurance coverage on the donated vehicle once it's been picked up.
For a full list of frequently asked questions check out our faq section.
One of our favorite donations ever was a 1964 Cadillac Sixty Special that came to us by way of the state of Mississippi. It was the oldest car ever donated by drivers in that state.
Financial disclosure: J.O.Y for our youth is exempt from tax under section 501(c)(3) of the Internal Revenue Code and qualifies for the maximum charitable contribution deduction by donors. Our Federal Identification Number is 22-374-6050. We are proud of the way we manage our finances.
Any information on this page related to state laws and title requirements is correct to the best of our knowledge. But because this kind of information is liable to change, please check with your local motor vehicle authority for current guidelines and requirements.
Kars4kids Car Donation
Sun - Thu: 7 am - midnight EST
Fri: 8 am -
pm EST
Sat: 2 pm - midnight EST
Our Areas of Service.
We cover the entire Mississippi State area.
We receive the highest amount of vehicle donations from these cities:
Aberdeen, Amory, Baldwyn, Batesville, Bay St. Louis, Bay Springs, Belzoni, Biloxi, Booneville, Brandon, Brookhaven, Canton, Carthage, Charleston, Clarksdale, Cleveland, Clinton, Collins, Columbia, Columbus, Corinth, Crystal Springs, D'Iberville, Drew, Durant, Ellisville, Eupora, Fayette, Flowood, Forest, Fulton, Gautier, Greenville, Greenwood, Grenada, Gulfport, Hattiesburg, Hazlehurst, Hernando, Hollandale, Holly Springs, Horn Lake, Houston, Indianola, Itta Bena, Iuka, Jackson, Kosciusko, Laurel, Leland, Lexington, Long Beach, Louisville, Lucedale, Lumberton, McComb, Macon, Madison, Magee, Magnolia, Marks, Mendenhall, Meridian, Moorhead, Morton, Moss Point, Mound Bayou, Natchez, Nettleton, New Albany, Newton, Ocean Springs, Okolona, Olive Branch, Oxford, Pascagoula, Pass Christian, Pearl, Petal, Philadelphia, Picayune, Pontotoc, Poplarville, Port Gibson, Purvis, Quitman, Raymond, Richland, Ridgeland, Ripley, Rolling Fork, Rosedale, Ruleville, Saltillo, Senatobia, Shaw, Shelby, Southaven, Starkville, Tupelo, Verona, Vicksburg, Water Valley, Waveland, Waynesboro, West Point, Wiggins, Winona, Yazoo