Our Matching Gift Sponsors
How it works in MI

1. Tell us about your car
Take 2 minutes to fill out a donation form - online or over the phone.

2. Schedule a free pickup
Within 24 hours we'll call you to arrange a convenient pickup time.

3. You are done!
Within 2-4 weeks you receive a tax receipt and vacation voucher.
400,000+ donors trust us with their car.
Here's what our Michigan donors had to say about how donating went for them.
P.S. we didn't make these up! They're all real donors, with real experiences.
Donating was painless and quick
By
Cheryl H.

, Monroe MI (I donated a 1977 Lincoln )
Donating my car was painless and quick. I made a phone call and they did all the rest. I would definitely donate a car again. Thanks!
Deductions are good and so is helping kids
By
Jaime W.

, Waterford MI (I donated a 1999 Chrysler Concorde)
Quick and Easy. Thanks for getting out to my house to pick up my car on super short notice so I could get the deductions on my 2012 taxes! Deductions are good and so is helping kids.
Quick & Easy with no troubles
By
Joelle D.

, Portland MI (I donated a 2000 Saturn S-Series)
Quick & Easy with no troubles.
How your car helps
Our charity programs are the essence of what we do. We are thankful to be able to give back to many local communities across North America and to bring educational opportunities to so many children. We're a registered nonprofit Jewish organization. Learn about what we do and see our charity programs here.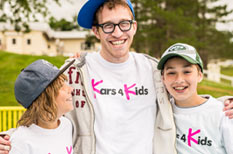 The Kars4Kids Vision
Kars4Kids' vision is to give our children the ability to succeed in life. We focus on educational, mentorship and year-round programs for our children, their families and their communities, looking at the big picture of our children's development and the environment they grow up in. We rely on thousands of volunteers to help us change the world, one child at a time.
Tutoring
Every child learns differently. Some children just need a little extra help and personal attention to absorb the material they are taught in the classroom. A tutoring session one-on-one a couple of times a week can be the difference between success and failure for these students.
Back to School Distributions
It's become an annual tradition at Kars4Kids to give away several thousand backpacks and other school supplies in the "back to school" season. Because we firmly believe that without adequate basic supplies, it's very hard for children to be successful students.
Still have questions?
What is the amount of the tax deduction I will receive?
The amount you can claim from the IRS as a
tax deduction
depends on the category applicable to you:
The IRS allows you to claim a tax deduction of:
a) The value of your vehicle up to $500. It is up to the donor to determine the fair market value.
b) The amount we sell your vehicle for - if it is more than $500.
Kars4kids is a classified 501(c)(3) charity organization. You can check with your tax advisor or accountant to determine the amount of your benefit. The deduction is of value only if the donor itemizes his or her deductions. For a more detailed overview the IRS publishes a
Donors Guide to Car Donation.
What can I donate?
We accept the following donations: car, snow plow, boat, bus, jet ski, truck, RV (motor home), commercial, airplane, van, trailer, motorcycle, ATV, tractor, and fleet donations. Sorry no kids.
I want to donate a car in Michigan but I'm missing my title. Is my car still eligible for donation?
We can pick up a vehicle in Michigan without a title. We will just need the registered owner to sign some paperwork for us.

How can I replace my missing title?
Where do I sign my Michigan title?
ZOOM IN
The sample title document to the left of this paragraph has a blue arrow. Sign where the arrow appears using the name listed on the front page of your car title. The title document should be given to the tow truck driver at the time your car is collected.
How do I transfer the ownership of my car?
Remove plates
Remove and keep the license plate that was on the vehicle you donated. Make sure that you remove your registration card from the vehicle. You may transfer your plate to another vehicle. If you will not be transferring the plates to another vehicle you should deface the plates.


Stop insurance
Cancel your insurance coverage on the donated vehicle once it's been picked up.


For a full list of frequently asked questions check out our faq section.
Perhaps the coolest car donation ever received by Kars4Kids was a Chrysler PT Cruiser painted to resemble a University of Michigan football helmet. This interesting donation came to us by way of Fred J., of Iron River, MI.
Any information on this page related to state laws and title requirements is correct to the best of our knowledge. But because this kind of information is liable to change, please check with your local motor vehicle authority for current guidelines and requirements.
Kars4kids Car Donation
Sun - Thu: 7 am - midnight EST
Fri: 8 am -
pm EST
Sat: 2 pm - midnight EST
Our Areas of Service.
We cover the entire Michigan State area.
We receive the highest amount of vehicle donations from these cities:
Acme Township, Ada Township, Addison, Adrian, Afton, Ahmeek, Akron, Alanson, Alba, Albion, Alden, Alger, Algonac, Allegan, Allen, Allen Park, Allendale, Allenton, Allouez, Alma, Almont, Alpena, Alpha, Alto, Amasa, Anchorville, Ann Arbor, Applegate, Arcadia, Argyle, Armada, Arnold, Ashley, Athens, Atlanta, Atlantic Mine, Atlas, Attica, Au Gres, Au Train, Auburn, Auburn Hills, Augusta, Avoca, Azalia, Bad Axe, Bailey, Baldwin, Bancroft, Bangor, Bannister, Baraga, Barbeau, Bark River, Baroda, Barryton, Barton City, Bath, Battle Creek, Bay City, Bay Port, Bay Shore, Bay View, Bear Lake, Beaver Island, Beaverton, Bedford, Belding, Bellaire, Belleville, Bellevue, Belmont, Bentley, Benton Harbor, Benzonia, Bergland, Berkley, Berrien Center, Berrien Springs, Bessemer, Beulah, Beverly Hills, Big Bay, Big Rapids, Bingham Farms, Birch Run, Birmingham, Bitely, Black River, Blanchard, Blissfield, Bloomfield Hills, Bloomingdale, Boon, Boyne City, Boyne Falls, Bradley, Branch, Brant, Breckenridge, Breedsville, Brethren, Bridgeport, Bridgewater, Bridgman, Brighton, Brimley, Britton, Brohman, Bronson, Brooklyn, Brown City, Bruce Crossing, Brutus, Buchanan, Buckley, Burlington, Burnips, Burr Oak, Burt, Burt Lake, Burton, Byron, Byron Center, Cadillac, Caledonia, Calumet, Camden, Cannonsburg, Capac, Carleton, Carney, Caro, Carp Lake, Carrollton, Carson City, Carsonville, Casco, Caseville, Casnovia, Caspian, Cass City, Cassopolis, Cedar, Cedar Lake, Cedar River, Cedar Springs, Cedarville, Cement City, Center Line, Central Lake, Centreville, Ceresco, Champion, Channing, Charlevoix, Charlotte, Chase, Chassell, Chatham, Cheboygan, Chelsea, Chesaning, Chesterfield, Chippewa Lake, Christmas, Clare, Clarklake, Clarkston, Clarksville, Clawson, Clayton, Clifford, Climax, Clinton, Clio, Cloverdale, Cohoctah, Coldwater, Coleman, Coloma, Colon, Columbiaville, Columbus, Comins, Commerce, Comstock, Comstock Park, Concord, Conklin, Constantine, Conway, Cooks, Coopersville, Copemish, Copper City, Copper Harbor, Coral, Cornell, Corunna, Covert, Covington, Cross Village, Croswell, Crystal, Crystal Falls, Curran, Curtis, Custer, Cutlerville, Dafter, Daggett, Dansville, Davisburg, Davison, De Tour Village, Dearborn, Dearborn Heights, Decatur, Decker, Deckerville, Deerfield, Deerton, Deford, Delton,
Detroit
, DeWitt, Dexter, Dimondale, Dollar Bay, Dorr, Douglas, Dowagiac, Dowling, Drayton Plains, Drummond Island, Dryden, Dundee, Durand, Eagle, Eagle River, East China, East Grand Rapids, East Jordan, East Lansing, East Leroy, East Tawas, Eastlake, Eastpointe, Eastport, Eaton Rapids, Eau Claire, Eben Junction, Eckerman, Ecorse, Edenville, Edmore, Edwardsburg, Elberta, Elk Rapids, Elkton, Ellsworth, Elm Hall, Elmira, Elsie, Elwell, Emmett, Empire, Engadine, Erie, Escanaba, Essexville, Eureka, Evart, Ewen, Fair Haven, Fairgrove, Fairview, Falmouth, Farmington, Farmington Hills, Farwell, Felch, Fennville, Fenton, Fenwick, Ferndale, Ferrysburg, Fife Lake, Filer City, Filion, Flat Rock, Flint, Flushing, Forestville, Fort Gratiot, Foster City, Fostoria, Fountain, Fowler, Fowlerville, Frankenmuth, Frankfort, Franklin, Fraser, Frederic, Free Soil, Freeland, Freeport, Fremont, Frontier, Fruitport, Fulton, Gaastra, Gagetown, Gaines, Galesburg, Galien, Garden, Garden City, Gaylord, Genesee, Germfask, Gilford, Gladstone, Gladwin, Glen Arbor, Glenn, Glennie, Gobles, Goetzville, Good Hart, Goodells, Goodrich, Gould City, Gowen, Grand Blanc, Grand Haven, Grand Junction, Grand Ledge, Grand Marais, Grand Rapids, Grandville, Grant, Grass Lake, Grawn, Grayling, Greenbush, Greenland, Greenville, Gregory, Grosse Ile, Grosse Pointe, Gulliver, Gwinn, Hadley, Hagar Shores, Hale, Hamburg, Hamilton, Hamtramck, Hancock, Hanover, Harbert, Harbor Beach, Harbor Point, Harbor Springs, Harper Woods, Harrietta, Harris, Harrison, Harrisville, Harsens Island, Hart, Hartford, Hartland, Harvey, Haslett, Hastings, Hawks, Hazel Park, Hemlock, Henderson, Hermansville, Herron, Hersey, Hesperia, Hessel, Hickory Corners, Higgins Lake, Highland, Highland Park, Hillman, Hillsdale, Holland, Holly, Holt, Holton, Homer, Honor, Hope, Hopkins, Horton, Houghton, Houghton Lake, Houghton Lake Heights, Howard City, Howell, Hubbard Lake, Hubbardston, Hubbell, Hudson, Hudsonville, Hulbert, Huntington Woods, Ida, Idlewild, Imlay City, Indian River, Ingalls, Inkster, Interlochen, Ionia, Iron Mountain, Iron River, Irons, Ironwood, Ishpeming, Ithaca, Jackson, Jamestown, Jasper, Jeddo, Jenison, Jerome, Johannesburg, Jones, Jonesville, Kalamazoo, Kaleva, Kalkaska, Kawkawlin, Kearsarge, Keego Harbor, Kendall, Kent City, Kenton, Kentwood, Kewadin, Kimball, Kincheloe, Kinde, Kingsford, Kingsley, Kingston, Kinross, L'Anse, La Salle, Lachine, Lacota, Laingsburg, Lake, Lake Ann, Lake City, Lake George, Lake Leelanau, Lake Linden, Lake Odessa, Lake Orion, Lakeland, Lakeside, Lakeview, Lakeville, Lambertville, Lamont, Lansing, Lapeer, Lathrup Village, Laurium, Lawrence, Lawton, Leland, Lennon, Leonard, Leonidas, LeRoy, Leslie, Levering, Lewiston, Lexington, Lincoln, Lincoln Park, Linden, Linwood, Litchfield, Little Lake, Livonia, Long Lake, Loretto, Lowell, Ludington, Luna Pier, Lupton, Luther, Luzerne, Lyons, Macatawa, Mackinac Island, Mackinaw City, Macomb, Madison Heights, Mancelona, Manchester, Manistee, Manistique, Manitou Beach, Manton, Maple City, Maple Rapids, Marcellus, Marenisco, Marine City, Marion, Marlette, Marne, Marquette, Marshall, Martin, Marysville, Mason, Mass City, Mattawan, Maybee, Mayfield, Mayville, McBain, McBrides, McMillan, Mears, Mecosta, Melvin, Melvindale, Memphis, Mendon, Menominee, Merrill, Merritt, Mesick, Metamora, Michigamme, Michigan Center, Middleton, Middleville, Midland, Mikado, Milan, Milford, Millersburg, Millington, Minden City, Mio, Mohawk, Moline, Monroe, Montague, Montgomery, Montrose, Moorestown, Moran, Morenci, Morley, Morrice, Moscow, Mosherville, Mount Clemens, Mount Morris, Mount Pleasant, Muir, Mullett Lake, Mulliken, Munger, Munising, Munith, Muskegon, Muskegon Heights, Nadeau, Nahma, Napoleon, Nashville, National City, National Mine, Naubinway, Nazareth, Negaunee, New Baltimore, New Boston, New Buffalo, New Era, New Haven, New Hudson, New Lothrop, New Troy, Newaygo, Newberry, Newport, Niles, Nisula, North Adams, North Branch, North Lake, North Muskegon, North Star, North Street, Northeast, Northland, Northport, Northville, Northwest, Norton Shores, Norvell, Norway, Nottawa, Novi, Nunica, Oak Grove, Oak Park, Oakland, Oakley, Oden, Okemos, Old Mission, Olivet, Omena, Omer, Onaway, Onekama, Onondaga, Onsted, Ontonagon, Orchard Lake, Orion, Orleans, Ortonville, Oscoda, Oshtemo, Osseo, Ossineke, Otisville, Otsego, Ottawa Lake, Otter Lake, Ovid, Owendale, Owosso, Oxford, Painesdale, Palmer, Palmyra, Palo, Paradise, Parchment, Paris, Parma, Paw Paw, Pearl Beach, Peck, Pelkie, Pellston, Pentwater, Perkins, Perrinton, Perronville, Perry, Petersburg, Petoskey, Pewamo, Pickford, Pierson, Pigeon, Pinckney, Pinconning, Pittsford, Plainwell, Pleasant Lake, Pleasant Ridge, Plymouth, Pointe Aux Pins, Pompeii, Pontiac, Port Austin, Port Hope, Port Huron, Port Sanilac, Portage, Portland, Posen, Potterville, Powers, Prescott, Presque Isle, Prudenville, Pullman, Quincy, Quinnesec, Ralph, Ramsay, Rapid City, Rapid River, Ravenna, Ray, Reading, Redford, Reed City, Reese, Remus, Republic, Rhodes, Richland, Richmond, Richville, Ridgeway, Riga, River Rouge, Riverdale, Riverside, Riverview, Rives Junction, Rochester, Rochester Hills, Rock, Rockford, Rockland, Rockwood, Rodney, Rogers City, Rollin, Romeo, Romulus, Roosevelt Park, Roscommon, Rose City, Rosebush, Roseville, Rothbury, Royal Oak, Ruby, Rudyard, Rumely, Ruth, Saginaw, Sagola, Saint Charles, Saint Clair, Saint Clair Shores, Saint Helen, Saint Ignace, Saint Johns, Saint Joseph, Saint Louis, Salem, Saline, Samaria, Sand Creek, Sand Lake, Sandusky, Sanford, Saranac, Saugatuck, Sault Sainte Marie, Sawyer, Schoolcraft, Scotts, Scottville, Sears, Sebewaing, Seneca, Seney, Shaftsburg, Shelby, Shelbyville, Shepherd, Sheridan, Sherwood, Shingleton, Sidnaw, Sidney, Silverwood, Six Lakes, Skandia, Skanee, Skidway Lake, Smiths Creek, Smyrna, Snover, Sodus, Somerset, Somerset Center, South Boardman, South Branch, South Haven, South Lyon, South Range, South Rockwood, Southeast, Southfield, Southgate, Spalding, Sparta, Spring Arbor, Spring Lake, Springfield, Springport, Spruce, Stambaugh, Standish, Stanton, Stanwood, Stephenson, Sterling, Sterling Heights, Stevensville, Stockbridge, Strongs, Sturgis, Sumner, Sunfield, Suttons Bay, Swartz Creek, Sylvan Lake, Tawas City, Taylor, Tecumseh, Tekonsha, Temperance, Thompsonville, Three Oaks, Three Rivers, Tipton, Toivola, Topinabee, Tower, Traverse City, Trenary, Trenton, Trout Creek, Trout Lake, Troy, Trufant, Turner, Tuscola, Tustin, Twin Lake, Twining, Ubly, Union, Union City, Union Lake, Union Pier, Unionville, University Center, Utica, Vandalia, Vanderbilt, Vassar, Vermontville, Vernon, Vestaburg, Vicksburg, Vulcan, Wabaningo, Wakefield, Waldron, Walhalla, Walker, Walkerville, Wallace, Walled Lake, Walloon Lake, Warren, Washington, Waterford, Waters, Watersmeet, Watervliet, Watton, Wayland, Wayne, Webberville, Weidman, Wells, Wellston, Wequetonsing, West Bloomfield Township, West Branch, West Olive, Westland, Weston, Westphalia, Westwood, Wetmore, Wheeler, White Cloud, White Lake, White Pigeon, White Pine, Whitehall, Whitmore Lake, Whittaker, Whittemore, Williamsburg, Williamston, Willis, Wilson, Winn, Wixom, Wolverine, Woodhaven, Woodland, Wyandotte, Wyoming, Yale, Ypsilanti, Zeeland