Our Matching Gift Sponsors
How it works in KS

1. Tell us about your car
Take 2 minutes to fill out a donation form - online or over the phone.

2. Schedule a free pickup
Within 24 hours we'll call you to arrange a convenient pickup time.

3. You are done!
Within 2-4 weeks you receive a tax receipt and vacation voucher.
400,000+ donors trust us with their car.
Here's what our Kansas donors had to say about how donating went for them.
P.S. we didn't make these up! They're all real donors, with real experiences. (we even left the typos in :)
Helpful on the phone and prompt with picking up car
By
Anne H.

, Prairie Village KS (I donated a 1995 Mazda 626)
The associates from Kars4Kids were helpful on the phone as well as prompt with picking up my car. Thanks for making the process painless and rewarding.
Everything went smoothly, and was very fast and easy
By
Shaylene B.

, Lenexa KS (I donated a 1998 Honda Accord)
Everything went smoothly & was very fast & easy!! Thanks Kars4kids!!!
You really helped when no one else would
By
Sara J.

, Olathe KS (I donated a 1995 Oldsmobile Cutlass Supreme)
You really help me out when no one else would do nothing thank you for getting me out and giving the car tohhelp out i hope it helped the kids decerver all they can get from people Thank you for your wonderful help Sara J Evans
How your car helps
Our charity programs are the essence of what we do. We are thankful to be able to give back to many local communities across North America and to bring educational opportunities to so many children. We're a registered nonprofit Jewish organization. Learn about what we do and see our charity programs here.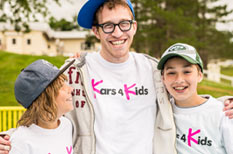 The Kars4Kids Vision
Kars4Kids' vision is to give our children the ability to succeed in life. We focus on educational, mentorship and year-round programs for our children, their families and their communities, looking at the big picture of our children's development and the environment they grow up in. We rely on thousands of volunteers to help us change the world, one child at a time.
Bonding Over Books
Some parents bribe their children to read, but with a book buddy, that won't be necessary, thank you. A book buddy puts the fun back into reading for a child who may be struggling with reading difficulties. Books offer a pretext for bonding and a wider literary perspective. It's a form of mentoring unique to Kars4Kids.
There In A Pinch
When the struggle to hold one's head above financial waters is constant, families can forget that there's more to life than bills. That's where we come in. Our Crunch Relief program offers some cash to get through a hard month, some badly needed housewares, or perhaps some secondhand clothing. We offer breathing space and light to families with tuition assistance and camp scholarships.
Still have questions?
I want to donate a car in Kansas but I'm missing my title. Is my car still eligible for donation?
We can pick up a vehicle without a title in Kansas. We just need the registered owner to sign some paperwork for us.

In the following counties you don't need to sign any paperwork at all. Just provide a proof of ownership (such as copy of registration or insurance card): Douglas, Johnson, Leavenworth, Miami, Wyandotte
How can I replace my missing title?
What is the amount of the tax deduction I will receive?
The amount you can claim from the IRS as a
tax deduction
depends on the category applicable to you:
The IRS allows you to claim a tax deduction of:
a) The value of your vehicle up to $500. It is up to the donor to determine the fair market value.
b) The amount we sell your vehicle for - if it is more than $500.
Kars4kids is a classified 501(c)(3) charity organization. You can check with your tax advisor or accountant to determine the amount of your benefit. The deduction is of value only if the donor itemizes his or her deductions. For a more detailed overview the IRS publishes a
Donors Guide to Car Donation.
What can I donate?
We accept the following donations: car, snow plow, boat, bus, jet ski, truck, RV (motor home), commercial, airplane, van, trailer, motorcycle, ATV, tractor, and fleet donations. Sorry no kids.
Where do I sign my Kansas title?
ZOOM IN
You will need to sign and have the title notarized in the presence of a notary public. The sample title document to the left of this paragraph has a blue arrow. Sign where the arrow appears using the name listed on the front page of your car title document. The title document should be given to the tow truck driver at the time your car is collected.
For a full list of frequently asked questions check out our faq section.
A 1998 Dodge Caravan donated by a Lenoxa, Kansas donor in 2010 was donated again by its new owner! Its new owner was located in Minnesota.
Any information on this page related to state laws and title requirements is correct to the best of our knowledge. But because this kind of information is liable to change, please check with your local motor vehicle authority for current guidelines and requirements.
Our Areas of Service.
We cover the entire Kansas State area.
We receive the highest amount of vehicle donations from these cities:
Abbyville, Abilene, Admire, Agenda, Agra, Albert, Alden, Alexander, Allen, Alma, Almena, Altamont, Alta Vista, Alton, Altoona, Americus, Andale, Andover, Anthony, Arcadia, Argonia, Arkansas City, Arlington, Arma, Ashland, Assaria, Atchison, Athol, Atlanta, Attica, Atwood, Auburn, Augusta, Aurora, Axtell, Baldwin City, Barnard, Barnes, Bartlett, Basehor, Bassett, Baxter Springs, Bazine, Beattie, Bel Aire, Belle Plaine, Belleville, Beloit, Belpre, Belvue, Benedict, Bennington, Bentley, Benton, Bern, Beverly, Bird City, Bison, Blue Mound, Blue Rapids, Bluff City, Bogue, Bonner Springs, Brewster, Bronson, Brookville, Brownell, Bucklin, Buffalo, Buhler, Bunker Hill, Burden, Burdett, Burlingame, Burlington, Burns, Burr Oak, Burrton, Bushong, Bushton, Byers, Caldwell, Cambridge, Caney, Canton, Carbondale, Carlton, Cassoday, Cawker City, Cedar, Cedar Point, Cedar Vale, Centralia, Chanute, Chapman, Chase, Chautauqua, Cheney, Cherokee, Cherryvale, Chetopa, Cimarron, Circleville, Claflin, Clay Center, Clayton, Clearwater, Clifton, Climax, Clyde, Coats, Coffeyville, Colby, Coldwater, Collyer, Colony, Columbus, Colwich, Concordia, Conway Springs, Coolidge, Copeland, Corning, Cottonwood Falls, Council Grove, Countryside, Courtland, Coyville, Cuba, Cullison, Culver, Cunningham, Damar, Danville, Dearing, Deerfield, Delia, Delphos, Denison, Denton, Derby, De Soto, Dexter, Dighton, Dodge City, Dorrance, Douglass, Downs, Dresden, Dunlap, Durham, Dwight, Earlton, Eastborough, Easton, Edgerton, Edmond, Edna, Edwardsville, Effingham, Elbing, El Dorado, Elgin, Elk City, Elk Falls, Elkhart, Ellinwood, Ellis, Ellsworth, Elmdale, Elsmore, Elwood, Emmett, Emporia, Englewood, Ensign, Enterprise, Erie, Esbon, Eskridge, Eudora, Eureka, Everest, Fairview, Fairway, Fall River, Florence, Fontana, Ford, Formoso, Fort Scott, Fowler, Frankfort, Frederick, Fredonia, Freeport, Frontenac, Fulton, Galatia, Galena, Galesburg, Galva, Garden City, Garden Plain, Gardner, Garfield, Garnett, Gas, Gaylord, Gem, Geneseo, Geuda Springs, Girard, Glade, Glasco, Glen Elder, Goddard, Goessel, Goff, Goodland, Gorham, Gove City, Grainfield, Grandview Plaza, Great Bend, Greeley, Green, Greenleaf, Greensburg, Grenola, Gridley, Grinnell, Gypsum, Haddam, Halstead, Hamilton, Hamlin, Hanover, Hanston, Hardtner, Harper, Hartford, Harveyville, Havana, Haven, Havensville, Haviland, Hays, Haysville, Hazelton, Hepler, Herington, Herndon, Hesston, Hiawatha, Highland, Hill City, Hillsboro, Hoisington, Holcomb, Hollenberg, Holton, Holyrood, Hope, Horace, Horton, Howard, Hoxie, Hoyt, Hudson, Hugoton, Humboldt, Hunnewell, Hunter, Huron, Hutchinson, Independence, Ingalls, Inman, Iola, Isabel, Iuka, Jamestown, Jennings, Jetmore, Jewell, Johnson City, Junction City, Kanopolis, Kanorado, Kansas City, Kechi, Kensington, Kincaid, Kingman, Kinsley, Kiowa, Kirwin, Kismet, Labette, La Crosse, La Cygne, La Harpe, Lake Quivira, Lakin, Lancaster, Lane, Langdon, Lansing, Larned, Latham, Latimer, Lawrence, Leavenworth, Leawood, Lebanon, Lebo, Lecompton, Lehigh, Lenexa, Lenora, Leon, Leona, Leonardville, Leoti, Le Roy, Lewis, Liberal, Liberty, Liebenthal, Lincoln Center, Lincolnville, Lindsborg, Linn, Linn Valley, Linwood, Little River, Logan, Lone Elm, Longford, Long Island, Longton, Lorraine, Lost Springs, Louisburg, Louisville, Lucas, Luray, Lyndon, Lyons, McCracken, McCune, McDonald, McFarland, Macksville, McLouth, McPherson, Madison, Mahaska, Maize, Manchester, Manhattan, Mankato, Manter, Maple Hill, Mapleton, Marion, Marquette, Marysville, Matfield Green, Mayetta, Mayfield, Meade, Medicine Lodge, Melvern, Menlo, Meriden, Merriam, Milan, Mildred, Milford, Miltonvale, Minneapolis, Minneola, Mission, Mission Hills, Mission Woods, Moline, Montezuma, Moran, Morganville, Morland, Morrill, Morrowville, Moscow, Mound City, Moundridge, Mound Valley, Mount Hope, Mulberry, Mullinville, Mulvane, Munden, Muscotah, Narka, Nashville, Natoma, Neodesha, Neosho Falls, Neosho Rapids, Ness City, Netawaka, New Albany, New Cambria, New Strawn, Newton, Nickerson, Niotaze, Norcatur, North Newton, Norton, Nortonville, Norwich, Oak Hill, Oakley, Oberlin, Offerle, Ogden, Oketo, Olathe, Olivet, Olmitz, Olpe, Olsburg, Onaga, Oneida, Osage City, Osawatomie, Osborne, Oskaloosa, Oswego, Otis, Ottawa, Overbrook, Overland Park, Oxford, Ozawkie, Palco, Palmer, Paola, Paradise, Park, Park City, Parker, Parkerville, Parsons, Partridge, Pawnee Rock, Paxico, Peabody, Penalosa, Perry, Peru, Phillipsburg, Pittsburg, Plains, Plainville, Pleasanton, Plevna, Pomona, Portis, Potwin, Powhattan, Prairie View, Prairie Village, Pratt, Prescott, Preston, Pretty Prairie, Princeton, Protection, Quenemo, Quinter, Radium, Ramona, Randall, Randolph, Ransom, Rantoul, Raymond, Reading, Redfield, Republic, Reserve, Rexford, Richfield, Richmond, Riley, Robinson, Roeland Park, Rolla, Rose Hill, Roseland, Rossville, Rozel, Rush Center, Russell, Russell Springs, Sabetha, St. Francis, St. George, St. John, St. Marys, St. Paul, Salina, Satanta, Savonburg, Sawyer, Scammon, Scandia, Schoenchen, Scott City, Scottsville, Scranton, Sedan, Sedgwick, Selden, Seneca, Severance, Severy, Seward, Sharon, Sharon Springs, Shawnee, Silver Lake, Simpson, Smith Center, Smolan, Soldier, Solomon, South Haven, South Hutchinson, Spearville, Speed, Spivey, Spring Hill, Stafford, Stark, Sterling, Stockton, Strong City, Sublette, Summerfield, Sun City, Susank, Sylvan Grove, Sylvia, Syracuse, Tampa, Tescott, Thayer, Timken, Tipton, Tonganoxie, Topeka, Toronto, Towanda, Treece, Tribune, Troy, Turon, Tyro, Udall, Ulysses, Uniontown, Utica, Valley Center, Valley Falls, Vermillion, Victoria, Vining, Viola, Virgil, WaKeeney, Wakefield, Waldo, Waldron, Wallace, Walnut, Walton, Wamego, Washington, Waterville, Wathena, Waverly, Webber, Weir, Wellington, Wellsville, West Mineral, Westmoreland, Westphalia, Westwood, Westwood Hills, Wetmore, Wheaton, White City, White Cloud, Whitewater, Whiting, Wichita, Willard, Williamsburg, Willis, Willowbrook, Wilmore, Wilsey, Wilson, Winchester, Windom, Winfield, Winona, Woodbine, Woodston, Yates Center, Zenda, Zurich