Our Matching Gift Sponsors
How it works in ID

1. Tell us about your car
Take 2 minutes to fill out a donation form - online or over the phone.

2. Schedule a free pickup
Within 24 hours we'll call you to arrange a convenient pickup time.

3. You are done!
Within 2-4 weeks you receive a tax receipt and vacation voucher.
400,000+ donors trust us with their car.
Here's what our donors had to say about how donating went for them.
P.S. we didn't make these up! They're all real donors, with real experiences.
The process was very easy and simple
By
Brent S.

, Midlothian VA (I donated a 2003 Chevrolet Impala)
The process of scheduling the car to be picked up was very easy and simple I was also satisfied with how long it took until I received my official printed receipt, however I had a hard time when doing my taxes because I had to enter an amount of my donation and I didn't know what to enter since the highest amount is 500, so that's what I entered , overall I had a good experience with this company
Kars4Kids took the frustration out in dealing with a junk
By
Steven P.

, Mounds View MN (I donated a 1998 Toyota Camry)
Kars 4 Kids helped me by taking the frustration out of dealing with a junk car, and they helped the best kind of people with the proceeds, kids. What more could anyone want?
Donated twice and each time the experience was painless
By
christine d.

, Largo FL (I donated a 1999 BMW 5 Series)
Second time we have donated via Kars4kids - each time, the experience was painless. Glad to participate in this deserving effort.
How your car helps
Our charity programs are the essence of what we do. We are thankful to be able to give back to many local communities across North America and to bring educational opportunities to so many children. We're a registered nonprofit Jewish organization. Learn about what we do and see our charity programs here.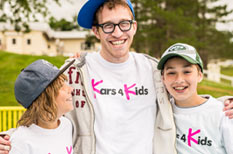 The Kars4Kids Vision
Kars4Kids' vision is to give our children the ability to succeed in life. We focus on educational, mentorship and year-round programs for our children, their families and their communities, looking at the big picture of our children's development and the environment they grow up in. We rely on thousands of volunteers to help us change the world, one child at a time.
In The Zone
Kars4Kids offers children a respite from life's difficulties and allows them to be just kids at a beautiful upstate New York camp facility. It's called The Zone because it's all about letting kids let go and get in the zone of having carefree summer fun. Our dedicated staff guides children to explore hidden talents and develop new skills.
Winter Getaways
As the winter months drag on, we dream of warmer months and fun getaways. We may not be able to change the weather, but we offer winter retreats for children and their families filled with warmth and fun. Winter sports, new friendships, and laughter are just the ticket to pull anyone out of the winter doldrums.
Still have questions?
What is the amount of the tax deduction I will receive?
The amount you can claim from the IRS as a
tax deduction
depends on the category applicable to you:
The IRS allows you to claim a tax deduction of:
a) The value of your vehicle up to $500. It is up to the donor to determine the fair market value.
b) The amount we sell your vehicle for - if it is more than $500.
Kars4kids is a classified 501(c)(3) charity organization. You can check with your tax advisor or accountant to determine the amount of your benefit. The deduction is of value only if the donor itemizes his or her deductions. For a more detailed overview the IRS publishes a
Donors Guide to Car Donation.
What can I donate?
We accept the following donations: car, snow plow, boat, bus, jet ski, truck, RV (motor home), commercial, airplane, van, trailer, motorcycle, ATV, tractor, and fleet donations. Sorry no kids.
I want to donate a car in Idaho but I'm missing my title. Is my car still eligible for donation?
We can pick up a vehicle in Idaho without a title. We will just need the registered owner to sign some paperwork for us.

How can I replace my missing title?
In almost all scenarios Kars4kids will apply for the new title for you. We'll handle all the paperwork and pay the title fees too.
If you'd prefer you may apply for a new title on your own. Here's how:
Complete the
Duplicate Idaho Title Application
. If you are applying by mail you will need to have the form notarized.
Take the completed for to your local vehicle licensing office or mail the completed, notarized application and the proper fees to:
Ada County Processing Center
P.O. Box 140019
Garden City, ID 83714
For more info visit
https://itd.idaho.gov/dmv/vehicleservices/titles1.htm
Where do I sign my Idaho title?
ZOOM IN
The sample title document to the left of this paragraph has a blue arrow. Sign where the arrow appears using the name listed on the front page of your car title. The title document should be given to the tow truck driver at the time your car is collected.
How do I transfer the ownership of my car?
Remove Plates.
Remove the plates from the car prior to it being towed.


Release of Liability and Cancellation Card
Take your plates to your local DMV. At your local office you will need to fill out a plate cancellation card. You should also fill out a release of liability form. This will release you of any liability in the vehicle.


Stop insurance:
Cancel your insurance once your car has been towed.
For a full list of frequently asked questions check out our faq section.
No matter in what state you live in, the most commonly seen car color is (wait for it) . . . white. Idaho is no exception to the rule (we would have thought russet would be a popular color).
Any information on this page related to state laws and title requirements is correct to the best of our knowledge. But because this kind of information is liable to change, please check with your local motor vehicle authority for current guidelines and requirements.
Kars4kids Car Donation
Sun - Thu: 7 am - midnight EST
Fri: 8 am -
pm EST
Sat: 2 pm - midnight EST
Our Areas of Service.
We cover the entire Idaho State area.
We receive the highest amount of vehicle donations from these cities:
Aberdeen, Acequia, Albion, American Falls, Ammon, Arco, Arimo, Ashton, Athol, Atomic City, Bancroft, Basalt, Bellevue, Blackfoot, Bliss, Bloomington, Boise City, Bonners Ferry, Bovill, Buhl, Burley, Butte City, Caldwell, Cambridge, Carey, Cascade, Castleford, Challis, Chubbuck, Clark Fork, Clayton, Clifton, Coeur d'Alene, Cottonwood, Council, Craigmont, Crouch, Culdesac, Dalton Gardens, Dayton, Deary, Declo, Dietrich, Donnelly, Dover, Downey, Driggs, Drummond, Dubois, Eagle, East Hope, Eden, Elk River, Emmett, Fairfield, Ferdinand, Fernan Lake Village, Filer, Firth, Franklin, Fruitland, Garden City, Genesee, Georgetown, Glenns Ferry, Gooding, Grace, Grand View, Grangeville, Greenleaf, Hagerman, Hailey, Hamer, Hansen, Harrison, Hauser, Hayden, Hayden Lake, Hazelton, Heyburn, Hollister, Homedale, Hope, Horseshoe Bend, Huetter, Idaho City, Idaho Falls, Inkom, Iona, Irwin, Island Park, Jerome, Juliaetta, Kamiah, Kellogg, Kendrick, Ketchum, Kimberly, Kooskia, Kootenai, Kuna, Lapwai, Lava Hot Springs, Leadore, Lewiston, Lewisville, McCall, McCammon, Mackay, Malad City, Malta, Marsing, Melba, Menan, Meridian, Middleton, Midvale, Minidoka, Montpelier, Moore, Moscow, Mountain Home, Moyie Springs, Mud Lake, Mullan, Murtaugh, Nampa, Newdale, New Meadows, New Plymouth, Nezperce, Notus, Oakley, Oldtown, Onaway, Orofino, Osburn, Oxford, Paris, Parker, Parma, Paul, Payette, Peck, Pierce, Pinehurst, Placerville, Plummer, Pocatello, Ponderay, Post Falls, Potlatch, Preston, Priest River, Rathdrum, Reubens, Rexburg, Richfield, Rigby, Riggins, Ririe, Roberts, Rockland, Rupert, St. Anthony, St. Charles, St. Maries, Salmon, Sandpoint, Shelley, Shoshone, Smelterville, Soda Springs, Spencer, Spirit Lake, Stanley, Star, State Line, Stites, Sugar City, Sun Valley, Swan Valley, Tensed, Teton, Tetonia, Troy, Twin Falls, Ucon, Victor, Wallace, Wardner, Warm River, Weippe, Weiser, Wendell, Weston, White Bird, Wilder, Winchester, Worley