Our Matching Gift Sponsors
How it works in GA

1. Tell us about your car
Take 2 minutes to fill out a donation form - online or over the phone.

2. Schedule a free pickup
Within 24 hours we'll call you to arrange a convenient pickup time.

3. You are done!
Within 2-4 weeks you receive a tax receipt and vacation voucher.
400,000+ donors trust us with their car.
Here's what our Georgia donors had to say about how donating went for them.
P.S. we didn't make these up! They're all real donors, with real experiences.
Surprised at how easy it was
By
Eddie K.

, Rocky Face GA (I donated a 2000 GMC Sierra 1500)
the whole process went rather smoothly. i was surprised at how easy it was.
Second car donated to Kars4Kids was easy as before
By
Dianne S.

, Fayetteville GA (I donated a 1993 Toyota Camry)
This is the second car I have donated to Kars 4 Kids. As before, it was easy to do, real people answered the phones and stayed in contact with me throughout the traveling process. The driver was professional and polite as were the staff that handled the dispatch of tow truck to my location.
I definitely will use them again if I am in the same situation.
I definitely will recommend you guys
By
Jaime S.

, Woodstock GA (I donated a 2001 Lincoln LS)
It was great! No issues at all. Thank you. I definitely will recommend you guys.
How your car helps
Our charity programs are the essence of what we do. We are thankful to be able to give back to many local communities across North America and to bring educational opportunities to so many children. We're a registered nonprofit Jewish organization. Learn about what we do and see our charity programs here.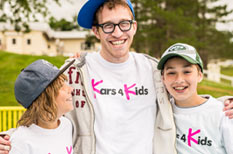 The Kars4Kids Vision
Kars4Kids' vision is to give our children the ability to succeed in life. We focus on educational, mentorship and year-round programs for our children, their families and their communities, looking at the big picture of our children's development and the environment they grow up in. We rely on thousands of volunteers to help us change the world, one child at a time.
Strengthening Families
A child is just one unit of a family. Offering all the members of a family mentoring and support is important for building a whole child. Having a mentor means always having someone to turn to for advice in a challenging world. A holiday or weekend retreat can offer a family an invaluable way to recharge and reconnect.
Education Nonprofit Grants
Kars4Kids is always on the lookout for worthy causes to bolster, particularly nonprofits that further a child's education. Children are our future and it's important to support them however we can, wherever they are in the world. Our small grant committee is committed to reaching out to kids in need of a helping hand.
Still have questions?
What is the amount of the tax deduction I will receive?
The amount you can claim from the IRS as a
tax deduction
depends on the category applicable to you:
The IRS allows you to claim a tax deduction of:
a) The value of your vehicle up to $500. It is up to the donor to determine the fair market value.
b) The amount we sell your vehicle for - if it is more than $500.
Kars4kids is a classified 501(c)(3) charity organization. You can check with your tax advisor or accountant to determine the amount of your benefit. The deduction is of value only if the donor itemizes his or her deductions. For a more detailed overview the IRS publishes a
Donors Guide to Car Donation.
What can I donate?
We accept the following donations: car, snow plow, boat, bus, jet ski, truck, RV (motor home), commercial, airplane, van, trailer, motorcycle, ATV, tractor, and fleet donations. Sorry no kids.
I want to donate a car in Georgia but I'm missing my title. Is my car still eligible for donation?
We can pick up a vehicle without a title in Georgia. We just need the registered owner to sign some paperwork for us.

In the following counties you don't need to sign any paperwork at all. Just provide a proof of ownership (such as copy of registration or insurance card): Baldwin, Banks, Barrow, Bartow, Butts, Carroll, Cherokee, Clarke, Clayton, Cleburne, Cobb, Columbia, Coweta, Dawson, Dekalb, Douglas, Elbert, Fannin, Fayette, Franklin, Fulton, Gilmer, Glascock, Gordon, Greene, Gwinnett, Habersham, Hall, Hancock, Haralson, Hart, Henry, Jackson, Jasper, Jones, Lamar, Lincoln, Lumpkin, Madison, McDuffie, Morgan, Murray, Newton, Oconee, Oglethorpe, Paulding, Pickens, Polk, Putnam, Rabun, Rockdale, Spalding, Stephens, Taliaferro, Towns, Union, Walton, Warren, White, Wilkes
How can I replace my missing title?
Where do I sign my Georgia title?
ZOOM IN
The sample title document to the left of this paragraph has a blue arrow. Sign where the arrow appears using the name listed on the front page of your car title. The title document should be given to the tow truck driver at the time your car is collected.
How do I transfer the ownership of my car?
1. Remove all tags (license plates)
All plates must be removed from your car prior to towing.
2. Dispose of your plates
You may return the plates back to your local County Tag office or dispose of them yourself.
Find your closest Customer Service Center >
3. Cancel your insurance
Cancel your insurance after your car has been towed.
Visit
http://www.dds.ga.gov/
for more information on your state car donation laws.
For a full list of frequently asked questions check out our faq section.
One of the cuter donations we've received was this go-kart courtesy of Ellen M. of Atlanta GA. Technically yes, it's a car. But boy is it fun to drive!
Any information on this page related to state laws and title requirements is correct to the best of our knowledge. But because this kind of information is liable to change, please check with your local motor vehicle authority for current guidelines and requirements.
Kars4kids Car Donation



884 East Ridgeway Road




Commerce

,

GA

30529




706-715-3213
Sun - Thu: 7 am - midnight EST
Fri: 8 am -
pm EST
Sat: 2 pm - midnight EST
Our Areas of Service.
We cover the entire Georgia State area.
We receive the highest amount of vehicle donations from these cities:
Abbeville, Acworth, Adairsville, Adel, Adrian, Ailey, Alamo, Albany, Alma, Alpharetta, Ambrose, Americus, Andersonville, Aragon, Arcade, Arlington, Arnoldsville, Ashburn, Athens,
Atlanta
, Attapulgus, Auburn, Augusta, Austell, Avera, Avondale Estates, Baconton, Bainbridge, Baldwin, Ball Ground, Barnesville, Baxley, Bellville, Berkeley Lake, Blackshear, Blairsville, Blakely, Bloomingdale, Blue Ridge, Blythe, Boston, Bostwick, Bowdon, Bowman, Braswell, Bremen, Broxton, Brunswick, Buchanan, Buena Vista, Buford, Butler, Byron, Cairo, Calhoun, Camilla, Canon, Canton, Carlton, Carnesville, Carrollton, Cartersville, Cave Spring, Cedartown, Centerville, Chamblee, Chatsworth, Chickamauga, Clarkesville, Clarkston, Claxton, Clayton, Cleveland, Climax, Cobbtown, Cochran, Colbert, Coleman, College Park, Collins, Colquitt, Columbus, Comer, Commerce, Conyers, Coolidge, Cordele, Cornelia, Covington, Crawford, Crawfordville, Culloden, Cumming, Cusseta, Cuthbert, Dacula, Dahlonega, Daisy, Dallas, Dalton, Danielsville, Darien, Davisboro, Dawson, Dawsonville, Decatur, Demorest, Denton, De Soto, Dillard, Doerun, Donalsonville, Doraville, Douglas, Douglasville, Dublin, Dudley, Duluth, East Dublin, East Ellijay, Eastman, East Point, Eatonton, Edge Hill, Edison, Elberton, Ellaville, Ellijay, Emerson, Eton, Euharlee, Fairburn, Fairmount, Fargo, Fayetteville, Fitzgerald, Flemington, Flovilla, Folkston, Forest Park, Forsyth, Fort Gaines, Fort Oglethorpe, Fort Valley, Franklin, Franklin Springs, Gainesville, Garden City, Georgetown, Gibson, Gillsville, Glennville, Glenwood, Gordon, Graham, Grantville, Gray, Grayson, Greensboro, Greenville, Griffin, Grovetown, Gumbranch, Guyton, Hagan, Hahira, Hamilton, Hampton, Hapeville, Harlem, Hartwell, Hawkinsville, Hazlehurst, Helen, Helena, Hephzibah, Hiltonia, Hinesville, Hiram, Hoboken, Hogansville, Holly Springs, Homeland, Homerville, Hoschton, Hull, Ideal, Ila, Irwinton, Jackson, Jakin, Jasper, Jefferson, Jeffersonville, Jesup, Jonesboro, Kennesaw, Kingsland, Kingston, La Fayette, LaGrange, Lake City, Lakeland, Lake Park, Lavonia, Lawrenceville, Leary, Leesburg, Lenox, Leslie, Lexington, Lilburn, Lilly, Lincolnton, Lithonia, Locust Grove, Loganville, Lookout Mountain, Louisville, Lovejoy, Ludowici, Lula, Lumber City, Lumpkin, Luthersville, Lyons, McCaysville, McDonough, Macon, McRae, Madison, Manassas, Manchester, Mansfield, Marietta, Marshallville, Meansville, Meigs, Menlo, Metter, Midville, Midway, Milledgeville, Millen, Milner, Molena, Monroe, Montezuma, Monticello, Morgan, Morrow, Morven, Moultrie, Mountain Park, Mount Vernon, Mount Zion, Nahunta, Nashville, Nelson, Newnan, Newton, Nicholls, Nicholson, Norcross, Norman Park, Norwood, Oakwood, Ocilla, Oconee, Offerman, Oglethorpe, Oliver, Omega, Oxford, Palmetto, Patterson, Pavo, Payne, Peachtree City, Pearson, Pelham, Pembroke, Pendergrass, Perry, Pinehurst, Pine Lake, Pitts, Plains, Plainville, Pooler, Port Wentworth, Poulan, Powder Springs, Quitman, Ray City, Rebecca, Reidsville, Remerton, Resaca, Riceboro, Richland, Richmond Hill, Rincon, Ringgold, Riverdale, Roberta, Rochelle, Rockmart, Rome, Rossville, Roswell, Royston, Rutledge, St. Marys, Sandersville, Santa Claus, Savannah, Scotland, Screven, Senoia, Sharon, Shellman, Shiloh, Sky Valley, Smithville, Smyrna, Snellville, Social Circle, Soperton, Sparta, Springfield, Stapleton, Statesboro, Statham, Stockbridge, Stone Mountain, Sugar Hill, Summerville, Sunny Side, Suwanee, Swainsboro, Sycamore, Sylvania, Sylvester, Talbotton, Tallapoosa, Temple, Tennille, Thomaston, Thomasville, Thomson, Tifton, Toccoa, Trenton, Tunnel Hill, Twin City, Tybee Island, Ty Ty, Unadilla, Union City, Union Point, Uvalda, Valdosta, Varnell, Vidalia, Vidette, Vienna, Villa Rica, Waco, Wadley, Waleska, Walthourville, Warm Springs, Warner Robins, Warrenton, Warwick, Washington, Waycross, Waynesboro, West Point, Whigham, White, White Plains, Willacoochee, Winder, Winterville, Woodbine, Woodbury, Woodland, Woodstock, Woodville, Wrens, Wrightsville, Young Harris, Zebulon