Our Matching Gift Sponsors
How it works in AR

1. Tell us about your car
Take 2 minutes to fill out a donation form - online or over the phone.

2. Schedule a free pickup
Within 24 hours we'll call you to arrange a convenient pickup time.

3. You are done!
Within 2-4 weeks you receive a tax receipt and vacation voucher.
400,000+ donors trust us with their car.
Here's what our donors had to say about how donating went for them.
P.S. we didn't make these up! They're all real donors, with real experiences.
I think Kars4kids is a pretty good thing
By
Terry C.

, Fouke AR (I donated a 2000 Mitsubishi Galant)
I do think that Kars4kids is probably a pretty good thing. However, we never did receive our trip we were supposed to get. Disappointed in that.
Quick, easy and handled very well
By
Glenn C.

, Verplanck AR (I donated a 2000 Nissan Maxima)
Professionalism. the experience was quick, easy and handled very well.
The second car I have donated to Kars4Kids
By
Eileen C.

, Monroe NY (I donated a 2002 Honda Accord)
This has been the second time i have donated a car for Kars4Kids. They make the process so easy. It only took a few days from start to finish. I would recommend it to anyone!
How your car helps
Our charity programs are the essence of what we do. We are thankful to be able to give back to many local communities across North America and to bring educational opportunities to so many children. We're a registered nonprofit Jewish organization. Learn about what we do and see our charity programs here.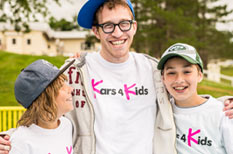 The Kars4Kids Vision
Kars4Kids' vision is to give our children the ability to succeed in life. We focus on educational, mentorship and year-round programs for our children, their families and their communities, looking at the big picture of our children's development and the environment they grow up in. We rely on thousands of volunteers to help us change the world, one child at a time.
Warm Winter Fun
It's cold outside, but for the children that attend the Kars4Kids winter retreat, there's nothing but toasty warmth and friendship from supportive mentors and of course, lots of fun. Kids get a chance to get out of the city and experience the beautiful mountains of upstate New York. There's entertainment, activities galore and lasting friendships.
See it in pictures
Browse through our gallery of photos and videos to get a pictorial view of what we do. From pictures of distributions to video testimonials, seeing the smiles on these children's faces will make you smile... and appreciate the impact that Kars4Kids is having on all kinds of children, all across the country.
Still have questions?
What is the amount of the tax deduction I will receive?
The amount you can claim from the IRS as a
tax deduction
depends on the category applicable to you:
The IRS allows you to claim a tax deduction of:
a) The value of your vehicle up to $500. It is up to the donor to determine the fair market value.
b) The amount we sell your vehicle for - if it is more than $500.
Kars4kids is a classified 501(c)(3) charity organization. You can check with your tax advisor or accountant to determine the amount of your benefit. The deduction is of value only if the donor itemizes his or her deductions. For a more detailed overview the IRS publishes a
Donors Guide to Car Donation.
What can I donate?
We accept the following donations: car, snow plow, boat, bus, jet ski, truck, RV (motor home), commercial, airplane, van, trailer, motorcycle, ATV, tractor, and fleet donations. Sorry no kids.
I want to donate a car in Arkansas but I'm missing my title. Is my car still eligible for donation?
We can pick up a vehicle in Arkansas without a title. We will just need the registered owner to sign some paperwork for us.

How can I replace my missing title?
In almost all scenarios Kars4kids will apply for the new title for you. We'll handle all the paperwork and pay the title fees too.
If you'd prefer you may apply for a new title on your own. Here's how:
Arkansas residents can apply for a new title at any state revenue office. Rush titles can be issued in three to five working days for titles without a prior lien but applications must be made in person at the following address:
Charles D. Ragland Taxpayer Services Center
Room 1040
1900 West 7th
Little Rock, AR 72201
Out of state applicants can download a
title application form
from this web site. You may also call 1-501-682-7076 to request a form. Be sure to complete the address block where the title should be mailed and mail the signed application, a check for $10.00 made payable to the Department of Finance and Administration, a copy of the vehicle registration certificate and applicable lien releases to:
Department of Finance and Administration
Special License Unit
P O Box 1272
Little Rock, AR 72203
Where do I sign my Arkansas title?
ZOOM IN
The sample title document to the left of this paragraph has a blue arrow. Sign where the arrow appears using the name listed on the front page of your car title. The title document should be given to the tow truck driver at the time your car is collected.
How do I transfer the ownership of my car?
Remove Plates
The plates should be removed from your vehicle prior to it being towed.


Return the plates to the DMV
When returning your plates to the DMV include a letter stating that the vehicle license plate is being returned to be destroyed or recycled. The plates should be mailed to:
DFA
PO BOX 1272
LITTLE ROCK, AR 72203


Notify the County Assessor
You need to notify the county assessor in your county of residence that you've donated the vehicle. Complete the Notice of Transfer of Ownership.
You can then mail the form to:
Department of Finance & Administration
Office of Motor Vehicle, P.O. Box 1272
Records Unit, Room 1100
Little Rock, AR 72203

You can alternately deliver the completed form in person to this location:
Arkansas Revenue Division
Ragland Building, Room 1100
1900 West 7th Street
Little Rock, AR 72201


Stop Insurance
Cancel your insurance after your car has been towed.
For a full list of frequently asked questions check out our faq section.
The Toyota Camry is the most donated car in the state of Arkansas. We wonder what that says about the car-or its owners? Whatever it says, we're happy to have them and so are the kids who benefit from these popular donations.
Any information on this page related to state laws and title requirements is correct to the best of our knowledge. But because this kind of information is liable to change, please check with your local motor vehicle authority for current guidelines and requirements.
Kars4kids Car Donation
Sun - Thu: 7 am - midnight EST
Fri: 8 am -
pm EST
Sat: 2 pm - midnight EST
Our Areas of Service.
We cover the entire Arkansas State area.
We receive the highest amount of vehicle donations from these cities:
Alma, Arkadelphia, Ashdown, Bald Knob, Batesville, Beebe, Benton, Bentonville, Berryville, Bismarck, Blytheville, Boles, Booneville, Brinkley, Bull Shoals, Calico Rock, Camden, Cherokee Village, Clarendon, Clarksville, Clinton, Conway, Corning, Cotter, Crossett, Dardanelle, De Queen, Diamond City, Dogpatch, Dover, Dumas, Edgemont, Elaine, El Dorado, Elizabeth, Eudora, Eureka Springs, Evening Shade, Fayetteville, Flippin, Fordyce, Forrest City, Fort Smith, Fox, Gamaliel, Garfield, Gassville, Gateway, Gentry, Gillett, Glenwood, Green Forest, Greers Ferry, Hamburg, Hampton, Hardy, Harrisburg, Harrison, Heber Springs, Helena, Henderson, Higginson, Holiday Island, Hope, Horseshoe Bend, Hot Springs, Hoxie, Huntsville, Imboden, Jacksonville, Jasper, Jessieville, Johnson, Jonesboro, Kirby, Lake Village, Lakeview, Leachville, Lead Hill, Lincoln, Little Rock, Lonoke, Magnolia Malvern, Mammoth Spring, Marianna, Marion, Marked Tree, Marshall, Mc Gehee, Melbourne, Mena, Midway, Monticello, Morrilton, Modoc, Mountain Home, Mountain View, Mountainburg, Mt Ida, Mulberry, Murfreesboro, Murfreesboro, N Little Rock, Nashville, Newport, Norfork, Oark, Ola, Omaha, Osceola, Ozark, Paragould, Paris, Pea Ridge, Perryville, Piggott, Pine Bluff, Pocahontas, Prairie Grove, Prescott, Pyatt, Ravenden, Rector, Rogers, Royal, Russellville, Salem, Searcy, Sheridan, Siloam Springs, Springdale, St Joe, Star City, Story, Stuttgart, Texarkana, Trumann, Tuckerman, Van Buren, Waldron, Walnut Ridge, Warren, West Fork, West Helena, West Memphis, Winslow, Wynne, Yellville