Our Matching Gift Sponsors
How it works in AL

1. Tell us about your car
Take 2 minutes to fill out a donation form - online or over the phone.

2. Schedule a free pickup
Within 24 hours we'll call you to arrange a convenient pickup time.

3. You are done!
Within 2-4 weeks you receive a tax receipt and vacation voucher.
400,000+ donors trust us with their car.
Here's what our Alabama donors had to say about how donating went for them.
P.S. we didn't make these up! They're all real donors, with real experiences.
Helping others especially kids is the greatest thing
By
Chad W.

, Elkmont AL (I donated a 2001 Chrysler PT Cruiser)
Kars4kids is a great charity. I will support them as much as I can. Helping others especially kids is the greatest thing. God bless
Excellent feeling to be able to help
By
Dean H.

, Mobile AL (I donated a 1994 Ford Ranger)
Everything went seamless, great experience with customer service. Excellent feeling to be able to help even just a little by an easy donation.

Everyone we dealt with was courteous, polite and helpful
By
Richard B.

, Vestavia AL (I donated a 1974 Chevrolet C/K 30 Series)
Great experience!! Couldn't have been better! Everyone we dealt with was courteous, polite and helpful! Will do it again given the opportunity.
How your car helps
Our charity programs are the essence of what we do. We are thankful to be able to give back to many local communities across North America and to bring educational opportunities to so many children. We're a registered nonprofit Jewish organization. Learn about what we do and see our charity programs here.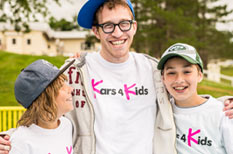 The Kars4Kids Vision
Kars4Kids' vision is to give our children the ability to succeed in life. We focus on educational, mentorship and year-round programs for our children, their families and their communities, looking at the big picture of our children's development and the environment they grow up in. We rely on thousands of volunteers to help us change the world, one child at a time.
Macabees: Volunteer Leadership Program
We carefully select the most devoted volunteers who we train and instill with the skills and mentorship model we have perfected for over 30 years in our Maccabee Program. Through the volunteers' self sacrifice and devotion the children receive the nurturing they need to flourish. In the process, the teenagers of today are being groomed to be responsible leaders of tomorrow.
Chillzone: Extracurricular Programming
With a keen understanding that consistent growth can only be achieved through the balance of hard work and healthy outlets, we have set up extracurricular programs and activities throughout the entire school year. Through pizza, prizes, fun learning and wholesome entertainment our Chillzone weekly programs help ensure the children's downtime are spent to help their continued upward climb to success.
Still have questions?
What is the amount of the tax deduction I will receive?
The amount you can claim from the IRS as a
tax deduction
depends on the category applicable to you:
The IRS allows you to claim a tax deduction of:
a) The value of your vehicle up to $500. It is up to the donor to determine the fair market value.
b) The amount we sell your vehicle for - if it is more than $500.
Kars4kids is a classified 501(c)(3) charity organization. You can check with your tax advisor or accountant to determine the amount of your benefit. The deduction is of value only if the donor itemizes his or her deductions. For a more detailed overview the IRS publishes a
Donors Guide to Car Donation.
What can I donate?
We accept the following donations: car, snow plow, boat, bus, jet ski, truck, RV (motor home), commercial, airplane, van, trailer, motorcycle, ATV, tractor, and fleet donations. Sorry no kids.
I want to donate a car in Alabama but I'm missing my title. Is my car still eligible for donation?
We can pick up a vehicle in Alabama without a title. We will just need the registered owner to sign some paperwork for us.

How can I replace my missing title?
In almost all scenarios Kars4kids will apply for the new title for you. We'll handle all the paperwork and pay the title fees too.
If you'd prefer you may apply for a new title on your own. Here's how:
You can apply for a replacement title by filling out and submitting a
Form MVT-12-1
.
The form should be mailed to:
Alabama Department of Revenue
Motor Vehicle Division Title Section
P O Box 327640
Montgomery, AL 36132-7640
Where do I sign my Alabama title?
ZOOM IN
The sample title document to the left of this paragraph has a blue arrow. Sign where the arrow appears using the name listed on the front page of your car title. The title document should be given to the tow truck driver at the time your car is collected.
How do I transfer the ownership of my car?
Remove Plates
The license plates should be removed by the donor prior to it being towed.


Return or Transfer Plates
Your plates should then be mailed to your local county office. If a new vehicle is acquired, you may be able to transfer your license plate to the new vehicle. Please contact your county license plate issuing official's office for further information.


Stop insurance
Cancel your insurance after your car has been towed.
For a full list of frequently asked questions check out our faq section.
What does it mean when one car model is donated again and again? Does it mean the car is popular or so unpopular that people donate them as quickly as possible-or perhaps it says something about the generosity of those who choose that make? At any rate, the most donated car in the state of Alabama is the Ford Taurus.
Any information on this page related to state laws and title requirements is correct to the best of our knowledge. But because this kind of information is liable to change, please check with your local motor vehicle authority for current guidelines and requirements.
Kars4kids Car Donation
Sun - Thu: 7 am - midnight EST
Fri: 8 am -
pm EST
Sat: 2 pm - midnight EST
Our Areas of Service.
We cover the entire Alabama State area.
We receive the highest amount of vehicle donations from these cities:
Abbeville, Akron, Alabaster, Alberta, Albertville, Alexander City, Aliceville, Alpine, Andalusia, Anderson, Anniston, Arab, Ardmore, Ariton, Ashford, Ashland, Ashville, Athens, Atmore, Attalla, Auburn, Autaugaville, Bay Minette, Bayou La Batre, Bear Creek, Beatrice, Bessemer, Birmingham, Blountsville, Boaz, Brantley, Brent, Brewton, Bridgeport, Brierfield, Brooksville, Brundidge, Burlington, Butler, Calera, Camden, Carrollton, Castleberry, Cedar Bluff, Centerville, Centre, Centreville, Chapman, Chatom, Chelsea, Cherokee, Chickasaw, Childersburg, Choccolocco, Citronelle, Clanton, Clay, Clayton, Cleveland, Clio, Coden, Coffeeville, Coker, Collinsville, Columbia, Columbiana, Coosada, Cordova, Cottondale, Cottonton, Cottonwood, Courtland, Crane Hill, Creola, Cropwell, Crossville, Cullman, Dadeville, Daleville, Danville, Daphne, Dauphin Island, Daviston, Decatur, Delta, Demopolis, Dora, Dothan, Double Springs, Eastaboga, Eclectic, Eight Mile, Elba, Elberta, Elkmont, Empire, Enterprise, Equality, Eufaula, Eutaw, Evergreen, Fairfield, Fairhope, Falkville, Fayette, Flat Rock, Flomaton, Florala, Florence, Foley, Forkland, Fort Deposit, Fort McClellan, Fort Mitchell, Fort Morgan, Fort Payne, Fort Rucker, Franklin, Fultondale, Gadsden, Gallion, Gardendale, Gaylesville, Geneva, Georgiana, Gilbertown, Glencoe, Goodwater, Gordo, Gordon, Gorham's Bluff, Graham, Grand Bay, Grant, Graysville, Greensboro, Greenville, Grove Hill, Grove Oak, Guin, Gulf Shores, Guntersville, Hackleburg, Haleyville, Hamilton, Hanceville, Harpersville, Hartselle, Harvest, Hayden, Hayneville, Hazel, Green, Headland, Heflin, Helena, Hillsboro, Hodges, Homewood, Hoover, Hope Hull, Horton, Hueytown, Huntsville, Ider, Inverness, Irondale, Irvington, Jackson, Jacksons Gap, Jacksonville, Jasper, Jemison, Ken, Killen, Kinsey, Lacey's Spring, Lafayette, Lanett, Langston, Leeds, Leesburg, Lexington, Liberty Hill, Lillian, Lincoln, Linden, Lineville, Livingston, Loachapoka, Loxley, Luverne, Madison, Magnolia Springs, Marbury, Marion, McCalla, Mentone, Meridianville, Midfield, Midland City, Millbrook, Millers Ferry, Millry ,Mobile, Monroeville, Montevallo, Montgomery, Montrose, Moody, Mooresville, Moulton, Moundville, Mount Meigs, Mountain Brook, Mountain Creek, Mt. Meigs, Munford, Muscle, Shoals, Natural Bridge, Nauvoo, Normal, Northport, Oakman, Oakville, Ohatchee, Oneonta, Opelika, Opp, Orange Beach, Orrville, Owens Crossroads, Oxford, Ozark, Pelham, Pell City, Perdido, Perote, Peterman, Peterson, Phenix City, Phil Campbell, Pickensville, Piedmont, Pike Road, Pine Apple, Pine Hill, Pisgah, Point Clear, Prattville, Priceville, Prichard, Ragland, Rainsville, Red Bay, Reform, Roanoke, Robertsdale,Rogersville, Russellville, Rutledge, Salem, Saraland, Scottsboro, Seale, Selma, Sheffield, Shelby, Shorter, Smiths Station, Smiths, Snow Hill, Spanish Fort, Spring Hill, Spring Valley, Springville, Steele, Sterrett, Stevenson, Stockton, Sulligent, Sumiton, Summerdale, Summit, Sylacauga, Talladega, Tallassee, Theodore, Thomaston, Thomasville, Thorsby, Town Creek, Troy, Trussville, Tuscaloosa, Tuscumbia, Tuskegee, Union Grove, Union Springs, Uniontown, Uriah, Valhermosa Springs, Valley Head, Valley, Vance, Vernon, Vestavia Hills, Vestavia, Vinemont, Wadley, Wagarville, Warrior, Waterloo, Waverly, Wedowee, Wetumpka, Winfield, Woodville, York